Kodansha USA sez: Negima! Volumes 1-3 to get NEW TRANSLATION!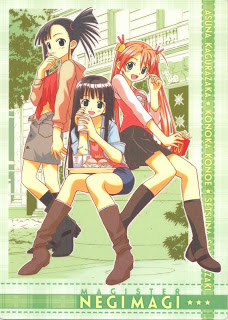 I hadn't been too happy with Kodansha's take over of Del Rey manga titles but finally, the company decides to put some information out there.  Amidst the news about new manga titles coming to the U.S. were two bits of Negima! news. First, Kodansha will be releasing Negima! Volume 29 in May 2011 and Negima! Volume 30 in July 2011.  So, we've got a LONG wait before getting the new volumes but at least they won't be delaying volume 30 too terribly badly.  I checked with Alethea and Athena and they have recently completed work on volume 29.
The second bit of Negima! news has me rather excited.
And finally, Negima! gets an omnibus release in June, collecting the first three volumes with a new translation!
As long time readers of the blog will know, I have not been happy with the way the first few volumes were adapted, especially volume 1 and 2.  No word on whether the twins are translating these early volumes or not (they've not been given notification but likely they'll get them), but I sure hope they are.  If they are, you can bet I will be buying this omnibus edition.  I hope that Kodansha Comics includes the original color cover art and whatever extras there may be.
Thanks to everyone who alerted me to this news!  ^_^