Kodansha USA sez: xxxHOLiC Manga Stays With Del Rey! (Say What?!)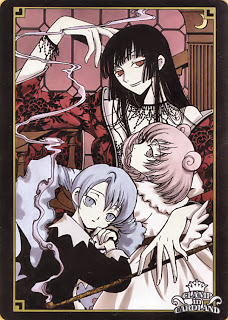 So, I'm taking a small break from the insanity that is my life at the moment when I note a couple of e-mails regarding xxxHOLiC.  Apparently, at the Kinokuniya Store event back on December 12 when Kodansha Comics announced their new licenses and release schedule of titles from Del Rey, they also had some news about xxxHOLiC.  Indeed, Kuriousity stated that Kodansha Comics announced that Del Rey would be retaining xxxHOLiC.
Come again?
So, I asked Del Rey about this and they confirmed it though I didn't get a list of other titles they would still be publishing (and I see they didn't tell anyone else yet either).
Color me puzzled but didn't Kodansha USA (aka: Kodansha Comics) take over all of Del Rey's ongoing manga titles?  If they didn't, that's the impression they left with everyone (the "gradual takeover" qualification aside).  We were all saying farewell to Del Rey and wondering what the future would be like for titles such as Negima! and xxxHOLiC.  So why is xxxHOLiC being left behind?
Kodansha Comics certainly doesn't have to get everything Kodansha has published in Japan.  Indeed, Dark Horse has licensed rescued some CLAMP titles that were published by Kodansha such as Chobits, Clover, Magic Knight Rayearth, and Cardcaptor Sakura. Does the fact that xxxHOLiC is a CLAMP title play a role in this decision?  I know in the end, it really doesn't matter but I am curious.
Regardless, it appears my thinking that volume 16 would be the last Del Rey published xxxHOLiC work was completely wrong.  I'm not complaining about this because whether it was Kodansha Comics or Del Rey that published xxxHOLiC, I wanted to buy the English-language version of that manga.  Looks like I'll get to do that, courtesy of an "old friend."  ^_^