Piracy Wars: Fractale — Defeat Piracy By Removing Legal Streaming!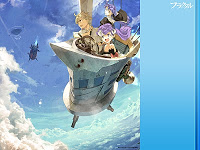 Fractale.  I'd heard of this anime but to be honest, I just wasn't that gripped by what I read and since I already have a ton of anime I need to watch, I gave this new show for the Winter 2011 season a pass.  However, thanks to the recent decision by the Fractale Production Committee to force FUNimation to remove the legal simulcast stream of this show until FUNimation scours the Internet of all illegal copies of Fractale, the name "Fractale" is now much better known to me even if I still know nothing of the anime.
So, FUNimation had the rights to legally simulcast the Fractale TV series, but only for the R1 DVD Region (US/Canada/US Territories).  Then, the Fractale Production Committee decided to revoke FUNimation's As reported by ANN:
According to Funimation representatives, the committee requested that Funimation eliminates unauthorized videos of the anime on the Internet — including streaming sites, file-sharing networks, and file servers — before its simulcast will be allowed to continue.
So, let me get this straight.  To fight illegal videos of Fractale from appearing on the Internet in any form, of which 100% originates from Japan since it is Japanese fans who are recording it and then uploading it, the Fractale Production Committee (FPC) says that FUNimation must do an impossible thing and until it does so, no legal streaming of Fractale will be allowed.
I know there is a lot of head scratching, face-palming, and even outright outrage at what the Japanese copyright owners are doing.  As I see it, there are two possible reasons for FPC's decision.  The first is that they never were keen on the idea of their anime being streamed and are using this as an excuse.
I've mentioned this before, but the Japanese system for fleecing the otaku selling products to their customers is a house of cards.  Basically, an anime series is played on TV in Japan but apparently makes no money during this phase and is essentially considered a loss-leader.  The money is then made on the merchandising, starting with DVD/Blu-ray sets which are giving minimal episodes per disc, some extras, and are then sold for what we in the U.S. would consider an outrageous price.  The merchandising continues with a dizzying array of collectibles such as magazines, books, figures, and tons more items.  If the otaku fail to make purchases, then there are big problems.
Although I consider the Japanese system to be a house of cards, it has stood for many years, going to the days of the VHS.  The Japanese executives have "carefully computed" what it takes for a series to make money under their way of doing business and the slightest fluctuation in the buying patterns of the otaku would cause great financial ruin for a Japanese company. (I exaggerate for effect there but sometimes, I think by not much.)  Japanese executives don't play around either.  If you want a small insight into the Japanese corporate mindset, watch Mr. Baseball.  The Japanese take business very seriously and don't change easily.
It has always been my belief that because of the fragile nature of the anime business in Japan, the Japanese production companies have been very leery and downright afraid of anything that could upset their business plans.  Legal, online distribution of an anime is a wild card as far as they are concerned which could upset the applecart.  Thus, while they might grudgingly be convinced to allow a company like FUNimation to do something abnormal, the least little perceived infraction causes the Japanese to have a knee-jerk reaction.
While the Japanese may be keen on exporting anime, their primary market is Japan and they can't afford for that to collapse.  Therefore, what we in the U.S. see as a boneheaded maneuver, they consider an act of self preservation while at the same time, potentially getting someone else to take on the cost of actively fighting piracy world-wide.
The second possible reason for FPC's decision is that this is a brilliant marketing ploy to increase the name recognition of Fractale to try to get people like me to watch, even if illegally.  While someone in Japan might be clever enough to do this, to be honest, I have a hard time believing it because it is too risky and taking risks isn't what I think of when it comes to Japan today.  Of course, should FPC back down over the next few days, then I'd say that this theory might well have been the plan all along.
In response to the massive fan outcry against FPC on this subject, Lance Heiskell from FUNimation said
We understand your frustration, but it should be directed towards the speedsub groups that created this problem.
I like Lance a lot and I understand he's got to say this.  However, the reality of the situation is that even though FUNimation had the R1 license to legally stream Fractale, there are still a great many English-speaking fans in other countries who are NOT allowed to watch this, thanks to Big Entertainment's DVD (and Blu-ray) region code system.  As such, it does not surprise me that some fansub group (especially one out of Europe) would either fansub this or somehow find a way to redistribute FUNimation's work.
And so, FUNimation is tasked with the impossible job of ridding the world of Fractale fansubs, bootlegs, RIPs, etc.  I find this a laugh considering that all such products start in Japan and since the Japanese can't even stop their own people from uploading these video files in the first place, I don't see how FUNimation can stop it.  Then again, maybe FUNimation could adopt this tactic from The IT Crowd.
(CAUTION! There is a minor, "not safe for work" moment in this clip.)
Update:
FUNimation has an
official blog post
on this subject.