Haiyoru! Nyaruani: Remember My Love (Craft-sensei) episode 6 review
這いよる!ニャルアニ リメンバー・マイ・ラブ(クラフト先生)
Haiyoru! Nyaru-ani: Remember My Mr. Lovecraft – 06

SPOILER Summary/Synopsis
Cthuko is in a boutique with a scarf and imagines herself and Nyarlko sharing it.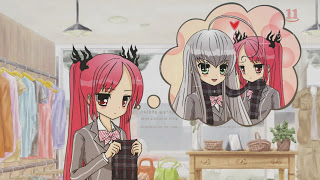 Mahiro asks a game-playing Nyarlko Nyarlko where Cthuko is and learns that Cthuko is at a part-time job, something Mahiro thinks that Nyarlko should be doing as well.  Nyarlko thinks it is "game over" when you get a job.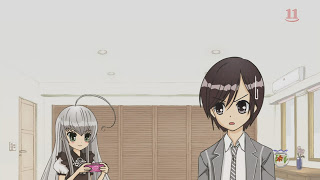 For her part, Cthuko first works at a convienence store but she causes the place to blow up when she heats up a customer's lunch using her own body heat.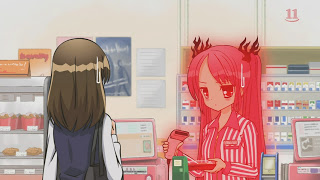 Her next job is at a fast food burger joint, but a customer's rapid speech and constantly changing order causes Cthuko to overheat, resulting in yet another explosion.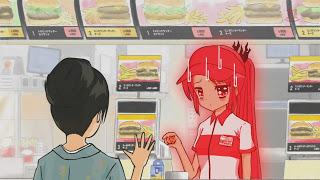 When she takes a job as a full-service gas station attendant, Mahiro doesn't think that's such a good idea.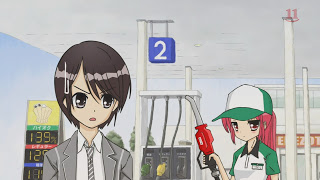 Nyarlko asks Cthuko why she's home (knitting) to which Cthuko replies that it is game over when you get a job.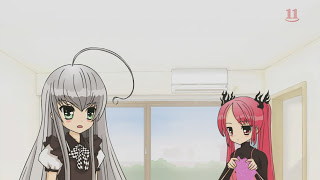 Nyarlko is with Mahiro and announces that she's in fact Cthulhu, something Mahiro thinks she's only just remembered.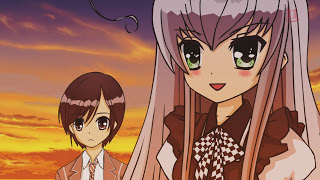 35-days until whatever strikes.
Thoughts/Review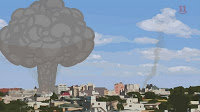 Because the humor in this episode didn't revolve around ecchi material, I actually kinda liked it.  There were the cliched part-time jobs of the convenience store clerk and fast food restaurant worker, but it was Cthuko's causing her work establishments to go up in a big explosion that was funny, more so the second time simply because the smoke from her first job could still be seen.  The joke she she and Nyarlko did about how getting a job is "game over" seemed like something I had heard before but I just can't place it.
Anyway, I'm hoping that Nyarlko's reminder to the audience that she's Cthulhu means that we'll get a proper series when these shorts are done.