xxxHOLiC (xxxHOLiC Rou) Manga Chapter 213
SPOILER Summary/Synopsis: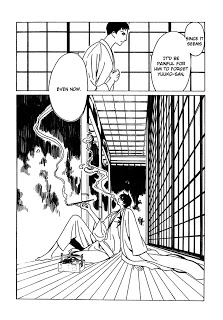 Watanuki discusses the dream he had with the butterfly and Yuuko-san with Doumeki.  It is the first time Watanuki has dreamed of Yuuko-san and he'll have to use all of his abilities in order to see the complete dream.
Again, Watanuki returns to the dream and captures the butterfly there but it easily escapes. That means that what he is viewing is the dream of someone more powerful than himself.  The butterfly flutters off to where Yuuko-san is waiting. Yuuko-san says nothing and Watanuki can't move even as this dream world falls apart. Yuuki-san produces a bird cage with a bird in it.  After she sets the bird free, Watanuki begins to understand considering how much time has passed.
In the real world, Watanuki is talking with DOUMEKI Shizuka's grandson, who looks like Shizuka.  Watanuki explains the dream was a final message from Yuuko-san and that even though it has been over one hundred years since he inherited the store and that he is no longer bound to the store, Watanuki will continue to maintain the store and wait.  Doumeki's grandson asks if Watanuki wants to forget about Yuuko-san so that he can move on. Watanuki does not so Doumeki's grandson goes off to get them some drinks.  Looking at the egg left him from his grandfather, Doumeki's grandson decides it isn't time to use this since Watanuki forgetting about Yuuko-san would be too painful.
Thoughts/Review:
For crying out loud, CLAMP.  I know the ladies were well known for not being able to complete a manga properly these days but I have to say that for me, this ending elevates you to the "notorious" status.
Basically, as I see it, CLAMP simply got tired of xxxHOLiC and since it is more interesting starting something new (Gate 7), lets dump xxxHOLiC.  So, let's look at this final chapter.
Did I expect for Yuuko-san to ever return?  Not really but then CLAMP could have brought her back.  So seeing that Watanuki had accepted that he'd never see the real Yuuko-san again was not a surprise. If I had to guess, I'd say that when CLAMP created xxxHOLiC/Tsubasa, they hadn't planned for Yuuko-san to actually be dead but trapped in a time lock (or some such nonsense).  Having decided she was dead and allowing her to go ahead and complete that process, CLAMP had to stay on their theme from Tsubasa's end that once dead, always dead.  However, I had hoped that what might happen is that Watanuki might be able to communicate with Yuuko-san but oh well.
So then CLAMP makes time leap ahead again.  This time leaping forward one hundred years.  Sadly, I know nothing of the Yume Juuya story beyond it is a published work of ten dreams supposedly had by the author NATSUME Sōseki (oddly enough, his name is given Japanese style all over on the web).  So I don't know how much CLAMP pulled from those works when they began introducing the dreamscape stuff into xxxHOLiC.
That aside, jumping forward that much in time and having Doumeki's grandson be there at Watanuki's side is just such a cop out in my opinion to allow CLAMP to just end the manga.  Forget about Doumeki, Himawari, Kohane, Moro, Maru, Mokona, Zashiki-Warashi, etc.  Nothing matters and xxxHOLiC has been reduced to nothing because of CLAMP's not knowing where they were going or what they were doing with the series.
This brings me to the egg and the final cop out.  Everyone kept expecting it to be used and it never was.  So, CLAMP just punts by reaching for something they felt was plausible — have the egg be something that causes Watanuki to forget about Yuuko-san.  *rolls eyes*  Whatever.
So, a very disappointing chapter and a disappointing end to the manga without even a look at the characters fans have come to know and love.  Nope, this is just a "flush the toilet as fast as possible" chapter so that CLAMP can go onto something they haven't painted themselves into a corner over.
I will write a review (and rant) of the entire xxxHOLiC series down the road a bit.  I plan to keep buying the manga from Del Rey because there are still some gems that I want to have on my bookshelf.  At this point, I want to reread the manga from scratch before writing that piece though because I'd like to analyze where I think CLAMP failed and where I think CLAMP should have gone to make xxxHOLiC a success.