機動戦士ガンダム /Kido Senshi Gundam episode 38
Mobile Suit Gundam – 38

SPOILER Summary/Synopsis: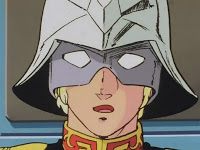 M'quve's exploding mobile suit has breached Texas's hull and so Char has Lalah take the buggy to escape before all of the air evacuates while he holds off Gundam. Amuro sees Lalah leaving and knows this is Lalah as Char gets behind him and attacks. Amuro senses the attack and manages to dodge at the last moment. Char again fires but again Amuro dodges. Char realizes he's in trouble since this confirms to him that the Gundam pilot is a Newtype. After a few more attacks by Char, Amuro has Char figured out and leaps high in the air with his beam sword to attack. Char barely manages to avoid being sliced but takes minor damage just the same. Char manages to get Gundam on the ground and attempts to slice him, but Amuro dodges and counters, seriously damaging the Gelgoog. Char escapes thanks to Amuro being out of energy and explodes a dummy bomb to simulate his mobile suit being destroyed as he abandons the Gelgoog to flee.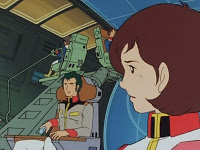 In space, White Base plays cat and mouse with M'quve's fleet. White Base is well hidden behind a large asteroid and dares not move lest their position is betrayed. The captain of M'quve's fleet has his ships do the same since it is clear that White Base is a very powerful warship combined with the fact that the Zeons are about to be reinforced. However, that reinforcement ship it intercepted by Wakkein's Magellan battleship, forcing the other Zeon ships out of hiding to come to the aid of their fellow Zeons. White Base sees their movement and moves to attack, launching G-Fighter with Salya in it as well as Guncannon. The Zeon ships are easily overcome and the two Federation ships head to Texas. White Base enters Texas to get Amuro while Magellan remains outside to watch their back..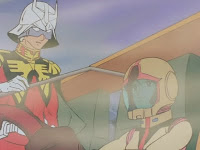 White Base lands and dispatches three search buggies, one which Sayla drives. With Frau Bow very distracted, Bright has her go see Hayate while he takes over radio duties. When Sayla reports in, Char jumps into her buggy and Sayla leaves the mic on, allowing Bright to hear everything being said. Char expresses his disappointment in Sayla not leaving the military and Sayla expresses her disappointment that Char is fighting for Zeon. Char explains that Jimba Ral had told him the truth of what had happened to their father — Degwin Zabi had killed him but had used their father's deathbed attempt to out Degwin as an endorsement to become the next ruler. As such, Char did everything from schooling to the military to get close to the Zabi family for revenge. With the Newtypes emerging as Jimba had said, Char finds it tough to have to battle Amuro but he will do so. After their talk, Char leaves and tells Sayla to leave White Base.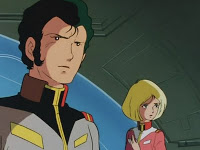 Bright attempts to digest the information he's learned as Sayla resumes the search and finds Amuro attempting to make repairs to Gundam. Bright is about to dispatch a retrieval team when he learns that Zanzibar is leaving out the other side of Texas. As such, he launches White Base to retrieve Gundam in flight and pursue Zanzibar, who's path is being blocked by Magellan. As White Base is about to leave, a small object is in their path. Fearing a bomb, the object is investigated and found to be a suitcase, which is retrieved. Emerging from Texas, White Base finds that the Magellan has been destroyed and the Zanzibar has escaped. A letter on the case is addressed to Sayla and though Bright has not opened it, he wants to know what is inside. Sayla says it is probably gold, based on her conversation with Char earlier, and that it is from Char, a revelation which stuns Bright.  The case is filled with gold and Sayla weeps after reading the letter.
Thoughts/Review: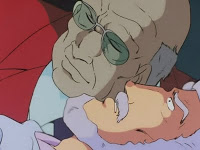 Well, we are finally starting to get some answers here.  Now we know for sure that Char and Sayla's father had been the prior ruler of Zeon and that Degwin had him killed (I'm assuming some sort of slow poisoning or the like) so that he could take over. Char and Salya were separated and given new identities in order to protect them from Degwin. Char's mask is clearly to hid his true identity to keep the Zabi family unaware and his mission is to kill them all. Now it makes sense why Char allowed Garma to die way back when. It also makes how Char new about Newtypes and why Char rescued an orphan he believed to be a Newtype because he'd been told about this as a child. Even Sayla knew of Newtypes and Amuro's being one. If they were told about Newtypes as children, does that mean that Sayla and Char are Newtypes as well?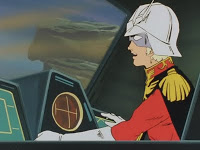 In examining Char prior to the fight with Amuro in Texas, I suppose one could say "yes" to Char being a Newtype and maybe somewhat to Sayla being a Newtype. After all, from Char's introduction early in the series, he already has a reputation as the Red Comet. He was arrogant and smirked every time he went into combat. Amuro would have Char in his sights and Char would easily get out of the way. So, looking at it that way, Char could be a Newtype. However, Amuro appears to be the better fighter today and we've seen he has supernatural abilities. Char no longer smirks and is lucky to escape with his life and his mobile suit only heavily damaged. So, is Char a Newtype or not?  If he is, does this mean that Amuro is just more powerful?  I guess these will be questions answered as the series comes to an end.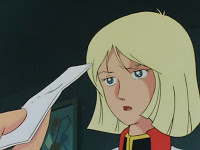 I would guess that Sayla didn't mean to leave her radio mic on so that Bright would overhear the entire conversation between herself and Char. That said, I think it is safe to say that Bright figured it out when Sayla stated that the suitcase full of gold came from Char.  Question is, what will Bright do with this information and will he talk further with Sayla about it?
With Amuro also being a Newtype and "knowing" Lalah, will he attempt to commune with her when she eventually enters the battle and try to stop the fighting? Or will she be too enamored of Char to hear anything anyone says, even if they are a Newtype?
It is a shame that Wakkein and his ship didn't make it. I guess the Magellan isn't as powerful a warship as the Zanzibar.  Either that, or Char is just that much superior a commander to Wakkein.  Nevertheless, I was hoping that after White Base and Magellan had smashed M'quve's fleet and the reinforcement warship between them that they might put a hurt on Zanzibar, even if Char managed to escape somehow. Alas, that was not to be.  Oh well.
So, a rather interesting episode here as things begin to wind down and questions start to get answered.  Just five more episodes to kill the rest of the Zabi, take out Char and his ship, and win the war. ^_^