SPOILER Summary/Synopsis: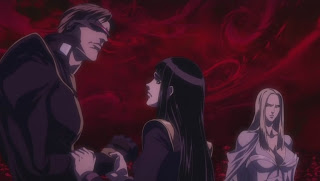 With Takeo out of control and the world now a strange red color, sky and all, Xavier sends out a telepathic message to the mutants of the world, including other known X-Men as well as Captain Britain. They, along with Iron Man help humans as best they can through this crisis.  Xavier attempts to enter Takeo's mind, but his first attempt it repulsed. His second attempt succeeds and Cyclops wants to go on the offensive even though it would mean killing Xavier as non-action could mean the end of the world. Hisako begs him not to, leading Wolverine to side with Cyclops.  However, Takeo has other plans and the X-Men are all felled without much of an effort by Takeo. However, it is the ghost of Jean that causes them all to revive as she reminds them of their duty.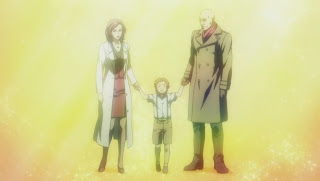 Xavier fails to reach Takeo and is about to take the boy down mentally at the cost of his own life. Realizing this, Sasaki-sensei tries to reach her son but fails. Hisako doesn't want things to end like this and activates her armor power, which now has a new form that glows gold. She approaches her childhood friend and manages to reach him. After taking her hand mentally, Takeo is mentally embraced by Xavier and the boy begins vanishing in light. Sasaki is about to commit suicide, but Takeo makes his final wish known, revealing a happy boy with both her and Xavier. Xavier comforts Sasaki and with the crisis over, Cyclops and the other X-Men elevate Hisako in their ranks before wondering how they are going to get home.
In prison, Magneto escapes, meaning the X-Men's fight isn't over.
Thoughts/Review: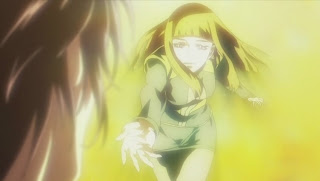 Not much to say here. Hisako, who was the most annoying of the characters though I didn't hate her, saves the day with a cliched "love will find a way" means of reaching Hisako. Yeah, whatever. Takeo sacrifices himself as Jean did a year earlier. Isn't life swell when these massively powered and out of control mutants do that?  Brings a tear to the old eyeballs.  OK, maybe not.
Still, I was hoping for something different.  Well, Sasaki-sensei didn't die so that was different.  A lot of others did die, including the entire U-Men and Inner Circle operation.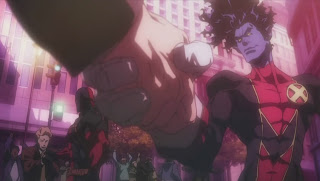 While I liked the cameos by Angel, Colossus, Nightcrawler, and Rogue as X-Men, I had to ask, "So where the heck were these guys before?"  Seriously, the episode implies that these guys are X-Men by their costumes but if they were X-Men, why weren't they in Japan with the rest of the team? Why weren't they part of the original fight with Dark Phoenix (Jean Gray)?  That made no sense to me.  One could argue that maybe they weren't in the X-Men, but if that's so, why have Colossus wearing the "X" belt?  Why have Nightcrawler wearing the "X" for X-Men costume?  Or Deadpool in his X-Men costume for that matter?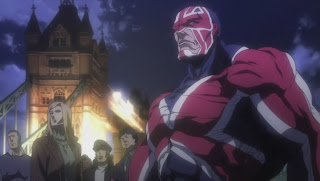 Captain Britain had a cameo, which surprised me. I suppose that was to try to show, in VERY limited form, the global nature of Xavier's telepathic communication.
Iron Man scored a cameo even though he's not a mutant. That didn't surprise me considering the Iron Man anime.
Blade supposedly had a cameo in the episode, but I didn't notice it. Then again, I'm not a Blade fan so maybe I missed it.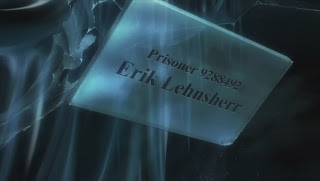 After the end credits, there's a scene to set up a potential sequel with Magneto being the villain. That's not surprising considering how Magneto was featured, along with others from the Brotherhood of Evil Mutants like Juggernaut and Mystique, in the end credits. Indeed, Magneto gets a double-whammy because his character is shown twice in the end credits, though at the same time. If there is a sequel, I guess I'll watch.
I'll write a final review later but in the end, this episode closes the X-Men anime in a cliched fashion but does give a happy ending.