うる星やつら episode 168 (TV anime)
Urusei Yatsura Ep. 168 review
SPOILER Summary/Synopsis: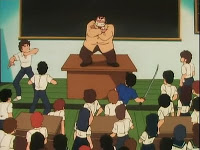 Ataru dreams of being served food by the girls in his life, which Lum notes from her closet bed. At breakfast, he complains about his mother's meal but when Lum offers to cook, Ataru finds his mother's food not so bad. Megane is at home blathering about his breakfast before summer school. Shuutaro complains about his daily bacon, eggs, and toast even though it is perfectly cooked. Lum and Ataru walk to school and look at the clouds while in space, aliens from Planet Kappo accidentally drop a bowl from orbit. Back on Earth, Onsen-sensei and his class are in a foul mood over summer school with the students missing lunch and Onsen-sensei threatening to keep them through dinner as well. It is then that there's a massive impact outside, leaving a massive crater.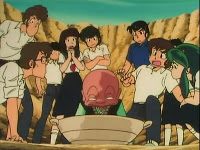 Ataru spots Onsen-sensei in the crater and the students rush out to find him over a nabe bowl filled with nabe. After they beat him, Lum determines the bowl to be alien, so Cherry is the only one brave enough to eat the nabe, which initially seems poisonous but Cherry says it was the best food ever. The others start thinking of foods and the bowl fills with them, which Cherry eats and gets beaten for. Again, the students try to properly fill the bowl, but Cherry ruins it and takes another beating. On the alien ship, their food stores are being drained as the students fill the crater with food. The aliens come and reclaim their bowl and food. However, the aliens also bring up the students, who continue to stuff themselves.
Thoughts/Review:
This was not the episode to watch while hungry, since it was all about eating and naming various tasty Japanese dishes.
As is happening all too often, the episodes are low on content and require massive filling. This time, it was lengthy and boring complaints from characters about breakfast.
Then, there was a musical interlude showing Kotetsu-neko and Ten-chan, who had no part in the episode.
Then, it was another musical interlude with bits of dialog about "lets make something weird get weirder" (or something like that).
That took nearly half of the episode. The rest of the episode was mildly amusing with the "magic bowl" and Cherry getting beatings for ruining things. I think the funniest moment came when they thought Cherry was dead and figured they should probably bury him.
Its episodes like these that makes one wonder how Urusei Yatsura lasted so many years on TV.  However, I will plow through to the end to be completely fair.