うさぎドロップ
Usagi Drop Anime — Final Thoughts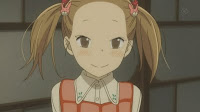 It has been nearly ten years since I became an anime fan.  I've watched a fair amount of anime and have a MONSTER pile of stuff to watch that has been recommended by many of you.  As such, I find that most new anime really doesn't come out and grip me, often because even though it might be good, some of it has a "been there, done that" feel to me.  With Usagi Drop, some of the people I heard talk about it said things that really made me sit up and take notice.  As such, I decided to add this series to the "must watch now" category.  I'm glad I did.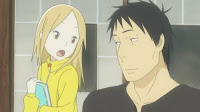 The premise of Usagi Drop is simple — the 30-year old, single Daikichi takes the 6-year old illegitimate daughter of his grandfather to raise her himself.  Thus, the series focuses on how Daikichi's life changes with Rin and how Rin grows from being a child the others in Daikichi's family thought was strange to a beautiful, bright, strong young girl.  As such, the series is not only a slice-of-life adventure, but a drama and humor story as well, reflecting real life aspects quite nicely, in my opinion.  The characters and situations encountered are all very believable and nothing comes off as forced drama but rather things that might happen in real life, which we normally might just take for granted.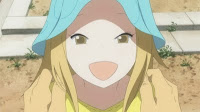 From the start, I couldn't help but love the character of Rin.  She is such sweet girl (and using a real child seiyuu helped her character) and it was a shame that her family were treating her like a pariah simply because she was an illegitimate child. I totally understood and appreciated Daikichi's anger with his family and his decision to take Rin as his own child, even though he'd never been a parent before.  Through Daikichi's character, I felt as if I got to experience shifting from the life of a single bachelor to the life of a single parent.  I know I'll never be a parent, so it was an interesting experience to say the least and I suspect, what I felt is close to what real parent's feel for their children.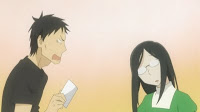 Though the central focus of the series is on Daikichi suddenly becoming a single father for Rin, the series also takes a look at other aspects of parenthood.  Through Nitani, the series looks at how a single woman struggles to raise a boy with a father that's no where to be seen.  Through Haruko, the series looks at a woman in a marriage that isn't ideal and trying to raise a child while living with her in-laws. Through Kazumi, the series looks at someone about to get married who's not sure she wants kids.  Through Daikichi's mother, we see how a traditional Japanese family happened.  Through Rin's mother Masako, we see someone who couldn't handle being a parent.  It was all very interesting when combined into the series.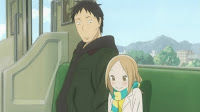 One of the things I really enjoyed about the series is the slice-of-life nature of the series and how real it felt.  Everything Daikichi encountered didn't feel like forced, as I mentioned earlier. Whether it was scrambling to get Rin enrolled in school to dealing with issues like buying insurance to Rin getting sick, or whatever else. Everything that happened never felt like naturally occurring events that a single parent, or indeed a 2-parent household, might encounter. The reasons I like Usagi Drop are very similar to the reasons I like Yotsuba&! — a simple, honest look at the daily life of a single father raising a young girl.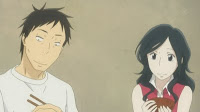 The one place that was kind of a disappointment to me was the lack of romance.  It seems clear that Daikichi likes Nitani and her being a single mother and him now being a single father means they would seemingly be a good couple. Indeed, at times, the series shows how well they'd be as a single family unit with Daikichi and Nitani as parents and Kouki and Rin as the children. However, Daikichi never asks Nitani out and the anime doesn't state why.  However, there is a realism there too as there's likely a reason that Daikichi was still single at 30 and not dating anyone — he's probably not good at that sort of thing.  However, the romantic in me would have liked to have seen Daikichi and Nitani go out or become a couple.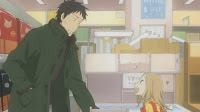 At only eleven episodes, Usagi Drop is pretty short for a TV series.  I can only think of one shorter TV series, which was Hand Maid May at ten episodes (eleven with the special, extra episode).  That's also kind of disappointing as I would have liked twelve or thirteen episodes.  However, despite the disappointment, the series ends well enough.  Things are open-ended so that a second series could be done for sure.  Whether they do or not remains to be seen.  Hopefully, a U.S. company licenses this anime and picks up the little extra episodes that are being included in the Japanese DVD/Blu-ray releases.
In the end, this is a highly enjoyable, slice-of-life series with Rin being so lovably adorable and Daikichi being the everyman who steps up to the plate to do the right thing and gets rewarded for it by his life being enriched. I absolutely love this anime and would highly recommend it to anyone.