魔法先生 ネギま!Volume 37 Chapter 342 (manga)
Mahou Sensei Negima! Manga Chapter 342
Negima! Manga Vol 37 Ch 342

SPOILER Summary/Synopsis: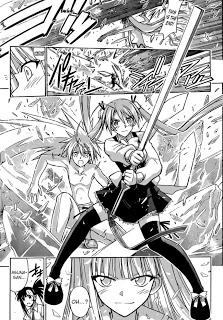 Eva and Negi face each other on top of the water in her castle resort diorama sphere while on one of the castle's archer tower's battlement, Asuna and Setsuna are observing. Asuna gives the signal to start and Eva gets the drop on Negi with a massive attack that sends him smashing into the castle wall, shredding his shirt. Eva is stunned her attack was so effective and voices her displeasure, but Negi protests, saying he has to power up first. With that, Negi activates his Magia Erebea, which Eva remarks irritates her since it was her technique.
To the surprise of Asuna and Setsuna, Al and Eishun show up, remarking on Negi's power, as Negi launches his counter-attack. Eva counters his attack, but does like what she sees in Negi. In response, Eva activates her own Magia Erebea, turning into ice form to counter Negi's lightning form. Jack shows up with the other observers, remarking on how glad he is to see this. When Asuna and Setsuna ask how he can be at Mahora, he says he has an artificial body, which is how Cocone lives on Earth.
Negi readies a massive, double-punch thousand thunderbolts spell, which has everyone, including Eva, impressed. Eva and Negi go at it in a massive display of lightning and ice, both enjoying the fight.  Jack asks two new arrivals, Kurt and Takamichi, their opinions.  Takamichi is impressed but Kurt isn't impressed by what Negi called a "display."  Eva's hand takes a massive slash in Negi's side, but he quickly heals from it as if not injured at all. Setsuna is stunned by this, so the others explain that Negi actually died on the Magic World but Magia Erebea brought him back to life, thus making him immortal, though not as completely as Eva. As such, he will probably be forever young and deathless, but the others don't know if Negi will be able to age or not for a few years.
To answer Setsuna's objection, Al explains that though immortality has eluded others who sought it, Negi obtained it by using Magia Erebea, created by Eva from her own immortal flesh and soul, and Negi being the descendent of Amateru.  As such, Setsuna realizes that this is the price Negi paid though Kurt considers it a gift, not a price. Kurt goes on wistfully on how Negi could rule it all with this power, leading to Takamichi grappling with Kurt in an annoyed fashion.
Setsuna is a bit surprised at Asuna's attitude about Negi's change, but Asuna explains that her worrying that Negi would be hurt or killed are over since he won't die even if he is killed. Even though Negi might not be human, Asuna is not bothered by this since Eva, Zazie, and Chachamaru are not human.  Asuna does seem a bit sad that Negi would only be able to become adult in appearance by the use of magic, much like Eva. Setsuna ponders this and thinks that Negi couldn't have a family. She also wonders about all those who have feelings for Negi.
Meanwhile, Eva still shows herself to be superior to Negi in combat and has him smashed down by massive ice attacks. Asuna pulls out her pactio card and tells Setsuna that she's still worried about Negi and that even if he's not human, there are still a lot of girls who can follow him.  With that, she jumps off the battlement and activates her artifact harisen just as Eva launches the finishing blow, nullifying the attack. Setsuna wonders what price Asuna paid as Asuna tells Negi that together, they can think of something to defeat Eva. She asks Eva if that's OK, so Eva agrees to be her opponent as a parting gift.
Thoughts/Review:
I'm glad to see Eva's resort(s) being used again, though it seems they may not be used much more.  I find that Eva's remarks of finality are odd, as if she is planning to leave or something.  Her sparring with Negi, which I know many of us wanted to see, is labeled as a final training lesson.  Allowing Asuna to come into the fight is termed a "parting gift."  So, does that mean that Eva is leaving?  Or does that mean that Negi and Asuna are leaving, never to return to Mahora?
Considering the curse and such, it would seem that Eva is not going anywhere, thus Negi and Asuna must be the ones who are leaving.  However, it is possible that Eva might be planning something within the confines of the curse that would make her not be around.  After all, the one who turned her into a vampire is supposed to be sealed under the World Tree and it is possible that Eva might be involved with something there.
In my mind, it is Asuna and Negi who will depart, possibly for Turkey, but possibly to return to the Magic World.  It is hard for me to say where they might go and what they might do in terms of getting Negi's plan on the road.  Maybe we'll have a time skip that some have speculated on (and from what some tell me, there have been a few manga employing this plot device so I won't rule it out, especially since I still think it is Negi that saved himself in the past, whether or not my Negi=Nagi theory is true).  No matter what happens, we should be in for one more interesting bit of fighting and a revelation of the price Asuna paid. I am a little confused by her final remarks to Setsuna though.
Speaking of Eva, as I mentioned, her sparring with Negi is something many of us wanted to see, myself especially.  I figured Eva would want to test her disciple once he returned and then go full bore on him, thus further revealing the true heights of her powers.  I didn't expect her to pull out her own Magia Erebea though since I figured she no longer used it as a technique, but simply had it as a natural part of herself.  So, it was neat seeing her ice form, which wouldn't surprise me if she were as hard as diamonds. Weird that her ice form causes her to lose her shoes. *lol*
One thing I REALLY want to see (and I've stated this before) is more on Eva's past. I do think Akamatsu-sensei could easily do this at this point in the story.
So, the surviving members of the core of Ala Rubra reunite at Eva's resort, including surprise guest Jack.  That was a clever way for Akamatsu-sensei to explain how Cocone was able to live on Earth this whole time.  What I wonder is, how are these artificial bodies being created on Earth?  Magic, sure, but where is it being done and who is doing it? In some ways, this is kinda freaky if you think about it.
Still, for all of Ala Rubra to be here, I wonder if they are planning to join Negi on his quest to help the Magic World. Considering how they started this mission with Nagi, it makes sense to me that they'd continue the journey with Negi.  However, that means less room for the girls, but the last chapter shows Akamatsu-sensei setting up the girls as having their own goals, some of which involve Negi, but some seemingly don't.
In the end, this is a really enjoyable chapter and I'm really looking forward to seeing what Asuna and Negi do in their rematch against Eva.  It would be sweeter than sweet if Eva brought Chachazero into the fight as well.  ^_^