灼眼のシャナⅢ(Final)
Shakugan no Shana III (Final) – 07

SPOILER Summary/Synopsis: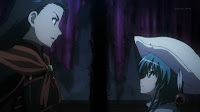 As Hecate attacks Shana for being a hindrance to their plans, Yuuji, alternating between his normal voice and Serpent of the Festival voice, explains to Alastor that although he'd had the Eternal Pit spell cast upon him to remove him forever, he had a marker from which to return and now he wants his original body back. Thus, Bal  Masqué has worked to create the Taimei Shihen weapon. As Yuuji begins opening the gate, he notices a burning pillow outside Shana's room and stops Hecate from killing Shana. He explains that his reasons for saving Shana go beyond the Mystes' desire, but as a means of keeping Alastor in check and not allowing him to use his massive Tenpa Jyousai attack on them with his 3rd partner. Sydonay and Bel Peol are amused by Hecate's actions and Yuuji is ecstatic that things are going his way.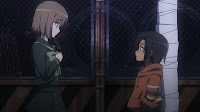 On Earth, Ogata walks home with Kazumi and worries about their absence but wants to throw a party when everyone is back. After parting ways, Kazumi wonders what she can do now that she's alone when the Flame Haze, Khamsin Nbh'w, turns up in her path. Since Khamsin and his Crimson Lord Behemoth are going to be fighting Yuuji (and seeing Shana), they dropped by to see if she has any messages. Kazumi understands the situation and won't stop them nor ask them to save Yuuji. However, she does have a question about the Hougu (Giralda) she was given by Pheles and why Pheles would entrust her with it. Khamsin tells her his tale of becoming a Flame Haze and relates it to her own feelings for Yuuji to help her understand why people do things for love.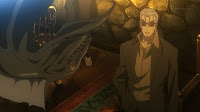 On Seireiden, while Bel Peol discusses some analysis of the Silver (Tyrant) with Dantalion and Rammie, Sydonay is at a bar with other Tomogara and puts Decarabia in charge of the army while Sydonay goes on a mission. Yuuji pays a visit to Shana, who's wearing very formal ball dress, and with the Serpent of the Festival, explains what they are doing and that there is no plan to dispose of Yuuji. Yuuji escorts her to a large balcony, where the ruling elite of Bal Masqué await. Shana is stunned by the massive, Tomogara army below as Yuuji gives a stirring speech to his followers before having last words with Shana and departing through the gate he opened in the sky, accompanied by Bel Peol, Hecate, and Sydonay.
Thoughts/Review:
Wow. A lot going on here, so let's get to it.
I can understand Hecate going after Shana, but she didn't go after her too hard. Why? Did she really want Shana eliminated or was this to just test Yuuji/Serpent of the Festival?  I'm having a hard time deciding which is was.
Also, what about Sydonay's and Bel Peol's suddenly being in the room?  Did they stir up Hecate to see what she would do?  Was this to see what Yuuji would do before going along with his plan? Again, its all tied together, but at the moment, I'm not seeing the why's.
Yuuji is more and more caught up with whatever the Snake of the Festival wants, but since that means getting the Snake his old body back, I suppose there's good reason for that. However, what does happen to Yuuji after the Snake leaves?
I was surprised to see Shana deciding not to shrink back from Yuuji any more. Is that because he saved her life or because she's planning something?
Nice to see Khamsin Nbh'w and Behemoth again. I liked that they went to see Kazumi before their own trip to war.  I wonder if Khamsin's story about the Tomogara he fought as a child hundreds and hundreds of hears ago is tied up with what's going on now?  I don't know why, but I have a feeling it might be.
As to Kazumi and her Hougu from Pheles, Giralda, I had long feared that Kazumi would die in the franchise in order to save Yuuji or something. Now I wonder if she might not end up becoming a Flame Haze herself by using it and sacrificing her humanity (as Khamsin apparently did in a similar fashion).  That will be interesting to see what happens.
So, I'm left with a lot of questions as Yuuji and The Trinity go off to find the Serpent of the Festival's body.  Can't wait to see what happens next.