とある科学の超電磁砲(レールガン)/Toaru Kagaku no Railgun
A Certain Scientific Railgun Vol. 01 (manga) 
–> BUY FROM RIGHTSTUF!
–> BUY FROM BARNES & NOBLE!
–> BUY FROM BUY.COM!

SPOILER Summary/Synopsis: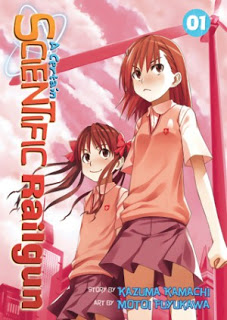 In Academy City, where there are 2.3 million students at various schools, teenage member of a law enforcement organization known as Judgment, Kuroko, arrests a thug and finds her roommate Mikoto, whom Kuroko calls "Oneesama," has used her incredible electrical esper ability (3rd ranked, 5th level power) to down the rest of the thugs even though she's not part of Judgment. Later, the two meet Kuroko's Judgment co-worker from another school, Uiharu, who's sick but notices that a bank is being robbed. Kuroko uses her teleporting ability to nab a robber, but when one knocks Mikoto's crepe out of her hand, she shows why she has the nickname of "The Railgun" as she sends a small coin into the robber's escape vehicle, causing it to wreck.
When Uiharu accidentally leaves her Judgment band at a cafe table that Mikoto is sitting at, an older student from anther school who's also in Judgment forces her to help her with a job dealing with a bombing plot. Mikoto finds what she thinks is a bomb, but it is just a purse belonging to a young girl. However, her actions come to the attention of Kuroko, who thinks Mikoto should just join Judgment, something Mikoto has no interest in.
Mikoto then runs into Touma, a boy her age whom on her first encounter, revealed that he is immune to her electrical attacks when she takes out a group of punks he tried to save her from, but he was untouched in her attack. Mikoto is determined to defeat Touma for the sake of her pride, but her various attacks, including forming a sword with vibrating iron sand and attempting to send current directly into Touma when grabbing his hand, all fail, even though he's classified as Level 0.
Meanwhile, bombings are on the rise as an unknown rouge esper uses his powers to turn anything metal into a bomb and Kuroko is helping in the investigation. Uiharu introduces Mikoto to her best friend, Saten, who loves to flip Uiharu's skirt. Despite being a "rich girl" (ojousama in the Japanese), Mikoto wants to go with those two as they go shopping. On the way, Saten recounts an Internet rumor about something called "Level Upper" which supposedly increases ones esper ability.
While shopping and deciding on a cute pair of pajamas, she's spotted by Touma, who's helping the young girl Mikoto helped the day before. Kuroko makes a discovery in her investigation and calls Uiharu to get her to evacuate the store since they've detected evidence of a bomb.  Its in a toy the little girl has and Mikoto can't destroy it in time, so Touma shields her and the girl from the blast. Mikoto grabs the bomber, another student who's jealous of people like Mikoto, and he's taken into custody.
Kuroko discovers that the bomber's esper rating is too low to do the things he's been doing, so she talks to Satan about this Level Upper rumor going around the Internet.  They find some punks claiming to have access to Level Upper and Mikoto manages to get herself in as bait to get these guys to give her the stuff. However, Touma comes by and thinks she's in trouble, ruining the ploy and forcing Mikoto to take out the whole lot. Mikoto comes after Touma, still determined to beat him and decides to fully unleash on him.
Meanwhile, Uiharu illness has grown worse and Saten tends to her. An exhausted Mikoto wearily returns from her fruitless encounter with Touma when Kuroko teleports in and brings her to the hospital, where they discover that the bomber is now unconscious as are several others who've recently been brought in. Both suspect Level Upper but there's no proof. At the same time, Saten has been looking for more information on Level Upper and accidentally stumbles upon what she seeks.
Thoughts/Review:
I'm not sure what it was about A Certain Scientific Railgun that kinda gnawed at the back of my mind.  Maybe it was this notion of a girl being a living railgun that was the ticket.  I just don't know.  What I do know is that based on certain anime clips I'd seen and certain anime promo images I viewed, my impression of the series was that you had this powerful school girl (Mikoto), her roommate who worshiped her, lusted after her, and called her "Oneesama" (Kuroko), and then a couple of other friends rounding out an action-comedy series.  While the manga contains some of these elements, it turned out to not be what I expected at all.
As I noted with the Toradora manga, I'm only reading A Certain Scientific Railgun manga because light novel creator Kazuma-sensei is the writer here as well.  Thus, I figure I can get most, if not all of the elements from the light novels even if I don't have access to said light novels.  Were this to be just another adaptation of the light novels by some other author, who then felt the need to put their own stamp on things, I wouldn't be interested in even touching it.
The first thing that surprised me about the story is that although Mikoto is the heroine, she's not part of any official organization to fight crime or other superpowered people.  Instead, she's just a schoolgirl who's worked hard to be the third ranked of seven total Level 5 espers, the most powerful people on the planet. She's not interested in being part of the organized force that exists called Judgment. She has a tomboy side but also a girlish side.  Because she's worked so hard to be one of the best, she has a rivalry with the boy her age named Touma, who's able to nullify her powers completely, thus she's always looking for a way to overcome that and defeat him.
The second thing that surprised me was Kuroko.  From the little I'd seen out of the anime, Kuroko's only purpose in life is to scissor her "oneesama" until the cows come home.  In the manga, while she does have her yuri crush on Mikoto, she's a much more serious person than I expected. She appears to be one of the leaders in Judgment and in addition to her teleporting powers, she does a lot of research and investigation, both in terms of the bombings that were happening, and then the Level Upper situation that evolved out of that.
The humor aspects of the manga come in part from Kuroko making some attempts at indirect kissing her oneesama or getting jealous at others who get to do what she has not (share a snack for example).  The other main humor part comes from Mikoto losing it nearly every time she comes in contact with Touma, desperately wanting to make him eat electricity and failing every time.
As to the story itself, it is interesting enough to make me want to keep reading. While the Railgun manga (and light novels) are a spinoff from the main A Certain Magical Index story (where Mikoto and Touma certainly play large roles), I like that one does not need to have read the Index storyline in order to appreciate the Railgun storyline.  There have been a few references to events that likely happened in Index, and that's fine and to be expected.  After all, the two series occupy the same place and even have overlapping stories at times.  It does seem odd though that Seven Seas chose only to license Railgun and not Index as well, which I understand was also authored by Kazuma-sensei.
Speaking of Seven Seas, the adaptation contains the Japanese honorifics, including the ever important "oneesama."  Other brother/sister honorifics survive as well, which wins major approval with me.  There are no translator notes, but there are a couple of afterward notes, including one from Kazuma-sensei. There's also a preview of Toradora.
Based on my experiences with this first volume, I've already got volume 2 on my list to buy with my next manga purchase order.