ラストエグザイル-銀翼のファム-/Last Exile: Ginyoku no Fam
Last Exile: Fam, the Silver Wing – 11
SPOILER Summary/Synopsis: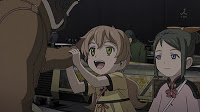 Ten years ago at the last Grand Race, a young Fam and Gisey come with Gisey's mother to the event, stopping to see Gisey's father, Atamora, and Kaiser, whom are the Kartoffel navi and pilot for their Vanship (Vespa) entry into the Grand Race. While this is going on, Ades Empress Farahnāz Augusta, with her infant child, Sārā, arrives in the VIP area, along with her two Guild bodyguards, Lukea (Luscinia) and Aluada. They meet with the King of Turan and his two, young daughters, Liliana and Millia. Millia finds herself somewhat afraid of Lukea, and he gets mildly scolded by Farahnāz for not smiling more.  Millia is fascinated by the race and sneaks off to get a better view while Farahnāz has a chat with Liliana and up above, Fam and Gisey watch the race with their group.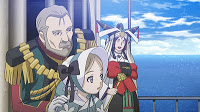 Fam takes off in a vain attempt to find her parents, and runs into Millia, who's hiding. After helping Millia avoid the royal staff, Millia gives Fam candy and takes off. When she returns of her own accord, she is scolded by Liliana, but Liliana is gently restrained by her father, and by Farahnāz, since Millia has learned her lesson. They are going to watch the final race when Liliana trips and is helped by Lukea. Afterward, Farahnāz praises Lukea for his actions and as she and her bodyguards walk a corridor, they come upon a young woman in Ades military uniform being bullied by two other Ades military people. She is from the former land of Chaos, which is why they are abusing her. Those two are sent packing and the girl, Vasant, swears loyalty to Farahnāz, expressing a strong belief in her peaceful goals.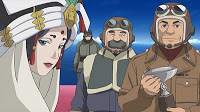 After they leave, Farahnāz, Lukea, and Aluada discuss the situation, the two Guild folks saying that without Farahnāz, there can be no peace. She asks them to not only protect her, but the world as well. With that, Liliana arrives to pick them up to witness the final race of the event. Atamora and Kaiser win the race, leading Fam to decide that she will become a pilot to make people smile like they are now. During the award ceremony, a group of assassins attempt to kill the dictator, Farahnāz. Aluada and Lukea easily defend her and start taking out the assassins, but Kaiser gets shot defending Farahnāz. Farahnāz sacrifices herself to save Liliana. In grief, Lukea murders a nearby person who celebrated Farahnāz's death and ends up losing an eye. The shock of Farahnāz's death, affecting everyone.
Thoughts/Review:
Well, an interesting flashback episode, to be sure.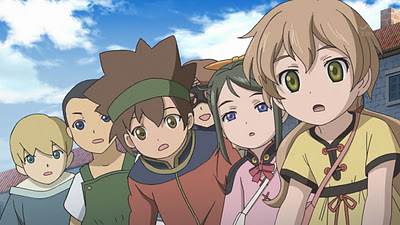 When I saw Millia and her family arrive at the Grand Race, I just knew she'd meet with Fam and Gisey. Well, I was half-right in that she and Fam met.  However, it was done in such a way so that the encounter would be nothing too extraordinary, and thus something that would not cause the two to remember each other in the present.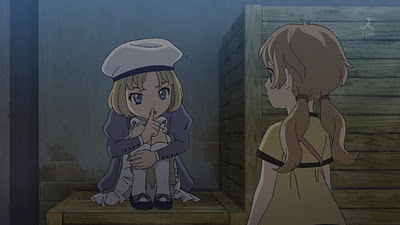 The production team made sure that all of the current players had a cameo (save for the people from the first Last Exile series, of course), so it was neat seeing them all younger and the like.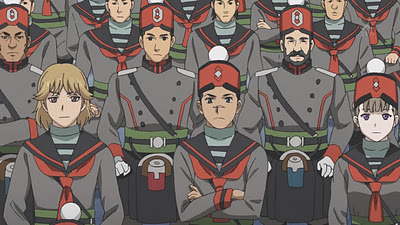 I did find it interesting that the young Vasant had been a bullying victim who was saved by Farahnāz. She had to have already been chosen for the award ceremony in order to be there when Farahnāz gets murdered. I would guess that her guarding the infant Sārā is what got her a rapid promotion, and the motherly figure to Sārā today. Otherwise, the prejudice against her would have prevented that.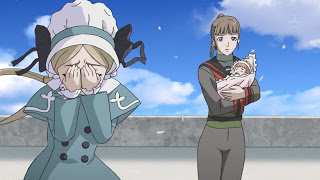 It was also interesting that Luscinia was simply a Guild bodyguard named Lukea back then, and that he and Aluada spoke with a feminine voice, just as Dio does now. I wonder what changed to give them regular voices and how Luscinia went from a Guild bodyguard to an Ades general.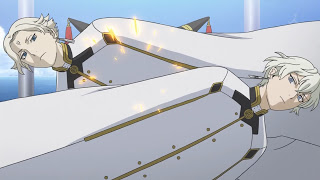 While this episode goes out of its way to paint Farahnāz as a kind and caring ruler, there is clearly an underlying darkness here. First, there was the moment she told Liliana that she was counting her sins on the prayer beads rather than praying.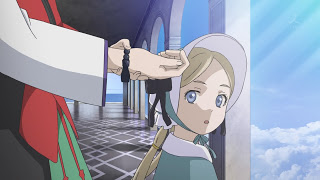 Secondly, there was the moment when Vasant was found being bullied because she came from Chaos, a land that Ades had annexed in an implied military expedition.  So, even though Vasant is loyal to Farahnāz, one wonders what Farahnāz had to do to take over Chaos.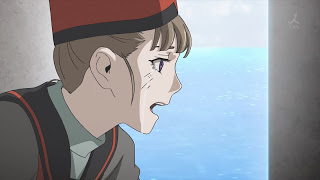 Finally, there was the assassination attempt on Farahnāz. Her assassins called her a "dictator," and one carried a pendent with his wife and children, which one infers are now deceased, likely in a war with Ades, since he wanted revenge .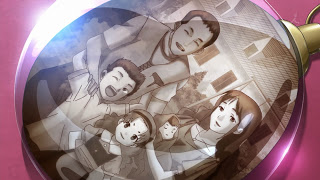 As I see it, initially, Farahnāz was attempting peace by conquering neighboring nations and uniting them under her rule.  However, I get the feeling that at some point (possibly cemented with the birth of Sārā), Farahnāz began to see that this method of peace is too costly and thus the Grand Race, whereby several nations participate in a friendly competition.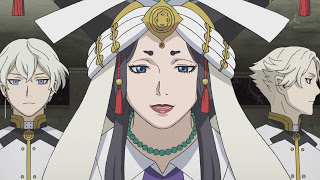 After Farahnāz's death, Lukea clearly lost it, but I think he decided to carry out Farahnāz's goal of peace via the methods originally established — military conquest.  So, he shifts to the military in order to make this a reality.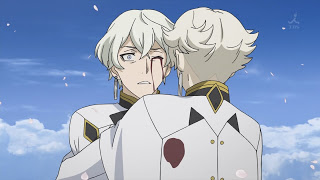 It was kind of sad when Fam went looking for her deceased parents in the crowd at the race. However, at such a young age, such logic makes sense.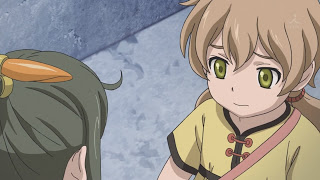 So, a really interesting episode, helping to flesh out the story quite a bit more.  I'm looking forward to the return to the present, since Fam, Gisey, and Millia are apparently with the Glacies folks.