xxxホリック Volume 18
xxxHOLiC Manga Volume 18
–> Purchase from Buy.com
–> Purchase from Barnes & Noble
–> Purchase from RightStuf


*SPOILER WARNING*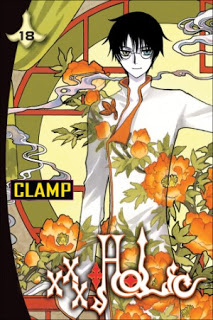 With this penultimate volume of xxxHOLiC, there's still no indication of the death that is soon to come to this manga series. That's because even at this point, the stories written were interesting and felt indicative of how the series would continue to progress, only with characters like Kohane-chan and Doumeki older.
There are only three stories in this volume, namely because CLAMP shifted to a monthly format and some chapters were nearly fifty pages in length.
The first story is probably the most powerful, dealing with the aborted (or stillborn) child.  I've already written a lengthy piece here on the subject, so I won't rehash the subject.
The second story featured the woman who had the unrequited crush on Doumeki and would do anything to get him, even at the cost of her own life.  That was weird, but interesting.
The final story has the gang from Tsubasa show up, almost as if throwing a bone to fans from that series who'd been so frustrated or angered by how things went there.  Looking back, it is possible that this story marked CLAMP's beginning to consider ending xxxHOLiC.
On the Del Rey side of things, there are the usual translator notes, which are always welcome.  I did laugh at Del Rey advertising their former manga titles, but I suppose that since Del Rey still appears to be selling these older volumes (I had thought that Kodansha Comics would take over), it is understandable.
Well, one more volume and then, no more Del Rey manga purchases for me.  It really is sad, considering how Kodansha Comics appears to be on shaky ground at the moment.