美少女戦士セーラームーン/Bishōjo Senshi Sailor Moon Volume 3
Pretty Guardian Sailor Moon Volume 3

–> Purchase this volume from Barnes & Noble
–> Purchase this volume from Buy.com
–> Purchase this volume from RightStuf


*SPOILERS*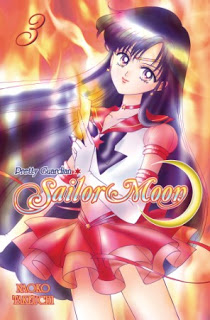 This volume has the Sailor Moon group face and defeat Queen Beryl, before having to deal with the final boss, Queen Metalia.  Sailor Moon remembers more of her former life, and the tragic choice she was forced to make then regarding her love, Tuxedo Mask. Now, she is presented with the same choice and laments that fate has apparently chosen to force them to follow the same path again. Sailor Moon makes the same, tragic choice, but it doesn't stop Metalia, forcing Sailor Venus and the others to try to revive Sailor Moon, as Metalia is growing stronger. They succeed at reaching Sailor Moon, at a price, but with the help of Tuxedo Mask, Metalia is defeated. Further, Sailor Moon receives a "power up" and revives her friends.
With the Dark Empire defeated, there's no rest as a new, evil faction called the Black Moon are now after Sailor Moon and her Legendary Silver Crystal. Events start when a young girl, looking somewhat like Sailor Moon and even having the same name, "Usagi," literally falls out of the sky, looking for the Legendary Silver Crystal.  "Usa-chan," aka "Chibi-Usa," worms her way into Sailor Moon's home, but she has a cat toy that looks like Luna.  The Black Moon faction moves and manages to kidnap Sailor Mars.  The remaining four are shocked, then meander around thinking about rescuing Sailor Mars, before the Black Moon folks target Sailor Mercury and kidnap her.
Ugh.
As I read this volume, I kept wanting to just stop reading, or just skip ahead.  I know I'm not the target audience here, but the "tragic" story of Sailor Moon and Tuxedo Mask had zero impact on me. In fact, it seemed like an attempt by Takeuchi-sensei to force a sad, tragic event, but it doesn't work.  This whole reincarnation thing may work better with Japanese audiences, but I just didn't care about whom these kids were in their former life, nor did I care that in the modern world, Sailor Moon would be forced to kill the man she loved.  I'm supposed to care, but the elements aren't there for me to care.
I suppose the girls who read this manga were all, "how romantic."  I see the elements there of the Knight in Shining Armor and the Snow White meme, but the elements that would make me care are missing.  Those elements probably don't need to exist for young girls.  Well, when my nieces are a little older (assuming their mom agrees), I'll give them my Sailor Moon manga and see what they think.
Anyway, as expected, everything ends all lovely for the Dark Kingdom arc, but then we get this new arc and a new character who's obviously tied to the Sailor Moon clan.  No doubt, this kid will be someone they all knew in their former lives, or worse.  Since her name is "Usagi," maybe she's from some alternate universe or something. *_*  Either way, her inclusion feels forced.
Next, this "Black Moon" arc gets things to the next level by having Sailor Mars kidnapped.  Then inexplicably, the others don't seem all that concerned about the fact that a member of their team, and presumably one of their friends, has been taken from them.  No, life goes on with only a passing thought to rescuing Sailor Mars being given.  Then, Sailor Mercury gets nabbed and the manga ends.  So, does that mean that the remaining three will finally get serious, or will everyone be kidnapped until its just Sailor Moon and Tuxedo Mask, where Chibi-Usa reveals some hidden power and helps save the day.  *_*
Ultimately, the problem I'm having with the Sailor Moon manga is that it doesn't feel grounded.  It seems to flit from moment to moment, and while there is some ultimate goal to reach, the method of reaching it is as flighty as the characters are vapid.  I thought about this for a while, and I think that a big part of the problem is that Takeuchi-sensei's art rarely shows where the characters are. Other manga I read allow the readers to get a feel for where the characters are physically.  Takeuchi-sensei doesn't do that very much at all, especially during action moments, thus there is a chaotic feeling of events just happening.
So, there are characters I really don't care about, situations that aren't all that interesting, and action with no sense of location and spacial relationships.  As such, for me, it is a lot of chaos, meaningless shuffling around, as well a fair amount of eye-rolling angst.
On the Kodansha side of things, honorifics are being used, which I approve of.  Unfortunately, the brother/sister honorifics are scrapped in favor of things like "Big Bro," which makes me cringe. I know that's a minor thing, but it is what it is for me. There are some translator notes, which is cool, and some color pages at the beginning, which is cool too. Unfortunately, the internal, color manga pages aren't there, and even if they weren't in the Japanese tankoubons, I'd love to have them in the U.S. version.
I'll keep struggling with this series, mainly because I want to continue my education.  Sailor Moon was massively popular in its day, and still is today based on sales in the U.S.  As such, I want to understand why.