Piracy Wars: Do Scanlations of Manga With Poor Endings Really Hurt U.S. Sales of Said Manga Titles?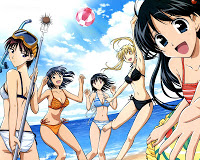 For the longest time, I have lamented the fact that School Rumble was cut short in the U.S.   As is typical of U.S. publishers, there's this need (whether forced upon them by contracts with Japan or not) to keep the U.S. release of the manga roughly 1.5 to 2.5-years behind where the manga is in Japan (speaking of the magazine release of the manga in Japan rather than the tankoubon release), or in some cases, longer. So, when School Rumble ended in Japan on July 23, 2008, volume 10 was just released in the U.S. (and for the record, the penultimate volume 21 was released in July 18, 2008).  So, we were ELEVEN VOLUMES behind Japan (~2.75-years), with the final volume still to come.
To date, I have not read much School Rumble beyond what Del Rey released.  That's because I kept hoping that Del Rey would finish out the series.  When School Rumble Z came out and was released as a tankoubon in Japan, I did buy it (review here).  At the same time, I tried to learn what was going on with Del Rey and/or Kodansha Comics continuing the series.  A rumor came out that Del Rey might start finishing the series in a few years (which would be this year, if I recall correctly), while at the same time, Kodansha Comics appeared dismissive of School Rumble or any other Del Rey title that they hadn't already announced.
Over the time since Del Rey's final, self-made omnibus release of volumes 14, 15, and 16 of School Rumble came out, I have often wondered why we couldn't get the series finished in the U.S.  What fans usually tell me is that poor sales, caused by the poor ending of School Rumble in Japan and scanlations of which were subsequently read by American fans, killed it.  Thus, it is basically unlikely that the manga will ever be finished in America, even as a license-rescue. Apparently, the story of School Rumble left a very bad taste in fan's mouth, due to the manga ending without proper resolution of many plotlines.  Having read School Rumble Z, I can see where these complaints were addressed.
So, what brings me to discuss this now?  Well, besides the Negima! manga series getting shut down this week without some plotlines resolved (though the final chapter DOES give a proper ending to the manga to show what happens to everyone), I noticed that another series that has a poor ending, which was also scanlated, xxxHOLiC, is number 1 on the New York Times Manga Best Seller's List released on Monday (March 12, though for some reason, the list is dated "March 18, 2012").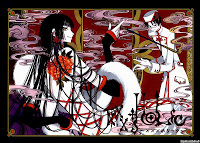 For those who don't know, xxxHOLiC was an ambitious project by CLAMP, who linked it with the Tsubasa: -RESERVoir CHRoNiCLE-. xxxHOLiC featured the male character, Watanuki, who was plagued by things from the Spirit World, and his strong wish was to make it stop, so that he couldn't even see them.  To that end, he ended up becoming the employee of the so-called Space-Time Witch, Yuuko-san, who said that upon performing enough work for her, she would grant his wish.  While Yuuko-san is a central character of xxxHOLiC, she's also a driving force in Tsubasa, where the characters there make a wish of her in order to travel into other universes for a variety of different reasons.
The xxxHOLiC manga often had stories showing how people do things which can cause themselves or others massive problems without them or anyone else realizing it, due to the unseen supernatural aspects of their thoughts, words, or deeds. As such, xxxHOLiC was a very interesting and often dark manga.  There were also comedic aspects to the manga, as well as romance and the like.  Unfortunately, as CLAMP turned Tsubasa into a twisted mess, because it was linked to xxxHOLiC, xxxHOLiC ended up suffering story-wise as a result.
Once Tsubasa ended, xxxHOLiC was soon moved from a weekly seinen series to a monthly shounen series and while it still retained the name xxxHOLiC, it now had the subtitle, xxxHOLiC: Rou, though the tankoubon releases still were xxxHOLiC.  The character of Watanuki was placed in charge of the shop he'd worked at and began granting wishes.  Initially, it seemed xxxHOLiC was mostly recapturing the kinds of stories it was known for before, sans the loss of one major element.  Indeed, it seemed to me that the manga might even surpass its former heights because there were all kinds of things that could be done.  Sadly, CLAMP apparently got tired of the manga and wanted to do something else, thus when it ended, fans went, "What the…?!  But..!  You can't be serious! What about ?"
I remember reading this ending and being somewhat depressed about how the manga was killed, since it had so much potential to go on for a long time.  Further to that, some characters where basically given the shaft, and in the end, the series felt like, "What was the point?" Many fans were angry and railed against CLAMP, vowing never to read CLAMP again.
Because people had told me that the poor ending of School Rumble had killed sales of the manga in the U.S., I expected the same thing to be true for xxxHOLiC.  Thus, my surprise that xxxHOLiC allows Del Rey to go out on a bang on top of the charts (and yeah, I'll get a review of the last volume out down the road).  As such, it would seem to indicate that the poor ending to xxxHOLiC's story hasn't dampened American fan's enthusiasm or desire to buy the manga.
So what gives?
One thing I noticed is that the release times between the U.S. and Japan on xxxHOLiC weren't nearly as great as they were for School Rumble. For example, volume 14 of xxxHOLiC was released less than a year after its tankoubon was released in Japan.  Volume 19 of xxxHOLiC was released a year and a month after its tankoubon release in Japan.  So, there's less time for fans to become impatient waiting for the American release after the series as ended in Japan.
Another factor could be the general good-will built in for CLAMP, who've been in the business of producing manga hits much longer than School Rumble's Kobayashi-sensei.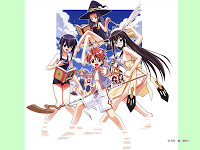 This takes me to the popular Negima! manga series, which ended its run in Japan on Wednesday, March 14, 2012 (volume 38, the final one of the series, will be released later this year).  The manga has what can be considered a poor ending, which has many fans raging and the like (without waiting to hear what Akamatsu-sensei might do, as he's hinted a possible sequel).  Will its poor ending cause fans to abandon purchases of the official English edition?
Only time will tell if this will be the case, but at least here, Kodansha Comics is keeping Negima! roughly a year behind the tankoubon releases in Japan.  Unfortunately, Kodansha Comics is not treating the manga release very well with poor quality control and the removal of the well-liked cover art/notes from Akamatsu-sensei.  So that may play a factor as well (and as an aside, Kodansha Comics needs to get their act together and fix these problems with their releases).
In the end, while I'm sure that the scanlations of School Rumble's poor ending being read by American fans didn't help matters, nor did Del Rey's long time-span between the tankoubon release in Japan and the volume's release in America, I can't help but think that there is more to it than that.  Considering how poorly the most excellent comedy manga Hayate the Combat Butler is doing in America, I wonder if most fans in American don't like whacky, comedy manga series (or don't like them enough to make room in a manga budget to buy the series)?