LUPIN the Third ~峰不二子という女~
LUPIN the Third – MINE Fujiko to Iu Onna 
Lupin III: A Woman Named MINE Fujiko Episode 01
SPOILER Summary/Synopsis: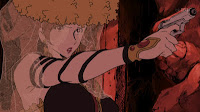 Fujiko has infiltrated the Fraulein Hoyle Cult to become the bride of the cult's leader and steal a drug he uses to intoxicate his followers, not realizing that the infamous thief Lupin III is also casing the cult. She attempts to poison the cult leader by transferring a pill to him in a deep kiss, but this fails. Lupin barges in, and ends up a prisoner with Fujiko. The two reveal they are well aware of each other, and Lupin wonders if Fujiko can be a thief on his level by seducing folks. She starts attempting to seduce him, then gets the guards to believe Lupin tried to rape her. They drag him off, and she seduces the remaining guard. The next morning, she witnesses "her" and Lupin's beheading, only to discover that Lupin had also escaped. He learns that she's willing to kill, which makes her more interesting.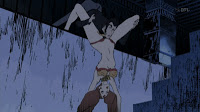 The cult leader is furious and back in his harem, Fujiko is disguised as a dancing girl to get what she wants. Putting his harem to sleep, she gets him to open up a large backroom where the drug is made, but she's caught. Lupin rescues her and reveals a statue made of the Fraulein Hoyle drug. Fujiko is determined to remove him as a rival, but fails. She's horrified that Lupin sent a calling card to Zenigata, all because he was bored. He escapes with the statue, but she thwarts him several times, only to destroy the drug statue, meaning neither get the prize. She leaves on her motorcycle and discovers Lupin has left a message on her arm, marking her as a target for theft. He watches her leave, and has found a cure for his boredom.
Thoughts/Review:
As I thought, this series was Fujiko gets naked, and when she's not naked, she's usually mostly naked. *_*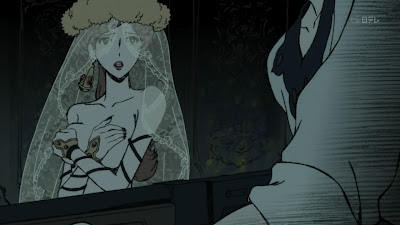 Still, while there was an annoying amount of Fujiko attempting to get everything she wants via seduction, the production team had sense enough to have her use non-seduction tactics, such as the lipstick bullet.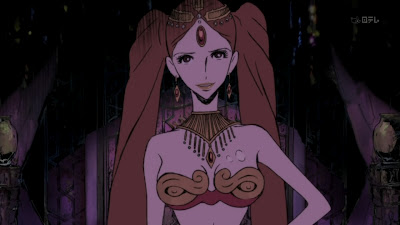 What made the episode work wasn't Fujiko's breasts or attempts to start a hentai scene, but rather the chemistry between her and Lupin. He's bored and looking for a challenge, and considering her seduction skills, willingness to kill, and other factors, Lupin's found someone worthy of his interest as a fellow thief.  I liked that aspect a great deal.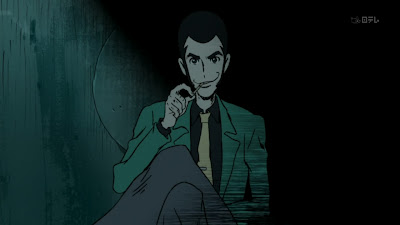 For Fujiko, Lupin isn't someone who's going to just fall for her charms.  He's more prepared than she is for various eventualities.  Furthermore, he's not in it for the money like she is, but just for the challenge of taking something. Thus when the drugs are gone, he's fine with it while she's unhappy.  It makes for an interesting combination that fits with how we've seen the two act in the past, only here it is at an initial stage.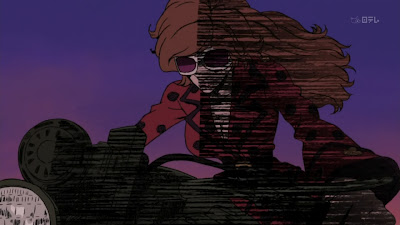 There was no Jigen or Goemon, so I'm going to assume they'll be introduced down the line. Zenigata's arrival was little more than a cameo, but it does establish his presence.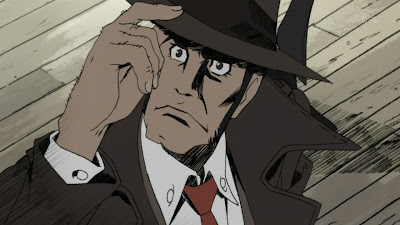 I can't say I'm a fan of the character designs here. I know some are going to love them, but I would not be one of them.  Nor am I a fan of this psychedelic art and animation style.  Fortunately, this first episode's story was strong enough to overcome these dislikes of mine.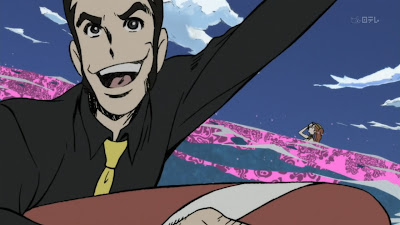 So, while there are things I don't like, I did like the story of this first episode, and that's a good place to start.