フェイト/ゼロ Episode 14
Fate/Zero – 14
SPOILER Summary/Synopsis: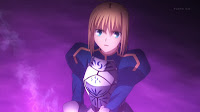 The beast Caster has created is too much for Saber and Rider, and it has drawn the attention of Japanese civilians and the air force. Risei sends his son Kirei to the scene to help Tohsaka as Risei prepares for a coverup of this disaster. Tohsaka tries to get Archer to help, but after four failed attacks, Archer won't waste any more of his treasure weapons. One of two air force jets gets consumed by the monster and the second is taken over by Berserker, who uses it to go after Archer, who's on a winged throne platform. Archer flees, but finds himself entertained by Berserker's continued pursuit and attacks.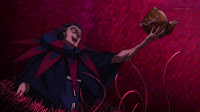 Tohsaka engages Kariya, the later demanding to know why Sakura was sent to his family. Tohsaka's explanation angers him and he launches a massive insect attack. Saber rescues Rider from the clutches of the massive monster while nearby, Ryuunosuke rejoices in the death and destruction he can witness at his leisure. Emiya puts a bullet in Ryuunosuke's gut, then one in his head. Caster mourns the loss of his Master and proceeds with the plan. Emiya contacts Maiya, telling her that they have to kill the monster before it gets to shore, or Caster will become immortal. Saber has the ability to kill it, but since Lancer's curse put her out of action, Emiya decides to put the Servant's chivalry to work.
Thoughts/Review:
Finally, that creep Ryuunosuke is dead. It made sense to remove him first, and Emiya is right in that they have to stop the monster.  Still, what is Emiya going to have Saber and Lancer do?  Knowing Emiya, he's going to do something ugly to try to force Lancer off the stage and thus remove the curse.  Not sure what else he could do that he hasn't already done though.
However, Tohsaka is only interested in removing Kariya first. I suppose since he has no control over Archer, it is all he can do, even if it means disaster.
As to Tohsaka's explanation on why he gave Sakura up for adoption, it sounds good on paper, but it is crap. Only one family member can know the family mage secrets? That's bonk. What happens if Rin is killed?  Oops? I guess the Tohsaka family is hosed then, eh? *_*
I guess Berserker was brought in to go after the monster, but ended up going after Archer instead.  Well, that would match his name — berserker.  He's just a mindless warrior going after the first Servant he came to.
Anyway, not sure what's going to happen to Lancer, but Caster is probably soon to be removed.  From there, it is a question of who's next.  Further to that, what's Kirei going to do?
Thus ends an entertaining episode comes to an end. I'm glad this series is back on. ^_^