LUPIN the Third ~峰不二子という女~
LUPIN the Third – MINE Fujiko to Iu Onna Episode 04
Lupin III: A Woman Called MINE Fujiko – 04

SPOILER Summary/Synopsis: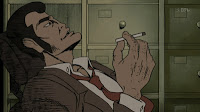 Fujiko has sex with Zenigata to get released from custody, but he has one more task for her to perform – to keep Lupin from stealing the jeweled mask of the opera singer Ayan. Zenigata's assistant, Oscar, is not sure this is a good idea, but Zenigata plans to take two birds with one stone. Fujiko is taken to the Gerenia Palace and shown around, where she learns of the ghost of the place. During that night's performance, where Fujiko plays a part, Lupin, disguised as a horse, grabs Fujiko and heads offstage, where he reveals himself to her. A stage light comes crashing down, causing Zenigata and his men to think it it Lupin, but it is some other masked, caped person. Ayan and her male lead improvise from there, but when the curtain falls, she passes out.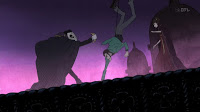 Fujiko takes Ayan's place, where the plan is for her to be switched at a certain time via a floor elevator. However, Fujiko is taken down soon after she starts, and the elevator cage doesn't open for her. The "real" Ayan appears, as Fujiko finds a note and realizes that Ayan had participate in the staged event of the stage light's fall. Meanwhile, Lupin makes his move on the mask by releasing the bees on the roof of the palace, who are attracted to Ayan's headpiece, thanks to a device he planted there. Her headpiece and mask come off, revealing a former stage hand named Nora, who's apparently been masquerading as Ayan. The "Phantom of the Opera" enters to thwart Lupin from taking the mask.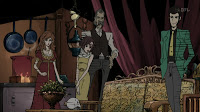 Zenigata goes after Lupin while Oscar chases the "Phantom," running into Fujiko along the way. He instructs the "Pig Woman" to follow him. She gets separated from Oscar in the maze under the palace, and comes to the aquifer, where she has an hallucination and caught by the "Phantom," who turns out to be the superstitious stage hand, Darenzo. Another "Phantom" appears, who turns out to be the real Ayan. They take Fujiko to a crypt, that they've set up as a home so that Ayan and Darenzo can be together while Nora gets to live out her dream. While this goes on, Lupin manages to elude Zenigata and enters this domicile. Ayan shows how little she cares for the mask by throwing it into the fire, and invites them to have dinner.
Thoughts/Review:
So, Fujiko banged Zenigata as part of a deal to get out of jail?  Man, that just seems so wrong and then some. *_*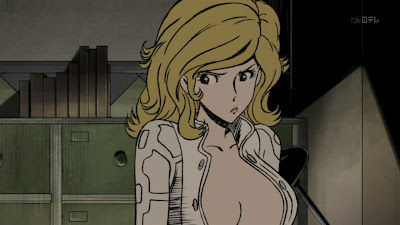 Still, Zenigata is a much darker character here than I've ever seen him be.  His obsession with Lupin isn't cartoonish, nor buffoonish.  Instead, Zenigata has a mission — kill Lupin, period. To that end, he bangs a prisoner and he even tries to shoot Lupin, though Lupin holds no malice to Zenigata, as displayed when he pumps fake blood on the cop.  Zenigata become a MUCH more interesting character as a result.
Since Lupin remains in character throughout, I'll go to Fujiko now.  I see her as a woman with no self respect, who's willing to do anything to make a financial score, even have sex with someone she probably would never touch in ordinary circumstances. I think the character of Oscar, who strikes me as gay, represents a portion of the audience when he calls Fujiko the "Pig Woman" and basically refers to her as a…well, I'll use the term "lust dump," but replace the word "lust" with a 3-letter word that starts with the letter "c."  I suppose that makes her a tragic character of sorts.
As to the story, it rather seemed like a reverse Phantom of the Opera of sorts, as the female opera singer is the one with the jacked up face, and a stage hand is her lover.  Despite my non-interest in opera, I found the story surprisingly interesting, so much so that when the episode ended with a "to be continued," I thought, "it is already over?"  Things are laid out well from a writing perspective, which helped a lot. The changes in Zenigata, Lupin being there, and the interesting, if reeking of crazy, plot twists kept me glued to my screen.
Also, while the theft of the jeweled mask is the target of Lupin's thievery,  it is only a vehicle as the story is not about how Lupin is going to steal it, nor how Fujiko might try to steal it.
Putting the whole sex thing aside, the one piece that was distracting was Fujiko's hallucination. I've no idea what the production team is thinking with that scene. It may become clear next episode and possibly reveal more about Fujiko's possibly tragic past.
I'm not sure, but I think episode 4 may be the best yet, or at least, a close tie with the first episode. I'm rather looking forward to seeing how part two of this story plays out.  I have a feeling that the results will have Fujiko semi-teamed up with Lupin.