フェイト/ゼロ Episode 17
Fate/Zero – 17

SPOILER Summary/Synopsis: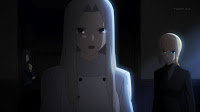 Kirei arrives at the church to find his murdered father, which he then reports of in person to Tohsaka and Archer. Tohsaka is angry by this, and after paying a visit to his wife and daughter, requests a meeting with Iri and Saber via Maiya. Iri, having recovered from her bout of unconsciousness, agrees and meets Tohsaka, Kirei, and Archer at the church, backed by Maiya and Saber. Iri refuses Tohsaka's request for an alliance, but does offer a cease fire to eliminate the other Master/Servants, providing that Tohsaka give all information regarding Rider and his Master, and that Kirei is thrown out of the Holy Grail War. Tohsaka agrees to these conditions. Saber leaves on her new motorcycle from Emiya while Maiya take the weakened Iri home, where Iri reveals the truth of her condition to Maiya.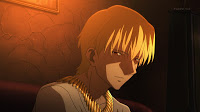 Kirei is packing up when Archer pays him a visit. Since it is clear that Kirei is not planning to actually leave the war after taking a call where he learns the Einzbern hideout, Archer says that Kirei now finds himself facing an enemy Servant. Kirei isn't worried, showing the Command Spells he obtained from his father, and explains the true nature of the Holy Grail war to Archer, including the fact that Archer would be forced to kill himself via Tohsaka's Command Spell should Tohsaka win. The news leaves Archer with no doubt about Tohsaka, but he's reluctant to kill his supplier of energy. As such, the two come to an agreement that Kirei will become Archer's Master when Tohsaka is dead since Kirei is a Master without a Servant.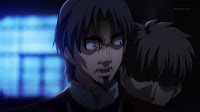 Tohsaka summons Kirei for one final meeting and leaves him his will, just in case. As such, Kirei agrees to become Rin's legal guardian and instructor in magic, should Tohsaka fall. Tohsaka gives Kirei the dagger Azoth as a symbol of Kirei's graduation from mage apprentice to full mage. Having done this, Tohsaka rises to leave and apologizes for delaying Kirei, who is supposed to be flying out. Instead, Kirei follows Tohsaka and stabs him with the dagger, murdering his former master.  Archer appears, and as agreed, becomes Kirei's Servant as long as Kirei is interesting. The ritual over, Kirei wants to put an end to this war.
Thoughts/Review:
It really is sad knowing that Iri is a goner and that Avalon is all that's kept her together. I really like her character, which is a combination of childhood innocence and delight, as well as the maturity of a mother and loving, devoted wife.
It is interesting how she opened up to Maiya rather than Saber regarding her condition. I suppose that's because Maiya is all business, whereas Saber would not accept this outcome of Iri becoming the Grail.
Although Tohsaka has been an arrogant arse, he did show that he still cared for his wife and daughter by paying them a visit. His parting gift and words to Rin were done in a way that suggests he knew he wouldn't win the war.  That was also true with his words to Kirei.  Unfortunately, this smacks of convenient writing for those of us somewhat aware of the Fate/stay night story.  Had Fate/Zero come first, it would have more meaning. Knowing what's to come, it feels a tiny bit forced.
Speaking of Fate/stay night, I actually laughed a bit when I saw the Azoth dagger presented to Kirei. I remember full well that it was this dagger, in the hands of a teenaged Rin, that kills Kirei. As an aside, I wonder why Kirei kept his promise to teach Rin magecraft and be her guardian.
Also, the setup for Gilgamesh-Archer and Kirei to be in Fate/stay night is complete.  When you think about it, the original visual novel really did have a lot of nifty ideas.  No wonder the franchise is such a hot one, even without the hentai elements.
Thus, another interesting, though tragic episode comes to an end. I'm looking forward to seeing how things get to the ultimate conclusion.