Taiho Shichauzo! Full Throttle
 逮捕しちゃうぞ フルスロットル
You're Under Arrest! Full Throttle — Final Thoughts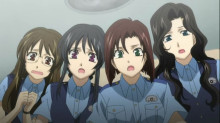 I recall when I first rented the You're Under Arrest OVA DVD from AnimEigo (which they released as part of the TV series) and how that while the stories were kind of weak, overall, things were pretty sweet.  The artwork and animation died in the subsequent TV series, but there were a lot of good things that came out of there. The TV specials were rather weak, but the movie wasn't bad, and the 2nd TV series was quite good.  So, when a third You're Under Arrest TV series was announced, I was rather excited as there were things I really wanted to see accomplished in this latest installment of the franchise. Sadly, Full Throttle is a terrible conclusion to the franchise.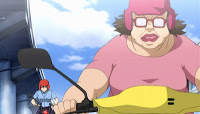 Things started off fairly well with a 2-part story featuring a kid named Randy, which help Miyuki and Natsumi, the female leads for this franchise, return to their old jobs at the Bokuto Police Department. After that, things become tedious rather quickly. The stories are OK for a while (and I did enjoy seeing Strike Man and Scooter Mama back), but then become boring because there's just no core to anything.  The characters aren't developed further, which they were in YUA2 and why I enjoyed that series so much.  A lack of character development means that the characters simply go through the motions and events carry them from point to point without meaning. The episode are mostly formulaic with some crime thing happening, the cops not being respected, and the dynamic duo laying the smack down. BOOOR-RINGGGG!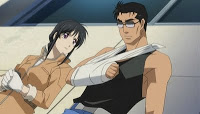 There were some things that really irritated me. Natsumi's love interest from YUA2, Shouji, is gone and is NEVER EVEN MENTIONED! Ken and Miyuki's romance gets touched a couple of times, but there's no progress and a really weak attempt to make them a couple at the end. I didn't want that. I wanted a REAL resolution, but that would require character work, which wasn't going to happen. Saori-chan gets a cameo, which was nice, but her character wasn't handled right and she annoyed me. Daimaru (Ken's father) and his young wife Sana get a cameo toward the end of the series, but as with everything else, they are just there to be there and not to actually contribute to anything meaningful.  Again, there's just NO character development.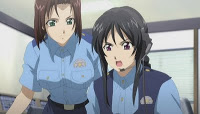 In the end, Studio Dean and director OHATA Koichi really do a terrible job with the franchise by simply attempting to cash in on the established fandom and not actually do anything other than go through the motions. Because of this, the lack of character development, and the lack of any proper resolution to certain story threads (like Ken and Miyuki's romance), You're Under Arrest: Full Throttle is pretty much a pass.