LUPIN the Third ~峰不二子という女~
LUPIN the Third – MINE Fujiko to Iu Onna Episode 09
Lupin III: A Woman Called MINE Fujiko – 09

SPOILER Summary/Synopsis: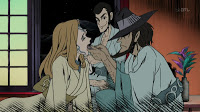 Lupin and Jigen are at a festival in Japan, where they eventually make their way to a tent that houses a stage, where eventually a specially painted, nude, young woman appears on stage, the apparently art masterpiece of one Natarle Aiden. Lupin and Jigen, now in disguise, are preparing to act as an auction for this living art takes place, when the tent starts to come down around them. A heavily cloaked person attempts to grab the painted lady, but Lupin and Jigen get her to safety at an inn. There, Lupin reveals that the girl has probably never been educated and was raised to be a living piece of art. It is then that Lupin senses an attack, which is from Fujiko. She demands they hand over the girl, but they refuse and escape on a boat in the river. Seeing them, Fujiko has a flashback to her troubled past, and vows to make the painted girl hers.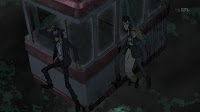 Lupin and Jigen make it to an aerial tram, but Fujiko is right behind and shooting up a storm. The painted woman plays with a toy Jigen gave her as Fujiko manages to make her way to them despite their efforts to stop her. They leap to the other tram on the way down, after which Jigen shoots their former tram down, taking Fujiko with it. Jigen takes the young woman to a park for the police as Lupin investigates the crashed tram. He finds that Fujiko had escaped, and though the police have the painted woman and are driving back with her, Fujiko attempts to run them off the road. Her actions cause the young woman to lose the toy out the car window, so she leaps out after it, forcing Fujiko to turn around, where she attempt to run the girl over, but is thwarted by a bullet from Jigen to her tire.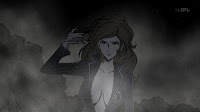 Jigen gets the girl into a rickshaw, but Fujiko shoots up one of the wheels. Lupin catches the girl and flees with Fujiko in pursuit. At a chain of hot springs, Fujiko thinks she's found them and shoots, but it turns out the Lupin is taunting her. Lupin continues to be one step ahead of the frustrated and psychotic Fujiko, to the point where she even slips on a bar of soap in her path and loses her weapon in the water. Lupin points out that Fujiko really isn't interested in getting the girl and selling her, but in fact wants to kill the girl, or rather wants to kill herself. As he speaks of how her life has been molded by others, Fujiko manages to get a gun from Lupin and tries to shoot herself, but it is only a water gun. The dazed Fujiko stumbles away and eventually comes upon Goemon at a bus stop while Jigen and Lupin clean the painted woman up and leave her at a temple.
Thoughts/Review:
Man! Goemon shows up and the episode ends? WHAAA!  *lol*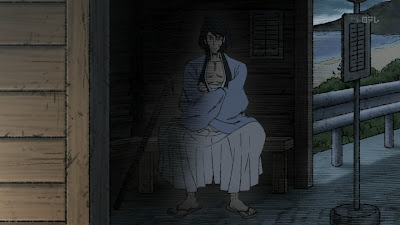 Well, I may as well get this over, but we actually have our first episode where Fujiko isn't showing the goods. I suppose that's because all of the breast time was dedicated to the poor, painted girl.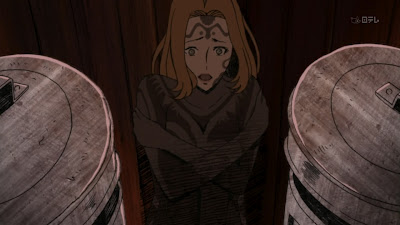 Anyway, I think I have to say that I liked this episode best.  For starters, Lupin and Jigen are working together, and Jigen's reasons are easy to understand — Lupin offers him the best meal ticket he could get, and the work would involve having fun as well.  I really do like seeing them becoming friends and partners (right down to Jigen knowing when Lupin is holding out on him), so hopefully from here on out, Jigen and Lupin are together.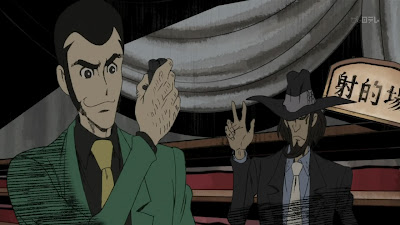 Another element that has been sorely missed is the trademark Lupin humor. We've only seen it sporadically through the series, but here, it was on full parade with Lupin taunting Fujiko and performing his normal gags. That was a good thing, especially in a series so dark.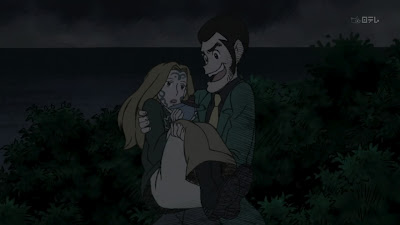 I really felt sorry for the painted girl. To have been born and raised, simply to be a living work of art is just evil.  The fact that there were so many people willing to pay millions (in 1960's currency) is even sicker.  She is purely innocent, as reflected in her fears and in her delight at getting a toy from Jigen. I imagine that no one has done such a thing for her before.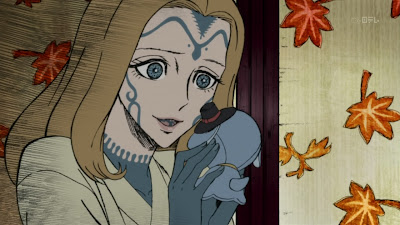 I don't imagine that Lupin's interest in the girl was for profit, since he and Jigen cleaned her up and left her at a temple. Therefor, Lupin must have gotten wind that Fujiko was going to go after the girl, and his purpose was purely to "steal" Fujiko.  Even if that is the case, I like how Lupin still has his heart of gold nature in protecting an innocent like the painted young lady.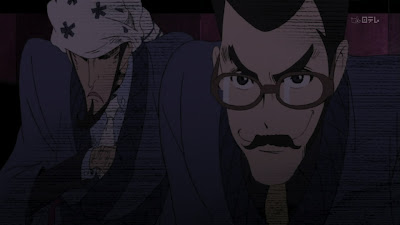 On the Fujiko side of the story, I like how she's the villain, but I don't like how she couldn't hit the broad side of a barn with a submachine gun. Seriously? Last episode, she murders two guards by shooting them in the eye.  This episode, she doesn't shoot the two men who came after her when she first tried to steal the painted girl, but instead, she shoots the ground at their feet to make them dance.  If it was done for comedy, it failed because we've seen Fujiko be ruthless and kill those in her way.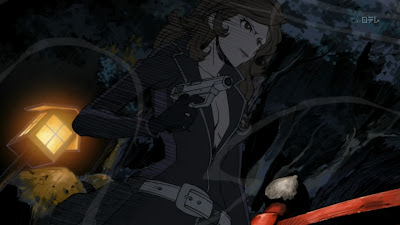 On the other hand, her losing it helps make the humor moments with Lupin work, right down to the gag with the soap, or the cutout of Lupin and the painted girl (which defies explanation, but being a traditional Lupin humor moment of taunting an opponent, it passes the "suspension of disbelief" threshold).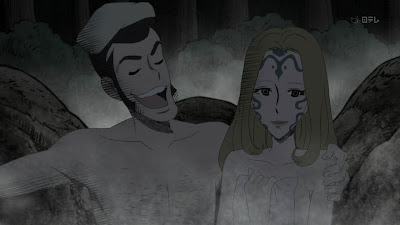 I find the concept of Fujiko having been molded by whomever these owl men are, including the Count mentioned last episode, to be an interesting one. She's been stealing and such, but is she doing this because she's unwittingly the pawn of this Count, who's groomed her into being such?  I guess we'll find out.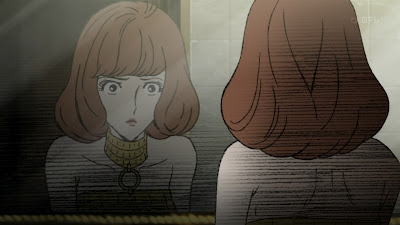 And as I said earlier, Goemon's showing up is sweet.  This should lead to a situation where he's teamed up with Lupin and Jigen.  However, before that happens, one wonders how Fujiko's "boyfriend-san" will deal with her, now that she's literally stumbled onto him.  I have to think that like Lupin, Goemon wasn't there by accident, but was there because he'd been keeping tabs on Fujiko.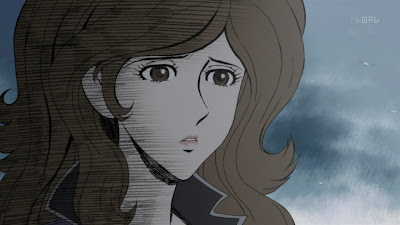 In the end, outside of a few minor problems, I really did like this episode.  It had all of the fun of a classic Lupin adventure, while at the same time, continues to explore Fujiko's.