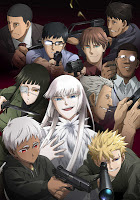 Howdy folks! Thanks to MASSIVE overtime I'm working at the moment (bills to pay, y'all), I just didn't have time to finish the blog post that was supposed to go today.
Anyway, because my free time is so limited, I've had a change of plans of Jormungand and will blog the first series/season rather than episode blog it in order to try to be ready for the second series/season when it launches. As such, I managed to sneak in the first two episodes of the series and I have to say, it has been everything I'd hoped based on some promo images of the series that featured the lead character, Koko.  Indeed, this line from the song "Time to Attack" fits so perfectly.
"Her name is Koko, she is loco, I said 'Oh no!'" ♫
Here's the full version of the song from the OST, which features the rapper Santa.
I'm REALLY looking forward to seeing the rest of this series as well as the new episodes coming down the road.  Hopefully, I'll be able to score the OST CD here soon. ^_^