うる星やつら episode 194 (TV anime)
Urusei Yatsura Ep. 194 review
SPOILER Summary/Synopsis:
Note: This was actually a rerun of episode 44. However, since I never blogged that episode, I'll go ahead and do so now.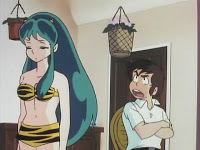 Lum is sewing a small doll when she notices the time and forces Ataru to go with her to a restaurant, where Lum's troops are waiting to celebrate her first year on Earth.  Megane and the others aren't too pleased with Ataru being there, and he's annoyed as well, telling Lum that she's totally ruined his life. When he confirms to her that she's a bother to him, she quietly leaves, telling Ataru bye from the door. Megane and the others are not pleased as Lum goes to the Moroboshi residence, gathers Ten-chan, and flies away. Ataru goes home to find Lum isn't there. At dinner, his parents are happy with the peace of not having Lum and Ten-chan around. Ataru doesn't eat much and returning to his room, he finds the Lum doll that Lum had made, wondering if she's gone forever.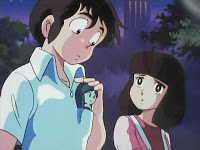 At school, Ataru carries the doll with him while everyone wonders where Lum is. Megane and company seize the doll and play keep away with a frustrated Ataru. Upon learning that Lum is missing, Shuutaro has his military search high and low, but to no avail. Ataru gets the doll back and that evening, Shinobu calls him to meet her at a park. Ataru says they can now get back together since Lum is gone, but the doll in his pocket tells Shinobu otherwise, so a depressed Ataru faces the truth and leaves. Slowly wandering the city, Ataru eventually trips over a garbage can and weeps over Lum's absence, not knowing that she's in orbit on her father's ship, getting her papers to live on Earth renewed while secretly listening to him via a hidden mic in the doll. The following day, Lum returns, causing Ataru to be much relieved though he pretends otherwise.
Thoughts/Review:
This penultimate episode showed the top 10 Urusei Yatsura episodes, as rated by Japanese fans. So I thought I'd run through them real quick.
10.  Episode 1.1 ("I'm Lum-chan the Notorious!") — It makes sense that the first episode (which was when the series had each episode composed of two, half-episodes) would make the list.
09. Episode 43 ("Terror of Meow") — I don't really remember anything about this episode, which has Ataru fighting Torajima. When I read a summary, I vaguely recalled it. Thankfully, Ataru stopped getting beaten by Torajima.
08. Episode 30 ("A Beautiful Girl Brings the Rain") — Again, I only vaguely remember this one.  I think it dealt with an ame-warashi.
07. Episode 107 ("Parallel Worlds! Where's Darling?") — I do remember this episode as being one where things vastly improved animation-wise, and the story was pretty entertaining with Lum jumping from Earth to Earth.
06. Episode 158 ("The Return of the Purehearted Fox! I Love Shinobu-san") — Any Kitsune episode sucked as far as I was concerned, and this one was no exception. Yet the Japanese saw things differently.
05. Episode 157 ("Darling, I Love Your Kindness") — I do remember this episode quite well as I think it was probably the most touching story in the entire series.  Plus, it ended with Ataru and Lum having a nice, couple moment after visiting Nozomi's grave.
04. Episode 10 ("Pitter Patter Christmas Eve") — I certainly remember this episode, mainly because this was the first time that Ataru wasn't a complete and total arsehole when it came to Lum.
03. Episode 105 ("Scramble! Rescue Lum!") — This was another episode I easily remembered, as it happened during a phase of the series where the episodes were really good. Ataru going after Shuutaro and everything Shuutaro's riches provide in order to get Lum was simply good stuff.
02. Episode 75 ("And Then There Were None") — I have no memory of this episode, even from the description I read. Not a good sign of anything special (and I'm not taking the time to look at the episode again since I'm at a remote location). Despite that, this apparently forgettable episode ranks #2.
Which brings things to episode 44, which ranked #1.  Watching the episode, I knew it was a repeat and I knew I had watched this episode once before, but it was an episode that I didn't remember that well, so much so that it mostly seemed new save for the older character designs and the "been there, done that" feel of the story.
I'm guessing that when I watched this episode, I probably did like it since Ataru reveals his true feelings for Lum.  However, like nearly everything Takahashi-sensei does, we can't have actual character growth as that would ruin the status quo, which in the case of Urusei Yatsura is that Ataru desperately wants to girl hunt and date as many girls as his tongue could cope with, but can't because Lum is a stone around his neck, even if he does care for said "stone" to some degree and doesn't want anyone else to have it.  As such, 150 episodes later, Ataru hasn't changed much, nor has Lum, and the status quo remains.
So while this episode was a "Ataru really cares for Lum" story, I was pretty bored even though I couldn't remember most of the details of the plot.  Thus, the "been there, done that" feel that comes not from rewatching an episode, but watching an episode where you know that in the end, none of it mattered.  However, for the Japanese fans, this was episode #1, probably because it did show how deeply Ataru cared for Lum.  I can understand that, even though I was bored.
Well, only one more episode to go, after which I'll write a final review.  ^_^