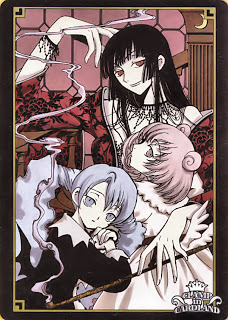 Howdy folks! Longtime readers of my blog will know that I was a big fan of CLAMPs xxxHOLiC manga series until CLAMP unceremoniously ended it, taking the time to wrap things up, but in a very unsatisfactory way.  So imagine my surprise when Seichan of CLAMP*NEWS brought to my attention that xxxHOLiC will return as xxxHOLiC: Kei.  In addition, xxxHOLiC isreturning to the seinen manga realms of Young Magazine, having been moved from Young Magazine to the shounen Bessatsu Shounen Magazine for a year or so as xxxHOLiC: Ko.
For those who never read the manga, the series was an ambitions project by CLAMP, linking it with a second manga series CLAMP was producing simultaneously, named Tsubasa: -RESERVoir CHRoNiCLE-. xxxHOLiC told the story of one KIMIHIRO Watanuki, a high school guy who's troubled by the supernatural, both in terms of creatures like youkai, and in terms of ghosts and spirits of various types. One fated day, Watanuki ends up at the residence of one Yuuko-san, a "time-space witch" who makes a living granting wishes for a price. Yuuko-san agrees to grant his wish, but the price is that Watanuki has to work for her.  From there, Watanuki spends much of his free time with Yuuko-san, becoming involved in various wish requests brought to Yuuko-san.  Also in Watanuki's life are Himawari-chan, a girl whom Watanuki is in love with though she only sees him as a friend, and Doumeki, a guy whom Watanuki dislikes, though Doumeki's natural ability to repel the supernatural causes the two to work together a lot.
There are a few things surprising to me about this announcement. For starters, the fact that CLAMP is bringing this back from the dead is the biggest surprise.  I had the feeling that CLAMP grew bored with xxxHOLiC as the manga wrapped up, leading them to just end it and have done. Although CLAMP has brought back dead manga before (Legal Drug), I would have bet on almost anything coming back before xxxHOLiC, especially X/1999.  xxxHOLiC was over, even if the ending wasn't very satisfying to fans.
The other surprising thing for me is that CLAMP already has multiple projects on the table, including Gate 7 and the Legal Drug sequel, Drug and Drop.  At present, I understand that CLAMP is still on hiatus for unspecified health reasons, so both Gate 7 and Drug and Drop are on hiatus at present. As such, it just seems odd that CLAMP would then add a third manga title to their production schedule.
Regardless, xxxHOLiC is coming back, so where does that leave us fans?  Will CLAMP continue the series from where they left it, meaning only Watanuki would return as a character?  Will CLAMP go back and fill in the massive gaps during xxxHOLiC: Ko's run?  Will CLAMP create the Big Red Reset button, thus nullifying certain unpopular events in xxxHOLiC: Ko's publication, allowing CLAMP to continue properly with all of the old cast, including Yuuko-san, who was a big reason that xxxHOLiC was such a success.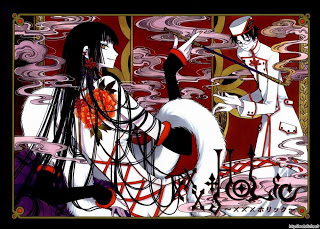 Only time will tell what will happen. For my part, if I'm able, I would chapter-blog the series, as I did before.