とある科学の超電磁砲(レールガン)/Toaru Kagaku no Railgun
A Certain Scientific Railgun Vol. 05 (manga review) 
–> BUY FROM RIGHTSTUF!
–> BUY FROM BARNES & NOBLE!
–> BUY FROM BUY.COM!

***SPOILERS***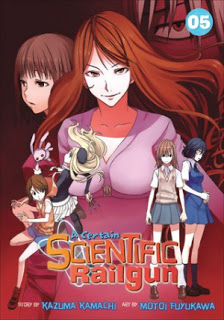 Highlights from this volume start with Mikoto having to be rescued from her fight with Accelerator by the Sisters. Shinobu meets the depressed Mikoto and explains why she had a change of heart when it came to viewing the Sisters as people, not things. Mikoto continues her war against the facilities involved in the Sister's project, so a group of four esper girls named ITEM are hired to handle the situation. So, when Mikoto arrives to destroy one of the two remaining facilities, one of the girls named Frenda is waiting for her, having rigged the place with powerful explosives in dolls in anticipation of Mikoto's fighting style.
Though Frenda does much better than one would expect for someone with limited psychic abilities against the third best psychic in Acedemy City, she's eventually driven back and forced to be rescued by ITEM's leader and number four psychic named Mugino, who's also known as Meltdowner. Aided by fellow member Rikou, who's able to track a psychic once she's locked onto them. Rikou enhances her ability with a powder, but Mikoto is still able to elude them, having been weakened by days of using her powers and her fight with Frenda.  With Rikou getting weaker with the passage of time, Mugino sends her out with Frenda.
Elsewhere, Shinobu penetrates the final facility to upload emotions into the Sister's network. However, she's caught by the final member of ITEM, Saiai, who's ability provides her with skin that's like armor. Shinobu still gets the upload, only to have it rejected by Superior Unit 20001. Shinobu is taken into custody while Mugino faces a Mikoto who's only weapons are manipulating the dolls Frenda left behind as well as using some of Frenda's traps to her advantage, which eventually cause Mugino to fall from a ledge. Mikoto does her damage and flees the facility, so Mugino decides to find out why Mikoto is on a rampage. Learning the truth of the Sisters project, Mugino is amused, understanding why ITEM was chosen for this job. She decides to let Mikoto go. Meanwhile, Mikoto goes to the final facility, only to discover it has been abandoned, leading her to think that her mission is finally over.
REVIEW
I have to say that this was a really enjoyable volume, partly because everything was new and hadn't been covered by the A Certain Magical Index storyline.
The volume is filled with action, but fortunately, the story laid out by Kamachi-sensei is such that Mikoto's massive power advantage has been removed in a way that makes total sense. Mikoto having been using her powers to a great extent for days, not eating much, and not sleeping much, has drained her reserves so that she can't do a lot if she's challenged. I found I rather enjoyed watching Mikoto having just enough power to do something, allowing her to show off her quick wits and ability to adjust to the situation as needed.
Frenda was an interesting opponent because she doesn't seem to have any special abilities. She might have an ability that makes her a good fighter, or she might have an ability that makes her good with creating explosives.  The manga didn't give me that vibe though, at least in how things came across to me. For all I know, her ability may be one where she's able to learn skills quickly, but if that were the case, I'd think that the longer she fought Mikoto, the better she'd become.  Regardless, if she has an ability, it isn't one that I'd put up against Mikoto, but Frenda was quite skillful. After all, she did help put down that group of large guys when ITEM was introduced.
Rikou clearly has an ability, but I'm guessing that was a drug she took to make it happen.  I thought I remembered in the Level Upper arc that artificially boosting one's abilities wasn't really possible, but obviously, that was wrong.  Rikou's ability of tracking makes her the most dangerous member of ITEM in my opinion, since her real time info on ITEM's quarry is quite useful when fighting other espers like Mikoto.
Although the term wasn't used in the English adaptation, one of the manga's splash pages revealed that Mugino is an ojousama character.  That certainly explained her leadership style.  That aside, her battle with the weakened Mikoto was pretty good. Mikoto may not have a chance against Accelerator, but she held up well against Mugino, who's clearly no slouch. I wonder why ITEM was chosen for the job to take out Mikoto, but since Mugino has taken an interest in seeing what Mikoto does against the Level 6 project, I wonder if we'll ever know.
Shinobu getting busted was unexpected, but an interesting turn. She's such a freaky character, but I liked her, especially when she kept reminding Mikoto to address her properly, seeing as how Mikoto is in middle school and Shinobu is in high school. However, since she has been incarcerated, who knows when we'll see her again.
On the Seven Seas side, the manga is a lot thicker than normal. The usual Japanese honorifics are present (yay). There are no translator notes. There is a fair amount of omake content, including artwork and a note from KIO Shimoku-sensei, creator of Genshiken. There's an ad for the A Certain Magical Index novels (in Japan) that made me wish we had those here.  Oh well.
Bottom line: We get a rather interesting expansion of the Sisters arc from Index, which is full of action, but also makes Mikoto an even better character in my opinion.