xxxホリック ◆ 戻 chapter 01
xxxHOLiC Rei chapter 01

SPOILER Summary/Synopsis: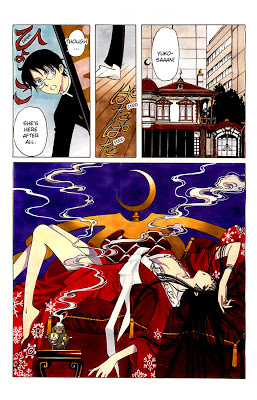 Watanuki comes to the shop to find Yuuko-san lounging on the couch. After accusing her of having another hangover, Yuuko-san attempts to prove this wrong with a flurry of maneuvers with a ping-pong paddle, which doesn't impress Watanuki. Yuuko-san is more interested in the package that Watanuki has brought home — a cheesecake he made for her for White Day.  Watanuki is pleased with Yuuko-san's reaction to the desert and doesn't even mind her alcohol request.
Doumeki showing up doesn't thrill Watanuki. Doumeki is escorted in by Moro and Maru and Watanuki follows and protests him not having business in the shop. He brings champagne to Yuuko-san as a White Day gift. That sets Watanuki off, since the chocolate Yuuko-san gave Doumeki was something Watanuki had made in the first place.
As they eat together, Yuuko-san expresses her pleasure of eating cheesecake and drinking champagne, so Watanuki is pleased since Yuuko-san is happy, though he doesn't care for Doumeki's compliments.
Doumeki tells Yuuko-san that his business there is for a wish from one of his parishioners. Since there's no one that can perform exorcisms at Doumeki's temple for now, Yuuko-san knows that if the request is beyond Doumeki's abilities, it is pretty severe. She explains that Doumeki's ability to come to the shop is the result of hers and his fates being interlinked in the accordance of human wishes.
Watanuki has a reaction to this, leading her to tease him about having a hangover. However, the customer arrives before this can go further.
Thoughts/Review:
And so, once again, I return to the realms of xxxHOLiC. Oh CLAMP. *lol*
The color pages heavily imply that what is going on in this chapter is the result of a wish being granted, very possibly Watanuki's wish. Now, why he'd wish to return to his high school days, I don't know, unless it is to have a shot at Himawari-chan again.
Himawari-chan was missing from this first chapter, but it wouldn't surprise me if she were to be the customer of Yuuko-san's.  *lol* But that would be odd.  Either way, Himawari-chan better not be excluded from this new incarnation.
Speaking of missing, Black Mokona isn't around, which is fine with me.
Back to the plot, while Watanuki gets irritated by Doumeki, I noticed that he has really calmed down around Yuuko-san.  So, he gets used to make a desert and she's going to get drunk? That's OK because he's happy that she's happy. That would seem to give weight to the notion that this is Watanuki's wish coming true.
When Yuuko-san starts speaking of fates and wishes of humans, Watanuki's reaction seemed to imply there's more going on here than meets the eye.
I can't say that I don't mind seeing Yuuko-san return. I hope CLAMP has an actual story to tell this time out that doesn't end up in whackville. ^_^;