Genshiken Nidaime Episode 02 Review
げんしけん 二代目

SPOILER Summary/Synopsis: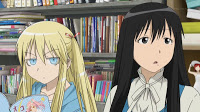 At the latest Genshiken meeting, sans Kuchiki, Ogiue wants the group to write up a profile of themselves, complete with a drawing. She provides them an example. Rika wants to come by Yajima's place to work on the profile, so with Hato in tow, they stop to grab snacks and beverages before heading to Yajima's apartment. Rika isn't interested in working on the profile, but wants to engage in girl talk instead to get to know her new friends.  In the very early hours of the morning, Yajima wakes up after they'd spent hours having fun.  Yajima is glad to have fujoshi friends, then she sees Hato and remembers that Hato is a guy.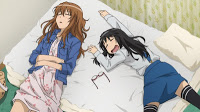 Yajima starts having second thoughts about Hato really being a guy, recalling everything he said about the effort he put into passing himself off as a woman. She checks his face for stubble, but there is none. Hato's legs are soother than Yajima's.  This frustrates Yajima, so she decides she has to check under his skirt to see if Yajima has the right plumbing to be a man. Rika wakes up and discovers Yajima doing this. So, Rika flips Hato's skirt.  In the process, Yajima gets a very good look at Hato's package, discovering once and for all that Hato is a man as he claims to be.  At the next Genshiken meeting, Kuchiki is upset over being left out of the profile assignment, for which Ogiue apologizes.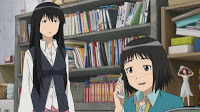 At another Genshiken meeting, Ogiue gets a call to inform her that she has been accepted to write/draw a 2-part manga for an official magazine publication. She lets Sasahara know, but in the process, realizes that her deadline for part two is during ComiFest. So, Ogiue drafts Sue, Hato, Rika, and Yajima to help her with her manga.  Kuchiki is not happy that his "harem" is missing, save for Ohno. At Ogiue's apartment, Yajima decides she's going to do something right because of how perfect she views Hato.  However, she ends up messing up inking one of the manga border lines.  This causes her to want to not return on the following day, so as Rika teases her about seeing Hato's thing, they are approached by a guy looking for a mysterious babe that's been seen in the area.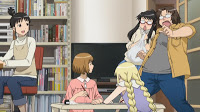 Rika and Yajima head to Ogiue's place, where they are shocked to see Hato in a shorthaired wig. They report what happened, leading Yajima to point out that if Hato didn't cross-dress, he wouldn't be seen as a beautiful woman and there wouldn't be this problem. As Hato tries to explain why he cross-dresses, Yajima realizes she's crossed the line and stops him, apologizing for causing him distress. However, she does point out that even if Hato dresses as a guy at Genshiken meetings, they won't bother him for liking BL. When Rika and Yajima leave that night, they encounter Ohno with Tanaka and Kugayama in tow with six cosplay boxes. However, Ogiue wants nothing to do with this.
Thoughts/Review:
This episode was adapted from original manga volume 10 (1 in the U.S. version), chapter 58, four pages of  chapter 59, and chapter 60.
Changes include the removal of all references, jokes, and scenes with alcohol. Some of the 4-koma comic strip omake from the manga were included into the episode, which worked nicely.
I'm not sure if it will appear later or not, but I was disappointed that most of chapter 59 was removed.  Since the stuff with Sue and with Keiko come to play later, I hope it isn't gone forever. (Update: While writing this review, I did notice that in next week's episode, the missing stuff from chapter 59 is back.)
OK, here's where I'm about to launch into a rant. I don't know who the official translator for this series is, so if it is someone I know, I don't mean to be hurtful, but I'm going to be unleashed just the same.
Last episode, I remarked on not being so happy with Hato being referred to as "she" after it was revealed that HE is a man. This episode, the translator continued that hideous practice.  As such, we get such awesome subtitles talking of a "girl" (she) cross-dressing. Now correct me if I'm wrong, but if "she" is cross-dressing, doesn't that mean a girl is attempting to pass herself off as a man?  Apparently not in this translator's mind.
You see, since Hato looks like a chick, the translator has to say "she" all the time when using a gender pronoun, even if it makes the translated sentence make no sense. Yajima doesn't freak out about some beautiful girl.  In all her days on this planet, she hasn't given a rat's rear end about how she looked compared to some beautiful girl. If she had, she'd be over this a long time ago.
Yajima's freaking out because some DUDE dressing up as a girl looks better than most real girls out there. Yajima finds Hato to look like such an attractive woman, she starts questioning whether Hato is a man or not, thus why she suddenly wanted to inspect the goods. Since we all know a woman doesn't have a penis, talking about "she" has one when mentioning Hato just ticks me off to no end.
The time Hato spends on making himself pass for a girl is incredible. That previous sentence becomes stupid when it reads, "The time Hato spends on making herself pass for a girl is incredible."  After all, that crappy sentence says that Hato is a girl, and for whatever otherworldly reason, she needs to pass herself off as such because otherwise, no one would know that she's a girl.
I could go on and on, line by line with my rant on the stupidity of referring to Hato as "she".  As I said before, Stephen Paul got it right for the official Kodansha Comic translation of Genshiken Nidaime.  As I've said before, I'm glad the translation kept the Japanese honorifics (though I'm disappointed that "fujoshi" doesn't survive when "BL" does, and I think it is dumb to call "ComiFest" "Comic Festival" when they never address it as such), but this use of "she" for Hato just made me want remove my eyes so I didn't have to see the stupidity any longer.