ユーキューホルダー! Manga Review
UQ Holder Chapter 21
SPOILER Summary/Synopsis: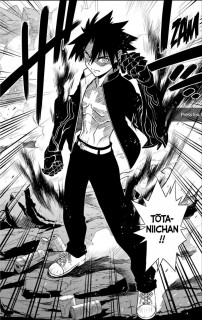 Young Ruki-kun does a futile attack on Kaito to try to defend his home and friends, demanding to know why their home is being destroyed. Nagumo explains various crises since the middle of the 21st century caused multi-generation refugees. As such, Powerful Hand was hired by the original owners of the land, most returning from Mars, who want these squatters out. Ruki says his dad pays taxes and they rent from the church. Nagumo says that in Ruki's case, they'll get compensation.
Since they've decided to kill Ruki, Kaito is going for the kill when somehow, Kuromaru manages to launch through the air and save Kuki, despite the bottom half of Kuroumaru's body still being absent. Kaito moves in for the kill, but Touta stands up, his arms and hands looking like demonic gauntlets.
Kaito and Nagumo are stunned that Touta was able to overcome the Crucifix Coffin seal, meaning Touta isn't a normal vampire. When they point out his arms, Touta is surprised as well by this transformation. Nagumo thinks this is Magia Erebea, but in normal fashion, Touta doesn't care about that. He does care that his friends have been hurt, so he attacks Kaito with a punch that comes off like a rocket punch. Kaito is hit so hard, he flies back into Nagumo before Nagumo can even react. The two are then propelled backward, slamming into multiple cars and things along the way.
Thoughts/Review:
*sigh* Well, it happened, just as expected. Touta overcomes the seal, then saves the day.
The unexpected part is the apparent Magia Erebea being used by Touta so that he has those gauntlet arms. What's weird is that he had no magical powers, so how he can use Magia Erebea is anyone's guess.
A popular theory is that his magic as well as his memories were sealed away, possibly like Asuna. That would work, but if that's the case, then we need to start unlocking Touta's past. Otherwise, Touta is just some main character that can do anything without effort just because he's the main character.
Touta is supposed to be cool, but the heroes here are Ruki-kun, for standing up for what he believes despite his young age, and Kuroumaru, for trying to save Ruki-kun despite not having a bottom half.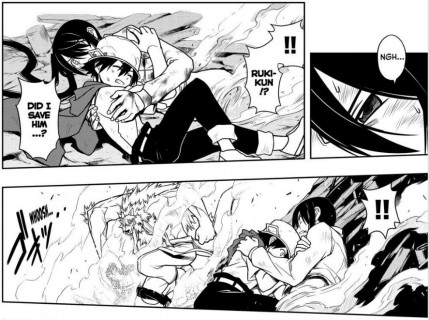 (As an aside, I wonder if losing everything below the waste is what turns Kuroumaru into a woman on  the regeneration? Probably not, but considering how Akamatsu-sensei is doing things with this manga, he might decide to do something whacky like that just because he can.)
With Chao's shadow mechanoids still around, I guess Karin didn't do enough damage on him. Now I smell Touta having to save her as well, 'cause he's the main character, dagnabit!
I do like the notion that Negi's pie in the sky plan had all kinds of negative, unintended consequences. (I say this as I stare at Negima! Volume 38, which I've yet to review.)  I was in that school that wanted the future that Chao from Negima! tried to prevent coming to pass anyway.
Oh well. I guess we'll just have to wait and see where things go from here.