Here is the first SPOILER image from the upcoming UQ Holder chapter 27, courtesy of the VERY gracious Southrop. (My review of the chapter should come out Wednesday.)
UQ HOLDER CHAPTER 27 SPOILERS
The UQ Holder chapter 27 goodness begins.^_^

Guess who's coming to dinner? ^_^
Back in chapter 18, I did make this wish.
Completing my fantasy of how things should go, I'd love to see Eva arrive, then send are jolly three Powerful Hand members into a kind of personal hell that only she could deliver.
Then in 24, I had this wish.
I'm hoping that after this part of the story is resolved, Eva is brought back into the story to give us more information.
I made similar remarks in comment sections. So, looks like my wish is coming true. Eva is showing up. Now, what she does next (whether it be to get involved in a fight with Nagumo
Well, naught to do but wait for the chapter to come out.  I'd like to express my continued thanks to Southrop for sharing these awesome images. Not notes this time out as he says there's no need for them.
Update #1: The Chinese scans are out. I thought I'd toss one image from them to show that my thoughts about Touta battling any and all foes wasn't far off the mark. ^_~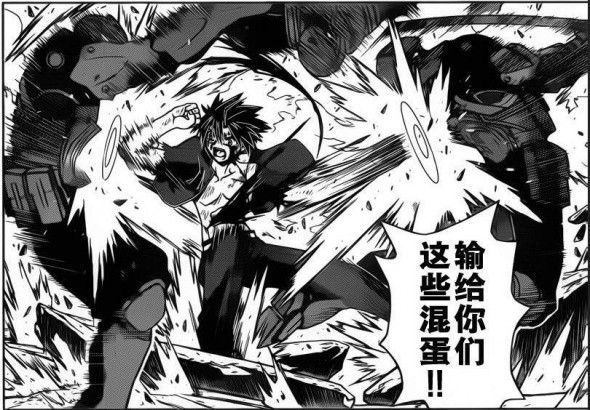 Still, Mama Bear cometh, and I'm just looking forward to her going nutz! ^_^  Too bad her appearance is at the end of UQ Holder chapter 27, meaning we'll have to wait for her goodness to start happening. Can't wait to read that. ^_^