ユーキューホルダー! Manga Review
UQ Holder Chapter 36
SPOILER Summary/Synopsis: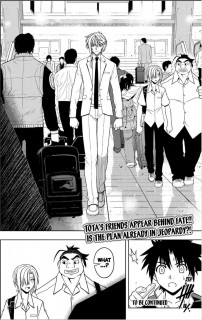 Kirie explains to Kuroumaru, Ikkuu, and Touta about Fate and his relationship to Touta's grandfather, Negi, and to Touta's guardian, Yukihime. When Negi died, Fate's personality changed and he became a threat to humanity.
Having learned about Fate, Touta thinks they should stay away from him. Kirie finds this cowardly and mentions to Touta that with Fate's abnormal fixation on Touta, Touta would always be on the run. Hearing this, Touta agrees to Kirie's idea to take on Fate.  With that, Kirie says she's already let Karin know about the situation and says that after repeated checks, she knows Fate will be at gate 3 at 13:09.
Kirie lays out her plan to capture Fate, but Ikkuu demands she explain how her powers to touch people to send them elsewhere works. Left with no alternative, Kirie explains her immortality and how she can take people's minds back by touch, or she can take back their entire body by touch, depending on the setting for her save point. Her control over her power means that in her plan, as Touta acts as decoy and Ikkuu attacks, Kuroumaru will get Kirie behind Fate, touch him, whereupon Kirie will kill herself, return to her save point, but take Fate and Kuroumaru back with her, depositing the pair into the sealed underground beneath the UQ Holder HQ.
Ikkuu says he probably doesn't have enough firepower to deal with Ikkuu, but he does have access to a secret weapon in orbit from Yukihime. Kirie says they'll be branded as terrorist, but Ikkuu isn't concerned since Kirie is simply going to reset things.
As the group waits, Touta thinks about how little he knows about his grandfather, and how Yukihime never told him anything. He scolds himself for not having asked more questions. When Fate appears, he initially is unseen by Touta, but when Touta does see him, he notices two of his school friends near Fate in the crowd.
Thoughts/Review:
What is this?  Touta being smart? Touta reflecting on his stupidity?  Please Akamatsu-sensei, turn Touta from a natural born idiot into someone who questions things. I want Touta to take his Magia Erebea seriously. I want him to take other things he encounters seriously. I want him grilling Eva and I want Eva to cough up answers. I want Touta to ask Eva about her past while we are at it.
The little flashback to Negima is a nice touch.  It was nice seeing (the backsides) of Chisame, Chachamaru, Setsuna, Konoka, Yue, Nodoka, and I think Ayaka, but it could be Eva…maybe. Fate's there with three of his girls, which is another nice touch. So Negi saved Mars/Mundus Magicus from some disaster eighty years ago.
As to Fate changing his personality when Negi died, that doesn't surprise me. Fate swore to help Negi with his plan. Negi dies, Fate finds what he swore to be null and void, and he decides to do things his way.
Kirie's plan — I don't like it.  I think she's underestimating Fate despite what she's seen. Plus, I don't like the notion of Kuroumaru being trapped with Fate. Heck, for that matter, I think she's underestimating Fate's power if she thinks they can seal her up. I can see Fate being underground, shredding Kuroumaru like cheese, then blasting his way out from the sealed underground.  But, Kirie's plans can alter, based on how things happen during each "trip."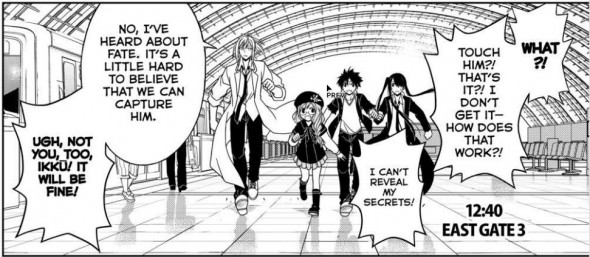 Which reminds me, she mentions having repeatedly checked that Fate arrives at 13:09 at Gate 3. That implies that she's died and gone through things a few times to make sure Fate's arrival time remains constant. But if that's the case, then how did she not know that Touta's two friends would be there?
Frankly, I think Fate is ready for them. I think he got taken back in his mind during the first trip, so he knows Kirie's immortality and is ready for them.  I could be wrong, but we'll see.
As to Ikkuu, I think we all suspect that the weapon he's talking about is Al-Iskandariya, Chachamaru's pactio artifact which was brought from the future somehow.  We already know it won't harm Fate, but I doubt it will be much of a distraction either.
Regardless, we are left with a plot twist with the arrival of Touta's two friends, so who knows how things will go now. But I admit that I am interested in seeing where things go from here.