Usagi Drop/うさぎドロップ Manga Volume 8 Review
Bunny Drop Manga Volume 8 Review

–> PURCHASE FROM RAKUTEN.COM (formerly BUY.COM)
–> PURCHASE FROM BARNES & NOBLE
–> PURCHASE FROM RIGHTSTUF!
***SPOILER***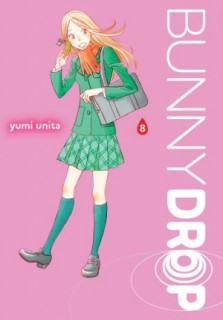 I'm going to forgo my standard summary-synopsis-review format for the sake of time.
Anyway, with volume 8, we finally get to the place that everyone warned me about without spoiling anything. (Actually, everyone said quit reading after the manga did a time skip, but naturally, I have to get my own hands burned so there you are.)  In the back of my mind, I had a hunch that what all of you warned me about might have something to do with incest, and sure enough, right out of the gate, Rin's thoughts reveal her attraction to Daikichi, but placed less in a sexual context and more in a romantic, "I want to cook for him and do his laundry forever" context.
Still, incest is incest, and as Rin even thinks, no matter if there's three degrees of separation between her and Daikichi from a bloodline perspective, it is still a bad situation.
It is rather depressing seeing how the story is turning out. I had so wanted Rin to end up with Kouki, and for Daikichi to end up with Kouki's mother. Technically, that would have made Rin and Kouki step-siblings, but I would have given that a pass since they weren't really related and had known each other before their parents hooked up.
I felt bad for Kouki, even though he'd dug his own ditch with Rin earlier. However, she'd placed him into the friend zone, and once a girl does that, there's no getting out of it. What's worse is that he figured out Rin has fallen in love with Daikichi. It makes me feel sick.
I did like that Rin is getting closer to Masako and wants to have a relationship with her half-sister.
On the Yen Press side of things, the Japanese honorifics are here, as usual, which is a good thing as far as I'm concerned. There were no translator notes and one color image at the beginning of the manga.
In the end, seeing how Unita-sensei is steering the series to have an incestuous relationship between Rin and Daikichi is pretty disappointing, even if I'm not surprised since there've been many a manga title where the theme is, "As long as it is love, it doesn't matter whom you hook up with."  There's only one more regular volume, and then a volume of extra material. I'll finish the series. ^_^;