フェアリーテイル Manga
Fairy Tail Volume 38 Review
–> Purchase from RAKUTEN (formerly BUY.COM)
–> Purchase from BARNES & NOBLE
–> Purchase from RIGHTSTUF!
–> Purchase from Yes Asia! (Japanese tankoubon)
***SPOILERS***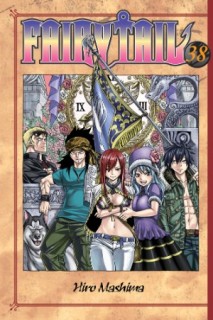 Highlights from this volume start with Gajeel battling Rogue, where Gajeel takes on the shadow and becomes the Iron-Shadow Dragon to defeat Rogue, where the shadow within Rogue leaves him. Laxus manages to defeat Jura while Erza defeats Minerva in the competition. Gray and Juvia team up to defeat Lyon and Sherria. Sting attempts to be brave in front of Erza, Gray, Laxus, Juvia, and Gajeel, but their mere presence forces him to concede, thus Fairy Tail wins the Grand Magic Games.
Colonel Arcadios arrives at the palace to determine who's been lying to him while Natsu's team fights the palace troops. Rogue from the future shows up with a mission to assassinate Lucy, whom he accuses of having prevented the Eclipse Cannon from firing, thus allowing 10,000 dragons to come through. Future Lucy protects Present Lucy and dies, leading to Natsu sensing evil on Rogue as they battle. King Toma E. Fiore rallies the mage guilds gathered to help him and his people.
---
Hmmm. While this volume had a lot of action and moved the Eclipse storyline forward, I find myself not really all that jived about the volume for some reason. It could be because of my current busy schedule, but regardless of the reason, I'm not really hot to trot for a volume that isn't bad.
I think part of the problem I had is the tournament battles. Erza wins, as expected, so her fight is kind of boring. Gajeel wins, as expected, but I was never quite clear about the whole shadow thing that he apparently consumed.  Laxus ended up beating Jura, which kind of surprised me considering what Jura is. The only fight I liked was Juvia and Gray combining powers to defeat Lyon and Sherria. If only Juvia and Gray would become a couple already. Sadly, that won't happen. *_*
I mentioned last volume that I was surprised that Natsu's group so quickly defeated the Hungry Wolf Knights. Mashima-sensei brings them back, which I didn't expect, so I did kind of like that, even if I found the battling boring.
I did get a chuckle out of the implication that King Toma E. Fiore was the pumpkin dude in the tournament.
With the future Rogue there, it is pretty clear that he's the problem, so no doubt, his attempts to establish that Lucy shutting the door caused the problem with 10,000 dragons in the future is in fact a lie. I figure that he's trying to get Lucy to not shut the door to allow 10,000 dragons through time. I could be wrong, but that's how things seem to me.
Beyond that, I'm not really finding a lot to comment on. There may be more, and you guys are certainly welcome to mention things to discuss in the comments. 🙂
As an aside, I did like the splash page showing Gajeel and Levy on a picnic.  They really are an unlikely couple, but I still kinda like it.
On the Kodansha Comics side of things, the Japanese honorifics are here. I'm not sure if things are still hybrid or not, but then I haven't had time to investigate. Nothing obvious stood out to me.  The usual extras of Mashima-sensei's notes, Lucy and Mirajane's Q&A, etc. are here. There are translator notes as well in addition to a preview for the next volume.
Although this was not a bad volume, I just wasn't that hyped up for it for whatever reasons. I am curious to see what will happen now that the Eclipse doors are opening.