ユーキューホルダー! Manga Review
UQ Holder Chapter 38
SPOILER Summary/Synopsis: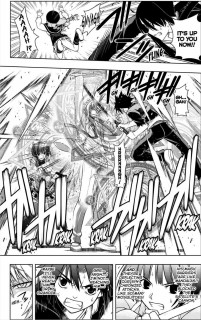 Touta starts his attack on Fate by screaming about terrorists. Karin gets behind Fate, who's just starting to petrify Touta's friends (Nikumaru and Mihashi), slices Fate's arms at the elbow, then avoids Fate's counter attack before kicking the two boys out of the way. Kuroumaru grabs Kirie, but then notices Ikkuu being held hostage by a waitress with a sword, so Kuroumaru attacks her instead. Now free from the swordwoman, Ikkuu fires Al Iskandaria at Fate.  At the same time, Karin and Touta attack Fate.  All three attacks fail as Fate's mandala barriers keep him safe.
Kuroumaru charges back in with Kirie, but two large opponents appear in their path. Since Kuroumaru can't break through, Kuroumaru tosses Kirie at Fate. Meanwhile, Touta gets irritated by Fate's smirk, so he turns up Gravity Blade to 500,000 power, making it the equivalent of 500 tons of weight. This causes Fate's barrier to break, allowing Touta to slice Fate to no affect and Karin's attack to hit as well.
Kirie comes flying in and slams into Fate. Karin touches Fate's back and Touta touches Karin's back. With Ikkuu and Kuroumaru not around, Kirie can't wait for them and crunches a pill in her mouth to apparently kill herself.
Thoughts/Review:
Karin — awesomeness. I love watching her in action and the skill with which she avoided Fate's attack and kicked Touta's friends out of harm's way. Why couldn't she be the main character of this series?
Kuroumaru — another kind of awesomeness. Kuroumaru in action is fun to watch as well. A series where Kuroumaru is the lead wouldn't be bad either.
Touta — not so much. But hey, he can hold 500 tons of weight as if it were 5 ounces and break Fate's impenetrable barrier with the sheer weight of the sword. Therefore, you readers MUST acknowledge his awesomeness…losers!
It really is becoming more and more difficult to redeem Touta in my eyes. He's being allowed to do anything to overcome any situation just because he's the main character, and that's what main characters should do. However, since he's not earned a thing in this manga, everything he does comes off as cheap and fake.
But enough of my bitching about Touta (pardon the expression).
Kuroumaru shows new skills and weapons by bringing out six kunai blades, each with an ofuda attached for a lightning attack. Too bad I don't think we'll get any additional background on Kuroumaru for ages to come, if ever.
As to Kuroumaru's opponent, I'm leaning heavily toward the notion that this is Tsukuyomi. First, she uses the "-han" honorific. Secondly, she's got the skills of a Shinmeiryuu warrior. Thirdly, she's got the right hairstyle. Fourthly, she looks inhuman, which would be the result if she still held Hina Blade.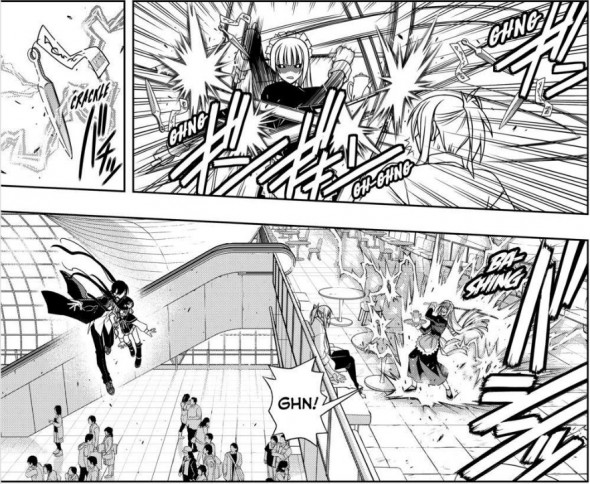 Initially, I didn't want this to be Tsukuyomi, but now I do want it to be her and I want her to have the Hina Blade. From Love Hina, we know that the Hina Blade was a cursed sword, possessed with a very powerful entity that can easily possess those who wield it. When Motoko sealed the blade up again, she became its master and could safely use it, but others still could not.
The sword returns in Negima, where Tsukuyomi somehow has possession of it. Rather than become fully possessed, Tsukuyomi seems to have absorbed the power from the sword and is in control, though the possession effects of the inhuman eyes remains, which are identical to the eyes of the swordwoman in this chapter.
As to why Tsukuyomi would be around, I figure that she's become immortal thanks to Hina Blade, which is a centuries old sword with an immortal, evil spirit inside.
I may be way off on this, but the two beings that attacked Kuroumaru struck me as being a Zenki and Goki shikigami entity. I think back to Negima, where Setsuna explains how Onmyodo magic system works, where the Eastern mage summons a Zenki and Goki shikigami to protect them while they cast spells. However, Setsuna also speaks of how an Onmyouji would sometimes hire a Shinmeiryuu warrior for additional protection.  I suspect that this is what happened here, which Fate acting as the Onmyouji, which he is skilled at.
Assuming Kirie kills herself and takes Fate, Karin, and Touta back with her to the UQ Holder HQ, does this mean that Karin goes into the dungeon with Fate? I sure hope not. Even if successful, Ikkuu and Kuroumaru do not retain their memories on the reset, so there'd be no confirmation on whether Tsukuyomi is the swordwoman or not.
As an aside, I did find the tossing of Kirie into Fate pretty funny. It is an old kind of gag, where a character is sent flying through the air and slams into something.  I was actually reminded of a scene from Urusei Yatsura where Lum slams into a tree in a similar fashion, which was made funny because Lum almost never took damage in the series.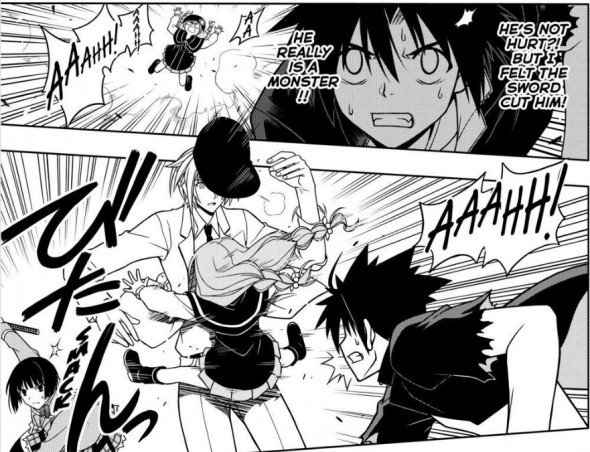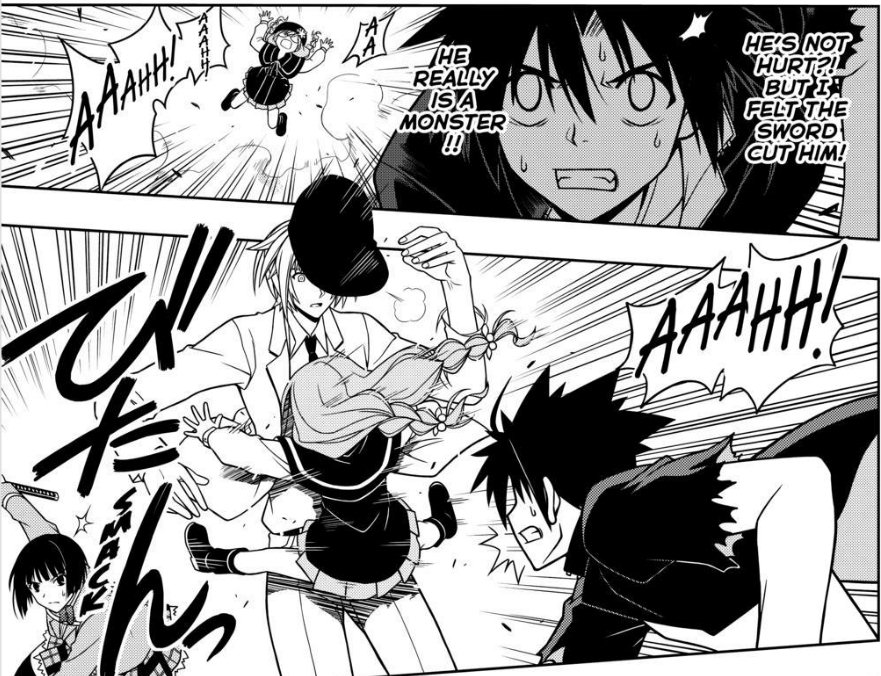 So there are a lot of interesting elements here, and we'll see how things will turn out next week.