No Game No Life Review
ノーゲーム・ノーライフ
***SPOILERS***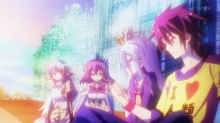 I hadn't planned on watching anything this season, but in the usual flood of recommendations (all of which I look into), for some reason, something about No Game No Life caught my eye enough for a deeper investigation. That lead to me actually watching the first episode, which lead to me marathoning the first ten episodes (all that was released at the time).  For me to do such a thing is a good indicator that whatever I'm watching must be pretty good. With No Game No Life, that certainly is the case with its parody of hardcore gamers, NEET, otaku, and the fantasy genre, to say nothing of its interesting story, characters, and humorous elements.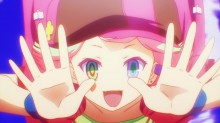 The story, adapted from the first three volumes of the light novel series, has step-siblings Sora (older teen male) and Shiro (younger teen female) as a couple of hardcore online gamers who work as a team and call themselves Kuuhaku (null/blank), using the Japanese double quotes with two blank spaces 『  』 to identify themselves in games. The pair are unbeatable, and after winning a challenging game of chess, this inseparable pair find themselves in a fantasy world of gaming, having been brought there by a god named Tet. From there, Sora and Shiro must follow the ten rules of this world to rise up and challenge Tet again.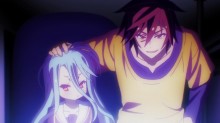 As a parody, No Game No Life works pretty well. I enjoyed seeing the different cultural references scattered throughout the series. The first and foremost one is obviously the "oniichan/imouto" element, since this whole incestual element of older brothers and younger sisters rose to popularity in Japan.  No Game No Life certainly parodies, but it doesn't stop there. As I mentioned before, the series takes the time to parody the NEET culture in Japan, hardcore gamers, otaku, as well as other elements from Japanese culture. (Doraemon gets a parody reference at one point.). I also enjoyed the parody of the fantasy genre, which is a genre I like a lot.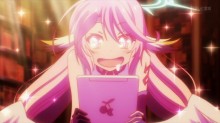 As a comedy, No Game No Life also works quite well. The things that are the funniest to me are the things that are unexpected in some way. I found that No Game No Life often surprised me with some little thing that would have me laughing out loud. A great deal of the humor comes from the human (Imanity) character Stephanie Dola (Steph), who was the grandaughter or the previous king of the nation of Elkia. Sora and Shiro end up making her do a lot of humorous things throughout the course of the series, especially after they take control of Elkia.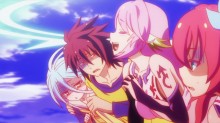 The humor isn't just tied to Steph, parody elements, or even regular gag jokes. There's a fair amount of ecchi humor as well.  The creators of the series push the limits as much as they can when it comes to ecchi fanservice, going so far as to actually make a joke about the laws of Tokyo regarding what is and isn't acceptable in terms of loli fanservice, or other kinds of fanservice for that matter.  Sometimes, I wondered if AKAMATSU Ken (Love Hina, Negima, UQ Holder) influenced the series considering the number of bath scenes and such.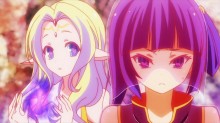 When it comes to the story of No Game No Life, I found it to be quite entertaining and interesting. It didn't seem like a NEET older teen male who loves games and is a siscon, and his little sister, who's a genius that loves games and is a brocon would be that interesting. However, once Sora and Shiro get sent to this fantasy game world and have to start plying their impressive gaming skills for real, things became more interesting. I liked how the pair worked things out when it comes to games, and how they were able to believably stage things to appear to give others an advantage, but in reality, simply to secure that the other party would play against them so they could achieve their objective.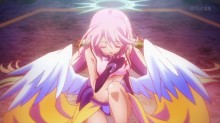 I like how this fantasy world has been set up so that there are no longer wars, but things have to be solved through various games and a simple system of ten rules.  I found this to be a unique spin on the fantasy genre, more so in light of the fact that we have many of the traditional fantasy people here (humans, elves, and various other demihuman races), some whom are quite powerful, such as the angle-like Flügel race. This system allows for Sora and Shiro to defeat a Flügel named Jibril for her massive library in addition to making her their servant.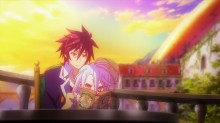 One element that stuck out to me is how Shiro and Sora are not just shown to be the top gamers for nothing. Yes, both have a skill at playing games, but to be the best, one has to work very hard. Through Steph, we come to understand that Shiro and Sora work very hard when it comes to games. They study and read up on books. For this fantasy world they are in, where the stakes are so high, they study and learn everything they can about the other races, which is why one of their first challenges after taking control of Imanity was to go after Jibril for the library she took from Imanity.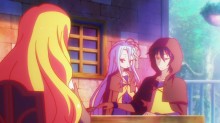 The various translations of this anime series don't use the sibling's actual online name of Kuuhaku, choosing to translate the name as either "Null", "Empty Space", "Blank", etc.  I've never been a fan of name translations, whether for people or places. I understand why the translators do this, but I think we in the West lose the symbolism behind Kuuhaku in this case. The siblings use 『  』 to represent themselves. Two double quotation markers with two blank spaces in the middle. The symbolism here is that there are two of them, linked together — double quotes, two quotation markers, and two blank spaces between the Japanese double quotation markers.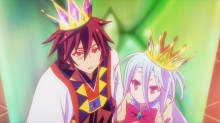 Further, the kanji for Sora is  空 and the kanji for Shiro is 白. Put those kanji together and you get 空白 – Kuuhaku. Calling Sora's and Shiro's online name "Null" or "Blank" doesn't accommodate that.  I know Japanese puns often don't translate well, so in this case, I would have possibly had a translator note explaining the pun and then left them as Kuuhaku from there one. I know that should another series be created for No Game No Life, I won't be using whatever translated name might be used, but I'll use Kuuhaku instead.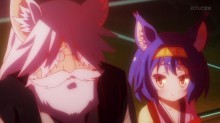 Speaking of another series, as of this posting, there are six light novels in the No Game No Life series. With three down, the next three could easily be done into another anime series and continue the story. I would like to see that because I'm rather caught up in Sora's and Shiro's plans to unite the world they are on and then challenge Tet again.  As the light novel series is still ongoing, this could be the source of a lot more anime series, presuming it doesn't get forgotten like Full Metal Panic. *_*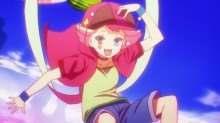 In the end, I found No Game No Life to be ecchi, funny, and very interesting. The novels are on my list of things I need to read, but I'd probably be killed if I read them before the first, non-canon Tenchi novel by Hasegawa-sensei. ^_~