Paradise Residence Chapter 02 Manga
パラダイス レジデンス Chapter 02
SPOILER Summary/Synopsis: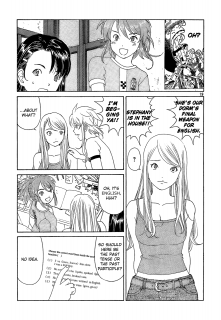 Hatsune is excited by the upcoming Pudding Summit on Sunday. When Suzuka asks about what happens, Hatsune happily shows her the flier for the event and all the puddings that one can eat. Further, PuriPurin-sama is going to be there. Suzuka doesn't know anything about this mascot, so Hatsune explains it all.
Meanwhile, Tachiarai looks out the window and sees the old jeep of Ominato-sensei coming up to the dorm. She alerts everyone that "Minchin" is coming, so he scramble is on to hide their snacks and do some quick tidying up. Ominato-sensei is greeted at the door by Komatsu, who buys time for the others by engaging the teacher in conversation on the stoop.
Their chat is interrupted by Hatsune telling "Minchin-sensei" that she admires the teacher's vehicle. Hatsune gets admonished for not using the name "Ominato", but Ominato-sensei is taken aback by Hatsune's deep and honest admiration of the old jeep. She recovers and tells Hatsune that unless Hatsune passes the upcoming English and Physics tests, she will have to do extra lessons over the weekend. Hatsune is horrified since Sunday is the Pudding (Purin) Summit.
Later, Suzuka whacks Hatsune, who's not in the mood to study. When Suzuka points out all the English words Hatsune knows, including the word pudding, Hatsune decides to study. However, she still has no luck, so Tachiarai brings in the British exchange student Stephany, who appears to feign ignorance on English as she's a poor teacher. When the young Dorm Mama shows up, she and Stephany have a conversation in English, which Hatsune recognizes is negative against her.
Despite her youth, Dorm Mama reveals her superior English skills, so Hatsune bows and asks for help. With Dorm Mama's instruction, Hatsune gets a 62 on her English test, but she neglected her Physics studies, failing that and requiring her to take supplemental lessons.
Thoughts/Review:
Two new characters get introduced in this chapter. However, at least three other unnamed characters appeared during the scramble to tidy and hide the snacks. So I expect we'll see more of them soon.
The British exchange student Stephany was a bit of a puzzle to me. I'm not sure if she really didn't understand what a past participle is, or if she was pretending so she wouldn't have to teach Hatsune. She certainly seemed with it when chatting with Dorm Mama.  I wonder if her words were originally done in English or not. I guess I'll find out when I buy the tankoubon.
The other new character is Ominato-sensei.  It was rather amusing seeing the girls scramble to make the place somewhat presentable for her arrival. Regardless, through this teacher, Fujishima-sensei can continue his love of drawing motor vehicles, as seen in his excellent drawing of an old jeep.
I was also amused at how Komatsu ran interference with Ominato-sensei to allow her dormmates to do what they needed before Ominato-sensei could enter the dorm. Komatsu is  a pretty awesome character thus far.
We still know so little about Dorm Mama, but it seems only natural that a little kid who prepares meals for the older girls would be a genius of some kind.
As to Hatsune, she gets the winning line with her eyes rejecting the English alphabet. I laughed out loud on that one.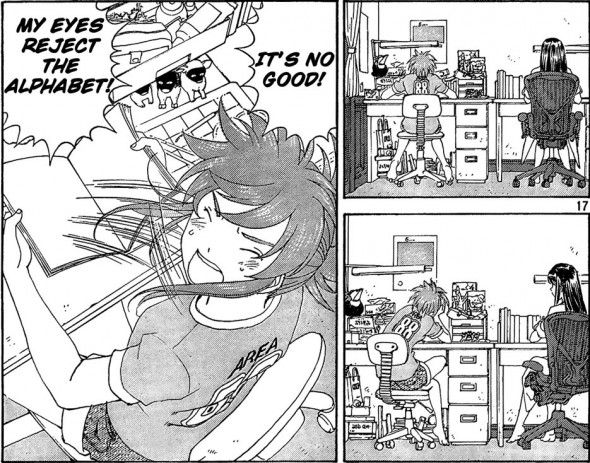 Anyway, this was another fun chapter. I liked Paradise Residence when it was a series of short chapters, but I like it more as a regular length, monthly chapter.