This week, we've got spoiler information and a couple of spoiler images from the upcoming UQ Holder chapter 42 courtesy of Hata and ChaosProphet. (My review of UQ Holder chapter 42 should come out Wednesday.)
UQ HOLDER CHAPTER 42 SPOILERS
The UQ Holder chapter 42 goodness begins.^_^
From Hata via 2CH:
A: Why Tota?
F: To save Negi.

K: Negi loves who?
F: I don't care.

9: Do you need Tota now?
F: No.

T: You kill my parents?
F: Yes.
Ken is still dodging it, but nice to see some of my theories still in steps to be true. no, I was not shock or surprise by any of the questions/answers,
ChaosProphet added this, courtesy of Manga Kansou.
Ikkuu asks for what purpose Fate needs Touta. He says Touta is needed to save Negi. And according to Fate saving Negi would be the same as saving all of mankind.

Karin asks "Who loved that man, Negi Springfield, the most? You (Fate)? Yukihime-sama?". Yukihime tells Karin to come to her room later.

Fate: "Yukihime loved one was that person father, Nagi Springfield. The true relationship between Negi and Yukihime was…". Fate stops there because Eva was about to attack him. He then says that's as far as they will hear from him.

Then Fate wonders who was the person who loved Negi the most as he was a popular man (here comes that screenshot with Negi and some of the Negima girls). Fate says he doesn't love a person.

Kuroumaru asks him if there is a time limit for what he needs to do. Fate says it isn't imminent, afterall he have been waiting 20 years.

Touta asks "Was you who killed my parents?". Fate confirms it. Touta says that one day he will definitely give him a beating.

Fate says "Come when you get stronger. I will be waiting forever at the top of the tower. There will be a time that even you will need my power".
And a couple of spoiler images.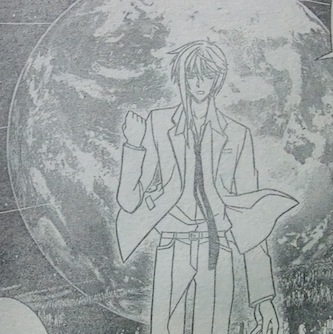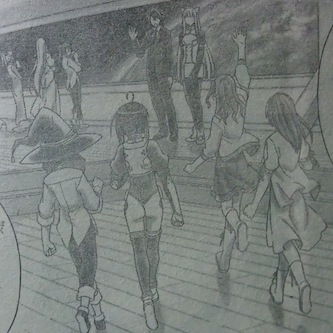 Well, that's it for now. I'm keeping my eye's open for more spoiler images from UQ Holder chapter 42.