ユーキューホルダー! Manga Review
UQ Holder Chapter 46

SPOILER Summary/Synopsis: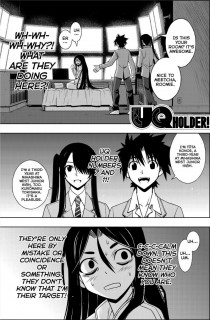 SASAKI Santa panics because of the arrival of Kuroumaru and Touta, but plays it safe by making proper introductions. Despite Santa's weak protests about not being told about having roommates, Touta sends Kuroumaru out to get food and drinks for a party.
That evening, an irritated Santa runs through the air above rooftop level. Spying some punks using magic to abuse an older person with a few groceries from the slums, Santa decides to get involved in their "taking out the trash" fun by removing them as trash. None of the punk mages attacks reach Santa, and they are amazed to see Santa has a phasing ability. Santa has no problem dealing with the punks, who are further amazed at Santa's flying magic.
Santa phases the final punk's hand into the ground while informing him of the reason that magic and guns don't work on Santa; Santa is an immortal psion. Santa is going to leave, then decides that maybe he should bury the trash by phasing the punk into the ground. Touta arrives and attacks, causing the punk to be freed from the ground. Santa flees, but Ikkuu has Santa tracked and tells Touta to give chase as best as he can as Kuroumaru is waiting for Santa. Kuroumaru tries to stop Santa, but Santa phases through Kuroumaru and proceeds on.
Thoughts/Review:
With the revelation that Santa has a phasing ability, I could not help but think of Kitty Pryde from the X-Men comic book series.  Of course Kitty doesn't have a wider range of psionic abilities that Santa has, and Kitty is obviously a girl while Santa is another androgynous character.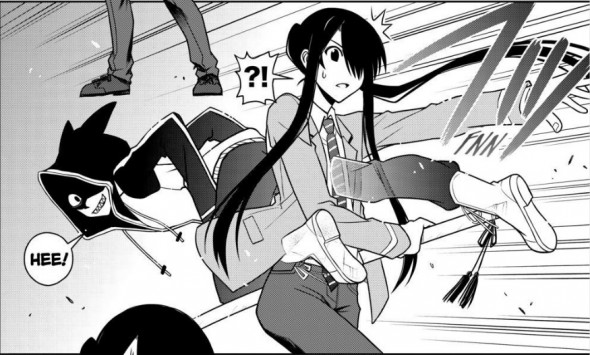 I am kind of weary of this trap stuff, whether this is a reverse trap (since so many suspect Santa is a guy), regular trap, or another genderless character like Kuroumaru. I guess trap-types are very popular in Japan, so since Akamatsu-sensei has to be careful about the loli fanservice, he may as well throw some trap stuff in, eh?
As to the story, Santa is clearly being set up as the murderer. The clues are so blatant, it feels like a red herring to me. However, Santa acting as a vigilante may be what makes the character the murderer they seek. I don't think Santa murders for the fun of it, but Santa does enjoy abusing those who abuse others.
As to Santa's name, Akamatsu-sensei gave Santa the family name Sasaki, using the same kanji characters of Makie. Santa is the name of the character form his early manga work, Itsudatte My Santa! (Always My Santa!). Why Akamtsu-sensei is using these name choices, who can say. It would be hilarious if Akamatsu-sensei somehow ties this new Santa in with his previous works (beyond just the name ties).
Beyond that, not a lot to say about the chapter. I'm guessing that Kuroumaru and Touta know their roommate is the one they are after, but considering Santa had the hoodie back up, it is possible they still don't know. We'll see what happens.