Fate/kaleid liner PRISMA☆ILLYA 2wei! Episode 06 REVIEW
Fate/kaleid liner プリズマ☆イリヤ
Fate/kaleid liner Prisma Illya 2wei! – 06

SPOILER Summary/Synopsis: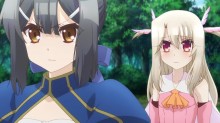 Miyu-Saber and Kuro-Archer engage in battle as Kuro takes the time to explain that she was the one who took over Ilya to install the Archer card in their earlier fights. Further, she has the ability to cheat, so that even without knowing the theory behind the Class Card system, she was fully able to use it. To prove her cheat point, she teleports behind Miyu and the battle continues with Kuro having the advantage. Kuro is going to kill Ilya even at the cost of her own life, and she'll kill Miyu to do it. Before they can exchange final blows, Ilya arrives and stops them. Ilya can't understand why Kuro hates her so much, and she rejects Ilya's offer to grant her wish. Before Kuro can attack, Iri's car comes literally flying in.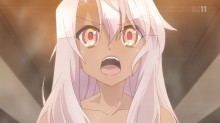 After punishing both Kuro and Ilya for fighting (knocking them out), Ilya has a vision as an infant where her parent's discuss sealing her away. When she comes to with Kuro, they are in Luvia's enormous bath. Iri arrives with Miyu in tow, telling the two girls that she's been briefed by Miyu, Ruby, and Sapphire. So she says that they can ask "Iri-mama" questions. Meanwhile, Rin briefs Luvia on what she's learned about the Einzbern family as Iri tells Ilya that she was created to be the Holy Grail in the Holy Grail war. Kuro corrects her as she was the one created to be the Holy Grail, infused with knowledge and abilities. Kuro is angry at having been sealed away and wants to know why, though Iri doesn't answer.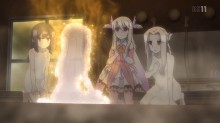 After Kuro demands to have her own life as a mage and an official member of the Einzbern family, Iri tells her the news that the Einzbern family no longer exists. In grief, Kuro expends all of her mana and begins to fade away. Her rage gone, she begins to reflect on what she really wanted in life. Before she can disappear, Ilya transfers mana to her. Ilya says that none of what Iri told them shocks her, and she acknowledges that it was Kuro that helped her all along. Ilya's transfer doesn't hold and Kuro begins to fade again. Kuro is happy that someone cared if she died. Ilya screams at Kuro to use her Holy Grail ability to make her wish, so Kuro wishes for a family, friends, a normal life, and to live. As such, her life is returned to her. Iri introduces Kuro as cousin "Chloe" to Shiro, Liz, and Sella as Kuro will now live with them.
Thoughts/Review:
And so the mystery of Ilya is solved.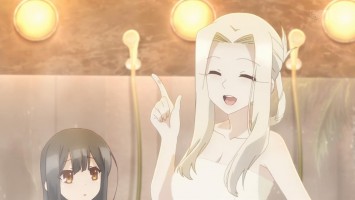 I have to say that I really feel I should have figured out more earlier in the series, but I've discovered that I'm merging my knowledge of elements from Fate/stay night and Fate/Zero, and putting them into Fate/kaleid liner Prisma Illya 2wei!  What I mean is, until last week, I had presumed that the characters here knew more about the Class Card system than they actually know.  Despite this, I think that I had an idea of where things were going, but never in a fully conscious manner, if that makes sense.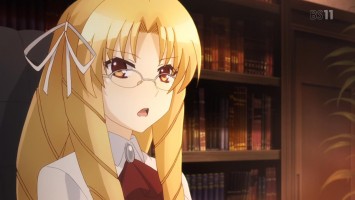 Anyway, I can understand having Ilya's memories, abilities, and powers sealed up as an infant after Iri and Kiritsugu decided to end the Holy Grail war by not allowing Ilya to become the Holy Grail.  As I see it, if they hadn't done that, there was still a chance that Ilya would fulfill her role as the Holy Grail and the war would have started anyway.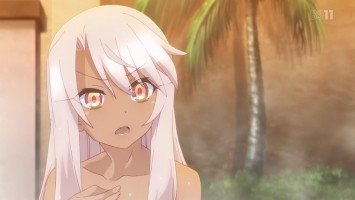 I guess they hadn't counted on Kuro-Ilya being aware of her environment despite only being an infant/toddler. Further, it is obvious that they hadn't counted on the sealed part of Ilya to become a separate persona within Ilya, one that was aware of things with life, especially after Ilya became a magic girl.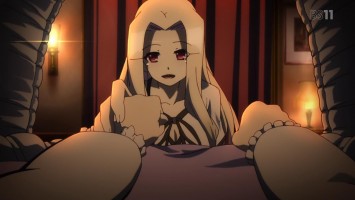 It is tragic that Kuro experienced this, but I am glad that the story worked itself out so that Kuro can be a regular member of the cast and have the family life she always wanted. As such, the "Kuro must kill Ilya" stuff is gone, but it does appear that the rivalry will still be there.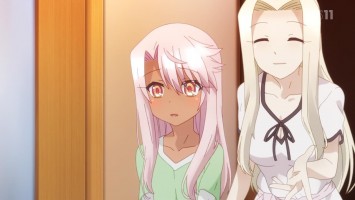 While I'm still thinking about Kuro, I know she had access to vast amounts of knowledge and abilities, yet without knowing anything about the Class Card system, she somehow knew how to do it. I know she said she's a cheat, but that doesn't really explain why she was able to absorb the Archer card and fully access Archer's abilities.  I guess it was because she was the Holy Grail, thus having access to how the Heroic Spirit for Archer worked.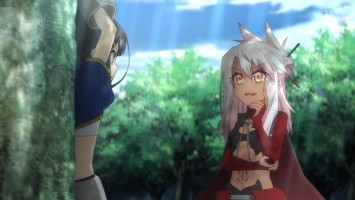 I was disappointed that we didn't see Ilya asking her mother questions about being a mage. After all, Iri didn't speak of her own mage abilities.  She shocked Ilya by showing her abilities when she "spanked" Kuro, then again when she did the same to Ilya. But that never came up, and I felt that it should have. (Yeah, I know — time constraints.)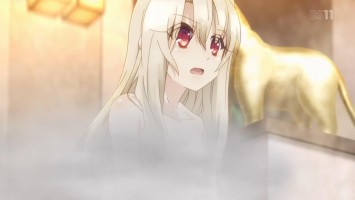 I'm also disappointed that Kiritsugu didn't come with Iri. Seriously, what kind of terrible father is he? Iri is traveling the world with Kiritsugu, feels the need to return home because of Ilya, but he's like, "I don't want to see my daughter." *_*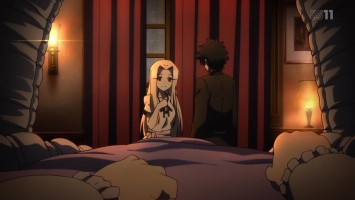 So what did happen to the Einzbern family in this universe? What the heck are Iri and Kiritsugu doing that requires them to be away from home for months at a time (or longer)? I presume Liz and Sella know the truth of Iri and Kiritsugu (based in part because of their roles in the original Fate/stay night). If this is true, will Ilya learn the truth about them?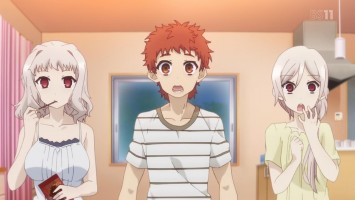 I'm running behind, but I've got to wrap this up. I thought the fight between Miyu-Saber and Kuro-Archer was well done. I liked the explanation of Kuro's existence, and I like that she's become a real person now. Other than the couple of disappointments I mentioned earlier, I really enjoyed this episode and look forward to seeing where things go from here.