Here is a bit of potential SPOILER rumor for the upcoming UQ Holder chapter 48, courtesy of 2CH. No images or greater details anywhere yet. I'll keep my eyes open for such, and should ANY of you have information you can verify, especially with a spoiler image, I would appreciate sharing it here. ^_^ (My review of UQ Holder chapter 48 should come out Wednesday.)
UQ HOLDER CHAPTER 48 SPOILERS
The UQ Holder chapter 48 goodness begins.^_^
It isn't translated yet, but here's what the 2CH poster says.
楽しい記憶

三太がいじめ集団に囲まれ口におしぼりを突っ込まれる
悪夢で目を覚ますと、口には刀太の踵が突っ込まれてた

ネトゲで三太と意気投合した刀太は九郎丸と3人で授業をサボる
街に出ようとは言ったが刀太は田舎者、九郎丸は友達ゼロで
連れ出された三太もダメじゃねーか!と突っ込まずにいられない

それでも3人があちこち回っていると風紀委員に追われる
何とか振り切るが、三太は悪夢を思い出し刀太たちと別れる
すると路地裏から女生徒が九郎丸に話しかけてくる
あの子…自分では覚えていないけど もう…死んでいるんです

次号、増ページ&センターカラー
ChaosProphet (or someone with Japanese skills) will have to provide a few more details (the writer of this post does so in a more cryptic fashion, which is why it is more difficult to translate).  However, I think the three girls from the morals committee (I think I called them the discipline committee) show up. I could be wrong as I get the sense that we may be getting a Santa flashback as well.
If there's more information with UQ Holder chapter 48 spoilers, I'll post it. Feel free to share if you know more.
Update #1: It appears the Japanese are throttling early releases of Weekly Shounen Magazine, but here's the lone spoiler image from MK, with the girl being the one talking about Santa being dead (if I'm understanding correctly; being sick kinda makes one not at 100%).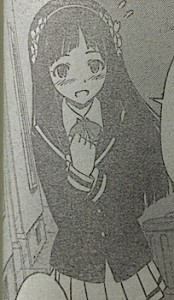 Thanks to ChaosProphet for the alert. ^_^