Fate/kaleid liner PRISMA☆ILLYA 2wei! Episode 07 REVIEW
Fate/kaleid liner プリズマ☆イリヤ
Fate/kaleid liner Prisma Illya 2wei! – 07

SPOILER Summary/Synopsis: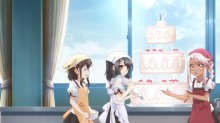 Shirou wakes to Kuro sleeping in his bed, leading Ilya to slap Shirou as a result. As Shirou makes breakfast, Ilya is still offended, but when Kuro offers to make him something special in cooking class, Ilya gets in on the act. Kuro gets teamed up with Miyu and Mimi, making her cooking team superior. Ilya has Nanaki, Suzuka, and the dangerous Tatsuko, who could put anything into the dish they are preparing. True to form, she adds nutmeg to their recipe for making a pound cake. Mimi makes the pound cake on Kuro's team, and Miyu ends up making a giant wedding cake to Taiga-sensei's chagrin. Ilya works hard to salvage their pound cake, but Tatsuko sabotages it again, this time with mint.  At home, Shirou picks Ilya's cake over Kuro's, even though it tasted bad, sensing her efforts in it.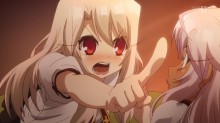 With Kuro again sleeping with Shirou, Ilya decides the house rules should be followed, and Iri agrees, producing a chart with herself at the "god" level and Shirou at the bottom. This puts Ilya as "oneesan" to Kuro, something she relishes, but Kuro isn't accepting so readily. At school, the girls invite Kuro to the party they are throwing for Ilya. Kuro says it is her birthday too, much to Ilya's chagrin, but everyone is surprised with Miyu says this is her birthday as well. Ilya seeks advice from her friends on being a good older sister, then tries it out on Kuro, failing in the process. At home, Ilya is happy that Kuro bought her a flan, but then accuses Kuro of trying to be the older sister. As Iri quietly observes, Ilya and Kuro debate over who's gets to be the older sister.
Thoughts/Review:
This episode comes off as two stories for the price of one, and that's not a bad thing, even if it was mostly fun filler.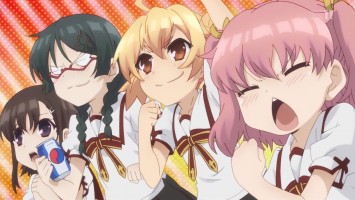 The first story covered the usual class cooking story in some anime and manga titles. It was amusing to me that Ilya (and thus Kuro) aren't good at cooking. I remember Cardcaptor Sakura where Sakura was good at cooking and used magic to make it better.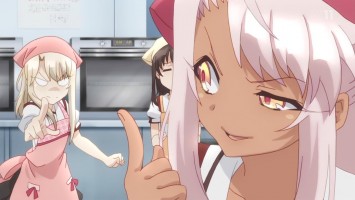 Of course Tatsuko was the scene stealer in this cooking battle between Ilya and Kuro. Although predictable, it was still funny to me how she sabotaged her team's efforts because she thought it was a good idea to add nutmeg and mint to a pound cake.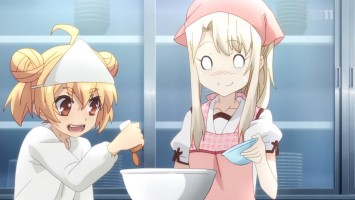 For the second story, the rivalry between Ilya and Kuro going up a notch to determine who's going to be the older sister (and thus the one the other has to pay respect to) also made laugh.  I was surprised to see Ilya in the pouf hairstyle, which I recently read about in volume 7 of Haganai.  Is (or was) this some kind of fad in Japan?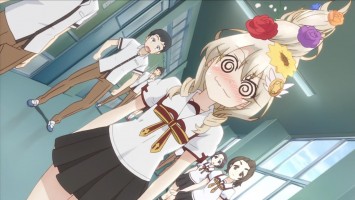 Speaking of surprises, I didn't think Iri would still be at home. For some reason, I thought that at the end of the previous episode, she was gone. Although her role was small, I laughed out loud at her family organization chart, placing herself in the role of "god".  I like that she has an active interest in both Kuro's and Ilya's lives.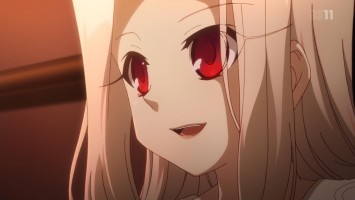 Shirou gets the worst in this episode. Not only is he at the bottom of Iri's chart (as an older brother), Ilya slaps him twice for Kuro crawling into his futon. He just can't buy a break.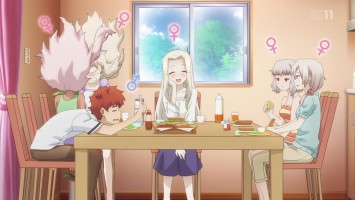 The only item of interest on a larger plot scale is the reveal that Miyu's birthday is the same as Ilya's and Kuro's. Since she's referred to Shirou as "oniichan", it really makes me think that she's some alternate universe version of Ilya for some reason.  Or maybe it is better to say an alternate version of what Ilya was to be — the Holy Grail.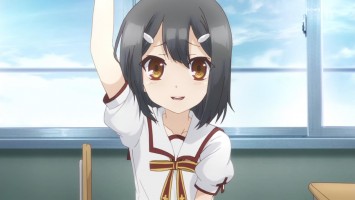 In the end, this was a pretty funny episode and a lot of fun to watch. Looks like the plot comes back into focus with the next episode. I'm looking forward to that.