Fate/kaleid liner PRISMA☆ILLYA 2wei! Episode Final Thoughts
Fate/kaleid liner プリズマ☆イリヤ
Fate/kaleid liner Prisma Illya 2wei! – Final Thoughts

***SPOILERS***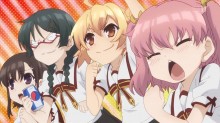 When Fate/kaleid liner Prisma Illya came out, it was more of a parody of the mahou shoujo genre, taking most of the characters from the very popular Fate/stay night franchise to fill similar roles again. For the first series, it was pretty much standard magic girl stuff, taking heavy cues from Cardcaptor Sakura. In the end, it turned out to be funny as a parody, but also interesting as a story as Ilya, Miyu, Rin, and Luvia attempted to collect the seven Heroic Spirit Class Cards.  Because the story was so intriguing, the door was opened for a sequel. Thus we have Fate/kaleid liner Prisma Illya 2wei!, which takes the ball and runs with it.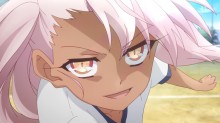 As with the first series, Fate/kaleid liner Prisma Illya 2wei! only has ten episodes.  My understanding is that this anime covers the first half of the Fate/kaleid liner Prisma Illya 2wei! manga. The anime covers two stories. The first story deals with the introduction of Kuro (aka, Chloe), a magically created twin of main character Ilya. Kuro comes about as the explanation for why Ilya was able to easily "install" the Archer Class Card and basically do incredible things without realizing it. Initially, Kuro's hatred for Ilya makes no sense, but when the truth of her origins come out and she is revealed to be the original persona of Ilya whom Iri had sealed up to stop the Holy Grail war, it made sense.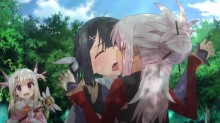 Because Kuro is not a flesh and blood being, but one comprised of magic, she needs recharging. This was an area of the anime that I really didn't like. In order to recharge, Kuro goes around force-snogging Ilya's female friends and such. Naturally, these girls who say and act like they don't want this, open their mouths for some super deep French kissing, with a side order of extra tongue. Naturally, the girls respond sexually to this, which was just so over the top. There were moments where I wondered if we were about to go into some lolicon hentai anime because that was the next logical step, following the rules of hentai logic. *_*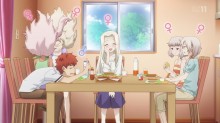 Until the mystery of Kuro is solved, the story making her the antagonist feels somewhat forced. It made no sense to me for Kuro to want to kill Ilya some of the time, then other times, Kuro wanted a normal life, complete with a love for her "oniichan," the adopted Shirou. However, once the truth comes out, I really liked that Ilya's mother, Iri, comes on scene to not only put her daughters under her authority, but to set things up so that Kuro could live a life as Iri's daughter and Ilya's sister. From that point on, Kuro and Ilya act like normal sisters and rivals, with Ilya desperate to be the "oneechan" in the family hierarchy.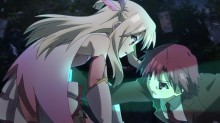 Once the mystery of Kuro is solved, the second story kicks into gear in episode 8. Here, Magic Association Enforcer Bazett Fraga McRemitz arrives, and she's not afraid of brutally beating up elementary school girls (even if they are fairly powerful magic girls) to obtain the seven Class Cards, including the one within Kuro. This is where the series took things to the next level as Bazett is pretty much an unstoppable opponent. There's a bit of deus ex machina to get the girls out of trouble, but it plays well for the most part, setting up the next story of the series and the search for the mysterious eight card that should not exist.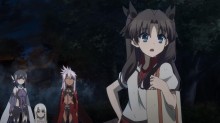 It was these final three episodes that turned this series from being average fare with an excessive helping of lolicon (and yuri lolicon) ecchi fanservice into something really interesting and exciting. The different battles where Ilya, Kuro, Miyu, August, Rin, and Luvia go up against Bazett were pretty well done, in my opinion. I especially liked how rivals Rin and Luvia worked so well as a team, though I was disappointed to see that in order to retain their rivalry comedic elements, an attempt was made to push the big red reset button. Whether or not this succeeds remains to be seen. I'd rather see Rin and Luvia grow as characters rather than be purposefully stunted for cheap comedy material.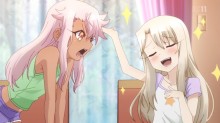 At only ten episodes, there still isn't quite enough manga material to fully flesh out all of the episodes. At times, especially in the aftermath part of the final episode, there can be some noticeable drag when filler is added, but for the most part, I was not bothered by any filler. I just wish the aftermath elements in the final episode had been done a little better.  However, the production team apparently decided not to go too far out on a limb, thus we get a rather boring segment within the episode, advertising the fact that there will be another anime series to pick up where Fate/kaleid liner Prisma Illya 2wei! left off.
In the end, Fate/kaleid liner Prisma Illya 2wei! is a pretty enjoyable series, picking up the comedy and fun of the original series, but also improving on the story being told once Bazett arrived. My only real complaint was the unneeded, ecchi, loli fanservcice that centered around Kuro.