Mobile Suit Gundam-san – 09
Kidou Senshi Gundam-san episode 09
機動戦士ガンダムさん review
***SPOILERS***
Lalah leaves the cabin to do some shopping, so Char decides to rid himself of the enemy that has twice tried to kill him, the red chick, Red Comet Hiyoko.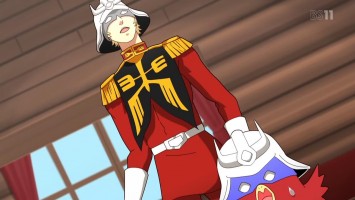 Char begins firing, but Red Comet Hiyoko has a Newtype moment, allowing him to see Char's attacks, avoid them, and perform a counterattack of his own.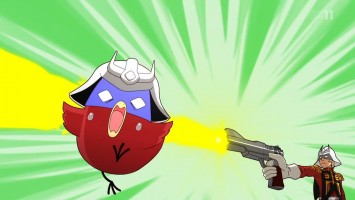 Having lost three times to Red Comet Hiyoko, Char is worried and decides to shoot the bird in the back. However, just as he's about to pull the trigger, Lalah returns.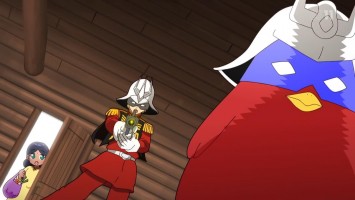 A little of the "Angry Bird Char" goes a long way with me, but I do admit, I did find this amusing.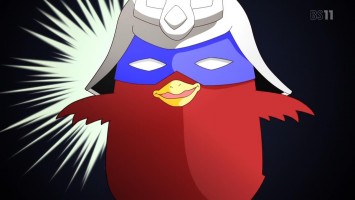 Making Red Comet Hiyoko a Newtype was amusing because I didn't expect it, although I should have done.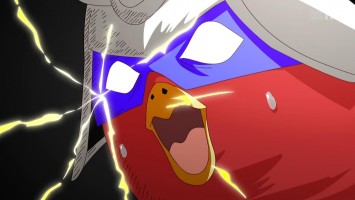 I did laugh out loud at Char's decision to shoot this chick in the back in order to kill him. I was reminded of the Red Dwarf episode Justice, where Rimmer wanted Lister to shoot a rogue Simulant in the back.
Rimmer: Lister, this is not a scout meeting. We are not trying to win Best Behaved Troop Flag. Gloop him.
Lister: What? In the back?
Rimmer: Of course in the back. It's only a pity he's awake.
Maybe shooting Red Comet Hiyoko while the bird sleeps is Char's next move.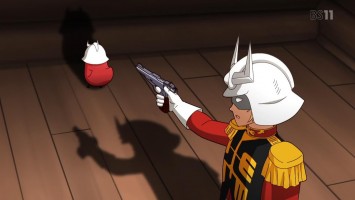 I see now that the ED song and flashback are not only geared to the featured character of the episode, in this case, Char, but in the case of the flashback, it will always be the most famous quote of that character from the original Gundam series, which in Char's case, is apparently his desire to see the abilities of the Federation's mobile suits.  So I'll probably only talk about these when there are actual new ones.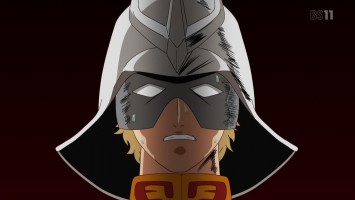 So despite being an Angry Bird Char episode, it was still amusing.