Fate/kaleid liner PRISMA☆ILLYA 2wei! Episode 09 REVIEW
Fate/kaleid liner プリズマ☆イリヤ
Fate/kaleid liner Prisma Illya 2wei! – 09

SPOILER Summary/Synopsis: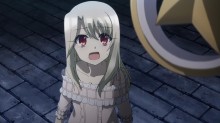 Kuro transforms into Archer and is stunned that Bazett can block attacks with her bare fists. Ruby ignores Ilya's request to transform her as Kuro-Archer attacks Bazett, only to find that she is well schooled in Archer's attacks and abilities, going so far as to catch one of Kuro-Archer's arrows and fling it back at her with force. Bazett turns her attention to Ilya and Ruby, recognizing Ruby as one of Lord Zelretch's Mystic Codes. Ruby explains that Bazett was the one who captured the Lancer and Archer cards initially. Lord Zelretch took her off the case and assigned it to Rin and Luvia, but with a power struggle currently under way within the Mage Association, she has been tasked to gather all of the Class Cards. Ilya insists that Ruby transform her no matter what, primarily because of what Bazett did to Kuro.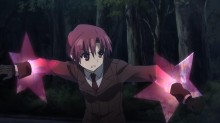 Ilya's attacks are too weak and she barely avoids Bazett. Ruby says that powerful attacks against Bazett are useless. Illya erects barrier after barrier to block Bazett, but the woman easily shatters them. Ilya uses to small barriers to trap Bazett and blast her, but because Ilya didn't use enough of a barrier on Bazett's arms, it doesn't work. Bazett gut punches Ilya, putting her on the ground. Bazett steals her Lancer card, but the blow causes Kuro to revive and attack. Kuro tells Ilya to get the cards which are now on the ground, but Ilya is only able to get one before Kuro is beaten. Bazett steps on Ilya's hand and threatens to crush it or remove it if she doesn't give the card up. Ilya refuses, so Bazett goes to stomp Ilya's hand, only to be attacked by Miyu.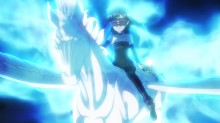 The battered Ilya hands over the card, Rider, and Miyu installs it. Below, August, Luvia, and Rin sense something big is happening as Miyu-Rider begins attacking Bazett while riding Pegasus. Ruby explains to Ilya what is happening and how Miyu has become Rider, much as Ilya had become Archer.  Miyu-Rider attacks again, so Bazett latches onto Pegasus, thinking she has Miyu-Rider, but Miyu-Rider uses her weapon to throw the woman into the ground. Bazett removes her coat and tie, realizing what Miyu has done. Miyu asks about Luvia and Rin, and upon hearing that they are buried in the rubble, Miyu-Rider removes her blindfold as Rin races to the surface, worried that a Nobel Phantasm is the worst thing to use against Bazett. Sapphire begs Miyu not to attack as Bazett stands at the ready, having apparently analyzed what Miyu will do and how to counter it.
Thoughts/Review:
Wow! That was one incredible episode.  On one hand, I know that nothing is going to happen to Ilya, Miyu, and no doubt Kuro. On the other hand, I'm very interested to see how this fight gets resolved because at the moment, it doesn't look good for our little heroines.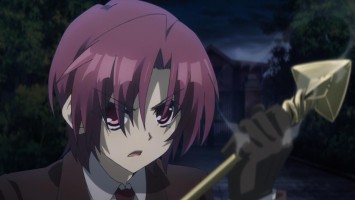 Silver Link did something kind of clever. While doing a traditional flashback at the beginning of the episode to say, "previously, on 'Fate/kaleid liner Prisma Illya 2wei!'," they then proceeded to do a different kind of stage setting. We went back to Miyu and her quest for mizuyoukan for Luvia, and we got to see Liz and Sella have a cameo when Sella discovers Kuro and Ilya are missing.  This was a nice way to reset the stage for what was to come next.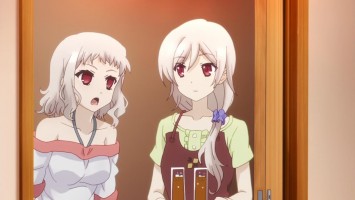 Until Ruby mentioned it in this episode, I had not questioned the fact that in the first series, Rin already had the Archer card and Luvia had the Lancer card (if I recall correctly). I had presumed that Rin and Luvia had captured these two cards, or they had been acquired somehow by the Mage Association.  Learning that Bazett is the one who captured them begs the question of why Lord Zelretch removed her from the case.  That then leads to why someone else decided to have her steal the cards. I understand there's a power struggle, but who's behind it and why?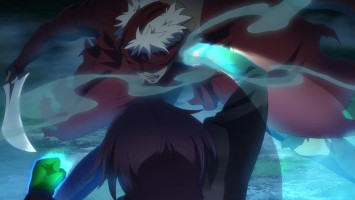 From the episode's beginning, there was blatant, "Don't hit Bazett with big attacks because it'll be bad!" The question is, "Why?" I'm sure I'm about to find out, but if Ilya came close to beating Bazett, then she's not 100% invulnerable. Dropping the magical equivalent of a nuke on Bazett seems like a winner. So what kind of cheat does she have to let her get out of that unscathed?  It did appear that Bazett is able to quickly analyze and thus formulate proper counters to massive attacks, but still, that just just smacks of being over powered.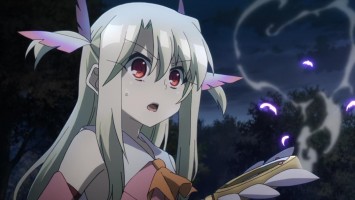 Not that I'm complaining, mind you. Bazett is a badarse and a half.  Yeah, she was holding back, but she still gut-punched Ilya hard. I swear, when that happened, I really waned Iri to suddenly show up like some angry mama bear and go ape-s*** on Bazett. That would have been awesomeness. (Did Iri leave last episode? I don't remember.)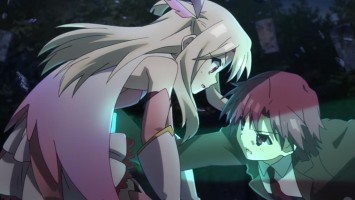 Anyway, the next best thing would have been Miyu kicking Bazett's arse as Rider, but the writers kept slapping me in the face with, "Big attacks on Bazett fail, especially Nobel Phantasm attacks!" So I expect Miyu to get her arse handed to her next episode. Assuming that happens, at least Miyu got some licks in on Bazett, forcing that monster to take off her jacket.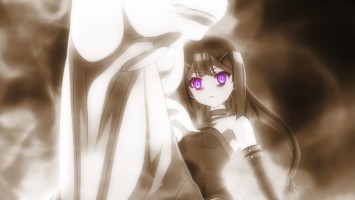 Rin is on the way and seems to have done something to Bazett. What, I couldn't say, but I got the feeling that she did something. It would have to be in that attack she did, which seemed to have failed. I want to say some kind of delayed spell, but the magic in the Fate multiverse isn't spell casting for the most part. The only other thing I can think of is that Rin has another curse up her sleeve, but if that's the case, then why didn't she activate it when she attacked? So I really don't know what, if anything, Rin could have done to Bazett.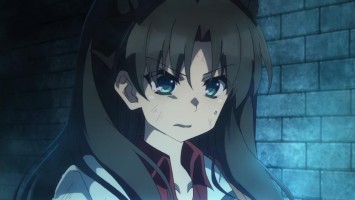 Finally, there was Caren's (Karen) cameo. It seems as if the Church is aware of what's going on, but she's not going to be involved. If that's the case, then was her cameo just filler, or has the ground been broken for something she's to do in future?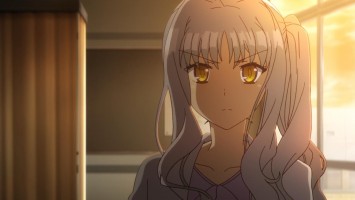 In the end, a very enjoyable episode, with some nice action sequences. I'm very interested to see how Bazett gets overcome.