ユーキューホルダー! Manga Review
UQ Holder Chapter 53
SPOILER Summary/Synopsis: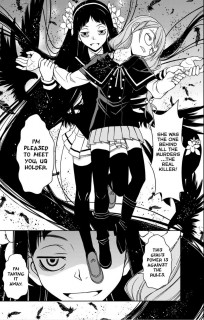 The overwhelming number of zombies forces Touta, Kuroumaru, Ikkuu, and Santa to retreat to a rooftop cafe. Ikkuu is unable to communicate out and Kuroumaru reports that telepathic signals are being jammed as well. Kuroumaru and Ikkuu have to explain to Touta that the mission is bust and that this zombie outbreak is a disaster that could destroy the world. Touta asks if the zombies can be returned to normal. Kuroumaru states that they cannot be returned to normal, thus must be counted among the dead.
Santa cries and confesses what he told Sayoko in that he wanted to crust the world. Touta hits him in the head, telling him that UQ Holder will deal with this somehow.
Kirei arrives, stating that she had a bad feeling about their mission, so she made a save point prior to coming. As such, she plans to use her reset powers to take them all back, including Santa, to a time before the zombie outbreak. However, before she can act, Sayoko appears, grabs Kirie, and bites her in the neck. Sayoko says Kirie's powers are against the rules, thus she's removing Kirie. Touta attacks, but is snared by what appears to be shadow abilities from Sayoko.
Thoughts/Review:
I didn't expect for Akamatsu-sensei to bring in the ultimate cheat card, then immediately remove her from the field of battle. I figure we'll get some sort of additional information on Kirie as I don't believe for a moment that Kirie is out.  I figure she'll end up doing her reset, everyone will live, save Sayoko, who will be killed…or something.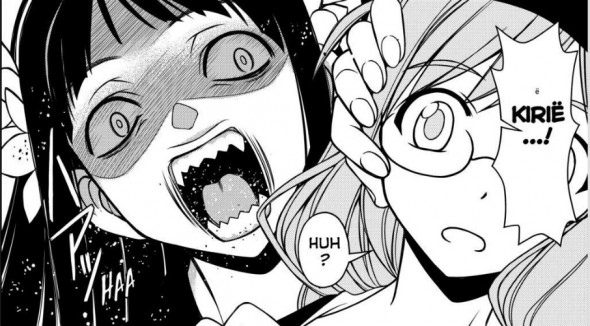 Santa is now firmly on the road to salvation, which surprises none of us. I wonder if he'll be the one who ends up putting Sayoko away for good.
Beyond that, I'm not finding a lot to discuss since most of the chapter was dealing with zombies, retreating, then losing Kirie. I do note that the rooftop cafe they fled to appears to be the same one in Negima where Negi had his "incident" during the Mahora Festival.
Still, it was an enjoyable chapter. I'm interested in reading you guy's thoughts on this.