フェアリーテイル Manga Vol. 43
Fairy Tail Volume 43 Review
–> Purchase from RAKUTEN (formerly BUY.COM)
–> Purchase from BARNES & NOBLE
–> Purchase from RIGHTSTUF!
–> Purchase from Yes Asia! (Japanese tankoubon)
***SPOILERS***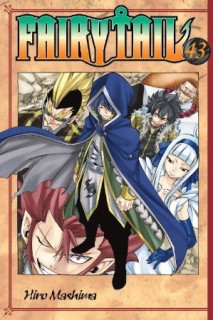 Highlights from this volume start with Natsu defeating Jackal, who attempts to self-destruct, leading Happy to fly Jackal into the sky to avoid people getting hurt. Fairy Tail teams are dispatched to find and guard former Magic Council members. Elf and Lisanna find a deceased Yuri, killed by Seilah, one of the nine demon gates. Seilah takes possession of Elf's arm to strangle Lisanna, forcing him to make an agreement with her to destroy Fairy Tail in order to save his sister. Mirajane and Erza head to former chairman, Crawford Theme, where they easily repulse an attack on him, only to pass out as he is working for Tartaros.
Erza is stripped naked and tortured by Kyouka to discover the location of Jellal so they can release Face. Oración Seis is set free, at which point Cobra immediately attacks and defeats Brain for having used them. The remaining members find themselves facing Jellal and Merudy from Crime Sorcière. Jellal takes them on solo, defeating them as Brain turns into Zero. Zero seemingly defeats Jellal, but Jellal shatters Midnight's illusion (Brain still being unconscious) and utterly defeats Oración Seis. Instead of throwing them in jail, he wants them to join Crime Sorcière to help him defeat Zeref.
Meanwhile, Natsu tracks down where Erza and Mirajane are being held, launching an attack. Silver from Tartaros saves Franmalth from further beatings at Natsu's hands, sending his fellow demon away with the unconscious Crawford. Silver is the one who froze the giant village, but when Natsu mentions how Silver smells like Gray, Silver immediately freezes him and tosses him naked into a cell with a naked Lisanna. Fairy Tail discovers the location of the cube that serves as Tartaros's base as Crawford manages to obtain Jellal's Face key with his magic. As he brags about this, Kyouka kills him, thus releasing the wards on Face.
---
With Face being a device that removes magic from the continent, I was wrong in thinking that Tartaros's interest in it would be removing it as a threat. The threat was apparently Etherion, which was used with much easier conditions in volume 12. So by removing magic, the demons get a free run.
I guess Mashima-sensei really enjoys drawing Erza naked since she was naked for most of the chapter during her torture scenes. From a story perspective, it makes sense though, so I don't complain. And he did have Natsu naked for some of the chapter along with Lisanna, though I didn't laugh at the gags there every time Lisanna freaked out when Natsu turned to speak to her in their cell.
Speaking of Lisanna, the fact that she and Elfman just happened to encounter the one demon who could force a situation whereby Elfman would be forced to use a lacrima bomb to destroy Fairy Tail made me roll my eyes. I'm not a fan of that kind of convenience.
Although it was spread throughout the volume, I admit that I kinda enjoyed seeing Jellal kick nearly everyone's arse from Oración Seis on a solo basis, save Brain (who was already defeated by Cobra) and Hoteye (who declined to oppose Jellal). I think the added element was the fact that he knew their real names. So I suppose that this is where they all become redeemed and join the guild of former villains turned independent good guys, Crime Sorcière. Now with a decent compliment of members, Crime Sorcière can now help Fairy Tail in this current arc.
Which reminds me, Angel gets the eye-roll movement too. After Mashima-sensei stripped her of her two golden Celestial Spirit keys, she had nothing big to be able to summon to fight for her, so now we introduce Angel Magic. Yeah, that's the ticket! Yeah, I know she needed to be able to summon something, but she should still have at least one silver celestial key for that gun weapon she used, since Lucy didn't get it (Caelum).  OK, I'm overthinking this as this is Mashima-sensei we are talking about here.
Someone apparently not being redeemed is Crawford. Well, the bozo got what was coming to him.
As to Silver, Mashima-sensei is setting this up clearly to have him be Gray's relative. I figure it will be Gray's father somehow, but Gray is supposed to be an orphan. That won't matter, of course; if Mashima-sensei wants to have Gray's father in the story, then dead or alive, Gray's father will be in the story.
Finally, it was a shame that Erza's and Mirajane's team-up was for naught. It would be fun seeing these two babes teamed up in a real fight, kicking arse.
On the Kodansha Comics side of things, the Japanese honorifics appear to be retained, except for the usual brother/sister ones. There aren't as many extras due to the additional page content (as Mashima-sensei explains in a note), but Kodansha provides what extras there are, including a few translator notes and a preview for the next volume.
In the end, this volume was interesting and enjoyable to read. I'm still not sure I'm steeled up for the long ride ahead.