ユーキューホルダー! Manga Review
UQ Holder Chapter 70
SPOILER Summary/Synopsis: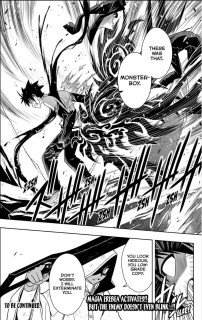 Gravity Blade, aka Kurobo, is about to reveal its speculation on Touta's identity when the short person who appeared to attack him before appears, calling Touta a badly done, low quality copy. After telling Touta that he shouldn't have left the island, the assailant attacks, sending Touta flying back. Touta tries to counter, but a spell from the assailant stops that, though Touta gets away. The killer is irritated by Touta's battle instincts, insisting they don't belong to Touta.
Although Touta is barely holding his own against a foe who ranks up with Eva, Fate, and Mana, he finds this fight awesome. Touta's attitude irritates the hooded attacker, who opens up a massive delayed spell ( activating it). The assailant attacks with his huge sword, slicing into Touta.
The assailant is not impressed with Touta and is going to clean up, when Touta's Magia Erebea activates, leading the hooded foe to let Touta know he will exterminate Touta.
Thoughts/Review:
So, Kurobo has some speculation, says nothing, and the hoodie boy calls Touta a bad copy. Somehow, I doubt we learn more than that about Touta for a while.
Hoodie's sword strongly resembles Asuna's summoned blade, but it has a trigger, suggesting it can be adjusted in a similar fashion to Kurobo. It seems that he has stored spells in the sword. Using the spell release term Emittam while appearing to press a trigger, followed by a massive spell activating strongly suggests the spell was stored in the sword.
It is clear that Hoodie knows the truth of Touta. I couldn't help but think of how many of us Negima fans have seen Touta as a poor copy of Negi from a writing perspective. So there's a part of me that thinks, "I wonder if this is Akamatsu-sensei laughing at us in his own special way?"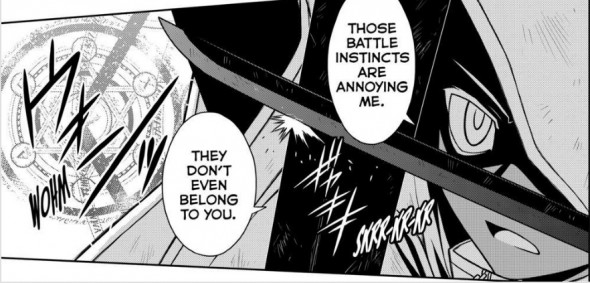 Whether is is or not remains to be seen.
Touta's attitude about fighting is very similar to Kotaro's in that he gets enjoyment from fighting. I figure this attitude is what will allow Touta to use ME without much problem.
Will we get a deus ex machina moment coming, whereby Touta is beaten, even with ME active, and needs to be saved? There's Afro (Laszlo) and Ray, but they are pretty weak and wouldn't be any help. Kuroumaru and company could show up, having decided to go find Touta. Eva and Fate might show up, having known Touta would go out on his own, thus making him bait for this assailant that they wanted to nab.
Of interest to me is that the assailant refers to Touta as "Niisan." So does this mean that the assailant is also a creation like Touta but was created after Touta? Or is it just a sarcastic method of addressing Touta since Touta seems to consider his attack to be a boy?
We'll see what Akamatsu-sensei has in store for us next week.  What were your thoughts about this chapter?