Paradise Residence Chapter 09 Manga
パラダイス レジデンス Chapter 09
SPOILER Summary/Synopsis: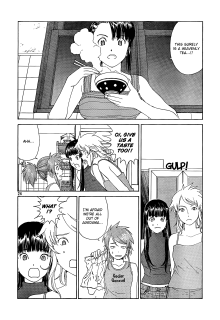 Hatsune and Suzuka are studying in their room, where Suzuka has to correct Hatsune's incorrect answer to a question.
Hatsune says she's hungry, so she and Suzuka head into the kitchen to make a quick snack. However, making a snack only makes them hungrier, so they move to check out the fridge, only to discover Tachiarai raiding it already. Mitsuho is already down and Stephany comes down in a small bikini, also hungry. Since they are forbidden from doing any cooking other than heating water (lest the "dead" show up), the girls begin making dishes that only require hot water.
Hatsune mixes stuff together, including agedama (tempura breading crispy bits), which proves to be a big success. However, there's not enough for everyone, and since they are out of agedama, Tachiarai makes the decision to make more agedama, and to cook some rice as well.
Komatsu arrives,asking what they are doing. She suggests they just go ahead and make tempura since they've raised the dead, by which she's referring to their fellow dorm mates, who've come down because of the smells.
Thoughts/Review:
Turning a Japanese poem (Makura no Soshi) into a rap was pretty funny.
Reading this chapter was tough, mainly because it made me hungry. While the make-do things the girls made weren't things I'd actually be interested in eating, the tempura talk did make me very hungry. I think I'm going to make some tempura chicken this upcoming weekend. *nods*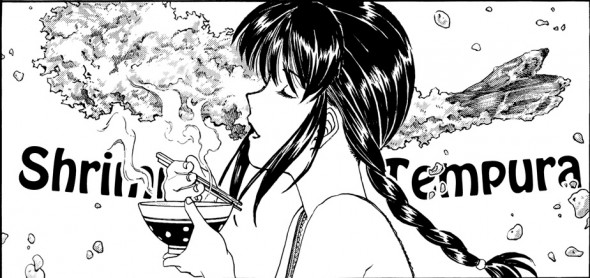 Shrimp tempura isn't bad either. 😀
I never heard of agedama (tenkasu). Even knowing what that is, I wouldn't be thinking, "You know, after I've cooked my tempura, I'm going to save the crispy bits left in the frying pan for some reason." But I can see how it could work to flavor a dish.
Steph doesn't get naked this chapter, but she gets heavily serviced with her "leaves little to the imagination" bikini.
Did I mention that this chapter makes me hungry? And that I'm especially hungry for chicken tempura? 😉
Beyond that, not much to say other than I'm glad I no longer am in school. 😀