ハヤテのごとく!/Hayate no Gotoku Manga
Hayate the Combat Butler Chapter 486 Review
SPOILER Summary/Synopsis: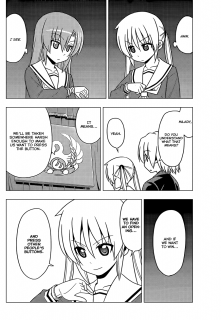 Hina is stunned after receiving the report from Miki that in addition to 54 people choosing the Level 5 school trip, two opted for the Level 4 'Forced Labor" plan. Miki figures that even though Hakuou Gakuen has a lot of rich students, the ¥150 million prize is enough to tempt them.
Maria learns that Nagi and Hayate have chosen Level 5, which Nagi plans to give up, sleep, and play games. Maria mentions that if Hayate wins the ¥150 million prize, he can pay off his debt to Nagi. She asks him if he will quit if he gets the money. He says he wouldn't quit immediately, but doesn't believe it will go that well for him. However, this causes Nagi to worry.
That evening, Ah-tan pays Mikado a visit to inquire why Director Kananiwa has a King's Jewel. He plays dumb, but when she threatens his beard, he explains that he gave her a jewel because she seemed to be someone who could break the curse on the jewels. She was unsuccessful, but never returned it. Mikado never attempted to get it back because Kananiwa is scary. However, the defeat of King Midas lifted the curse on the remaining jewels, but Mikado warns that getting the jewel back from her will be very difficult.
It is time for the school trip, so Director Kananiwa holds an assembly for the people doing the Level 5 trip. She has her "men in black" hand out bracelets, called Completers. Once the students put them on, she tells them the Completers cannot be removed without a special tool. Inside the cover of the top of the bracelet is a button that the students can press if they wish to give up, after which one of the men in black will arrive in five minutes to take them back to the hotel.
Nagi reasons that they will be taken to a harsh place to make people want to press the button, so the goal is to find a way to open other people's Completer and press their button. Thinking back to the idea of Hayate leaving her if he wins the prize, Nagi decides she's going to play the game for real.
Thoughts/Review:
This chapter continues to set up the groundwork for this new arc.
It does appear that the events of the Can't Take My Eyes Off You anime will no longer be canon. Rumor is that although Hata-sensei wrote the story regarding Dolly and such, he somehow lost the rights to use that storyline in the manga. That would explain why the Kuro-tsubaki appeared to be in Mikado's vault. That would explain why Director Kananiwa looks like Dolly.
Assuming this is the case, does this mean that Kananiwa is Dolly? If so, is still a wood nymph? Is Shin in the Kuro-tsubaki? I guess we'll have to wait to find out.
The new material in CTMEOY was what I liked about that anime. I didn't care for the usage of random chapters in the manga and mash them into the anime. That being said, I don't have a problem with the story of the Kuro-tsubaki, Dolly, and Shin (assuming he's brought into this) are retold for the manga's sake.
Nagi has pretty much taken it for granted that Hayate will be her butler for life. One of the things I'd actually like to see from this story is that she learns that it is OK to set Hayate free. I'd also like for her to learn the story of her mother and father (assuming it is similar to CTMEOY in that her father served as a butler to her mother).
As to Nagi's plans, does she want to sabotage other people's devices, or just Hayate's? If she wins, what will she do? Or will she try to help Hayate win? It really is difficult to know at this point.
I got a kick out of Ah-tan's meeting with Mikado. Leave it to Hata-sensei to come up with the unexpected, this time Ah-tan threatening Mikado's beard.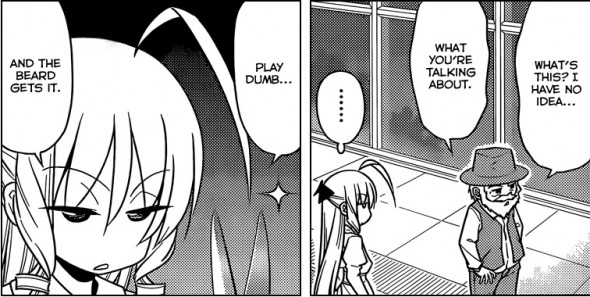 Also on the amusing front was the idea that two people would actually want to spend their school trip slaving away in a sweat shop. *lol*
I am interested to see where the Level 5 trip goes in terms of destination. I wouldn't mind Las Vegas, but I don't think that will happen. So that leaves just about anywhere, and the easiest thing would be someplace in Japan. I guess we'll find out next chapter.