ユーキューホルダー! Manga Review
UQ Holder Chapter 71
SPOILER Summary/Synopsis: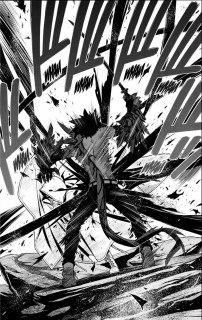 Touta uses Magia Erebea to attempt to overcome his hooded opponent, leading to Kurobo (Gravity Blade) issuing a warning about not giving in to ME. His opponent is not impressed and begins beating Touta, summoning a card that turns into another big sword, which "Hoodie" dual wields along with the other massive blade. Hoodie sends a rain of magically summoned harpoons, nailing Touta and pinning him to the ground.
Hoodie explains the second sword, which belong to Grandfather's partner, which is able to dispel demons and might be able to kill Touta despite his immortality. Hoodie mocks Touta for being nothing but a copy of Negi Springfield. Since Negi couldn't have children, some felt they couldn't afford to lose his talents, powers, and abilities. Because Touta wasn't even born, Hoodie proclaims Touta to be naught but a monster.
Touta removes the hood from his attacker, revealing what appears to be a girl. She stabs him with her replica of Ensis Exorcizans, then casts a massively powerful lightning spell, attempting to turn Touta into dust. Hoodie's attack is stopped when Santa hits her with a long ranged attack, blasting her away from Touta and removing Ensis Exorcizans at the same time.  Santa is joined by Kirie and Kuroumaru who then challenge Hoodie.
Thoughts/Review:
Well now, well now. Those of you calling it for Hoodie giving up information got it right.
And I figured we'd get a deus ex machina moment to save Touta. Kuroumaru and company was one of three viable options that I saw, though Ikkuu isn't in the mix (yet). I do like the imagery of how they look when they show up on the scene. Even Kirie looks OK, even though I expect her to get her arse handed to her.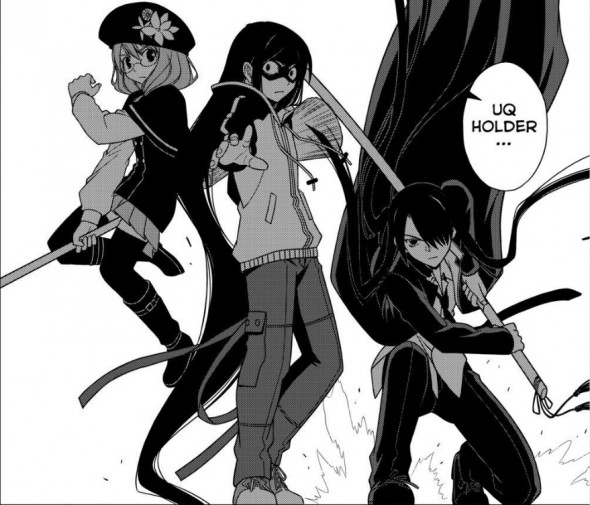 Actually, I'd love to see Hoodie put up such a fight, Kirie, Santa, and Kuroumaru (and Ikkuu if he's around) need to get their own deus ex machina save from Eva and company.
Is Hoodie a girl this time, or is this another mistake on Touta's part?
Hoodie producing a card that turns into Ensis Exorcizans suggests to me that the pactio system is still around.
What's interesting to me is that Hoodie has a replica of Ensis Exorcizans, apparently complete with all its functionality. When Negi had a pactio with Princess Theodora, he was able to replicate all of his partner's artifacts. Considering that Hoodie addresses Touta as "Niisan" and called Negi "Grandfather" (whatever the Japanese term being used is — if you know, PLEASE let me know), one wonders if Hoodie is a relative of Negi and somehow has the ability to access Negi's old pactio cards. Asuna should still be alive (sleeping), so the copy (replica) card that Negi had would still be active since Negi is alive as well.
That's just wild speculation, but it is a good theory to fit the present facts. Hoodie has access to a copy of Asuna's pactio card and is using the card's artifact.
It is still interesting to me that Hoodie is calling Touta "Niisan", which not only suggests a family connection (Hoodie's brother), but it also suggests that Touta is older than Hoodie. Since Hoodie has been watching Touta for a little while, Hoodie knows Touta's name, so why call him Niisan?
The other question is why Hoodie has such rage against Touta? This kind of rage would seem to come from Hoodie feeling wronged by Touta.
I'm still not sure how we get to some sort of tournament from here. I've never been convinced we've truly been going there, even though I'm most likely wrong. With Touta under the threat of death or the like (the Lifemaker), he would not be safe in a tournament. Those after Touta might not care about collateral damage, thus might slaughter an entire stadium of spectators to get at Touta.
I have to say that I rather enjoyed this chapter, even though I think Akamatsu-sensei is overcompensating for having made Touta so OP so quickly in the manga by making Touta take a massive beating like this without being able to do anything. Still, I am looking forward to seeing what happens next.